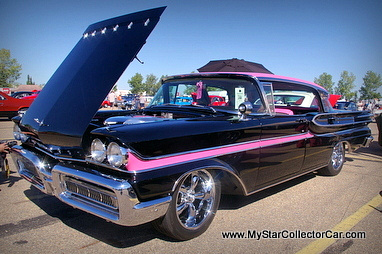 1958 was the perfect storm for turnpike cruisers because this was an era of superhighways,big cars and big V-8s.
Mercury liked the term turnpike cruiser so much they added the name to their 1957-8 lineup in the form of large couch on wheels.
This '58 Mercury technically isn't a Turnpike Cruiser but it sure fits the concept.
=Derry Wright has owned this massive Mercury for over 35 years but his link to this unique car extends beyond that time as he recalled, "I've know this car since I was 16. I used to get car parts for a service station and this was one of the cars that used to come in".
Derry admitted this was a high school infatuation, "the '58 Merc used to sit in front of the high school.I always wanted one after that and I never saw another Park Lane. I think it was Elmer Diefenbaker 's car (brother of a former Canadian Prime Minister)".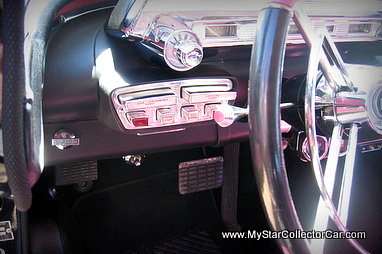 Despite the rarity of this big Merc the purchase turned out to be the easy part as Derry explained, "I got it in '76 and then I parked it so sat in the Quonset for a lot of years and I went farming".
A few years ago, Derry pulled back enough from farming to actually take on the restoration of his beloved '58 Park Lane. He started on it four years ago and the thought of a completely stock project evaporated overnight.
Derry explained, "It was light green originally but I always liked the pink or tropical rose on the '56 Crown Victoria so that had to be part of it and the black worked out too".
This extensive and thorough cosmetic change wasn't easy, "We pulled three five gallon buckets of gravel out of the frame because this was a country vehicle".
This '58 Park Lane was a highway star in the truest sense and one of the main reasons is found under the hood as Derry explained, "This is an extremely rare 430 MEL Super Marauder motor". In layman's terms, that means the MEL was a 430 cubic inch triple carb 400 horsepower engine-the first production 400 horse V-8 engine Detroit ever built. It was a monster.
Derry liked the stock engine but he drew the line at stock brakes, "I drove it for awhile like that but I put on discs plus I added Saginaw steering and got rid of the leaky old system".
The entire process was long and drawn out as Derry recalled, "It was 3000 hours in total between me and the body guy". Battle-scarred veterans of car projects will recognize how significant those numbers are because those hours rank at the high end of a project.
The job was long-term is because this Mercury was complicated in many ways, "It has a lot of NOS parts like lenses and taillight assemblies plus the motor and transmission were completely rebuilt and the stainless was done".
Derry and his wife Lucille are enjoying the fruits of a long and intense job as he recalled, "It rides really nice on the highway plus it's comfortable because it's got the factory memory power seat".
The trips haven't been trouble-free, "We take it a few shows to work the bugs out and then we're going to take it on longer ones. It won the first Mercury show I took it to in the States but I'd like to add an electric fan so it's better at idle. These aren't like 350 Chevy crate motors where parts and service are easy so you really have work out the little things".
The end is never well-defined with old iron but the experience behind the wheel is and Derry summed it up in one sentence,"I'm glad people appreciate it because that's what a car show is all about, talking to people and showing the car".
Not a bad ending to a high school infatuation with a turnpike cruiser.
Jerry Sutherland