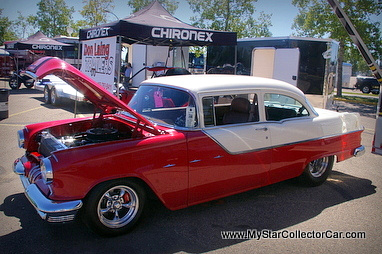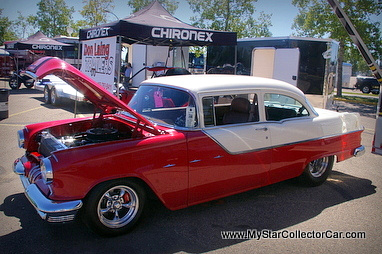 There are two paths to take after you build a big, bad, custom, resto-mod '55 Pontiac.
You can protect your investment with a simple, two-word solution…covered trailer.
That's not a path that many car guys take because it sucks the joy out of the old iron experience.
Stuart Green doesn't have that problem because he built his Poncho to drive in the real world. He had a fondness for the '55 Pontiacs long ago and he actually owned one but he posed the classic car guy question, "Wouldn't it be cool to build something like that again?".
Unfortunately, that question came long after his first '55 Pontiac was consigned to his memories file but Stuart went down a very familiar path when he dug out a picture of his old Poncho and he admitted, "A guy had one for sale and it seemed like a good idea". That's a song sung by every car guy on the planet and many act on impulse.
Stuart Green was one of those guys.
A successful build like this '55 Pontiac is a combination of three things…hard work, talent and buckets of money. Stuart is a veteran of the car hobby because he's in the insurance game so he was well aware of the entry fees into the world of old iron.
Stuart had a game plan for the Pontiac He envisioned an odd combination of raw power and civilized manners with a retro feel. He wanted a Tim "the Toolman" Taylor 'more power' ride that was mild enough for Jill Taylor to handle. Eight years later, he was there.
This '55 Pontiac is closer to concept meeting reality than George Barris was when he built the original Batmobile. Stuart explained how it happened, "It's the same old story, you get past a point where you can't turn around so that's how this car turned out the way it did".
Stuart is a self-confessed power junkie and admits, "I gotta get more horsepower because I'm a burnout guy so I'd like to get some more power out of it and make it happen".
Most guys would be happy with the 502 cubic inch big block under the hood but Stewart clearly listens to his inner Tim Taylor, "I need a line-lok too, the car wants to go so I need a line-lok".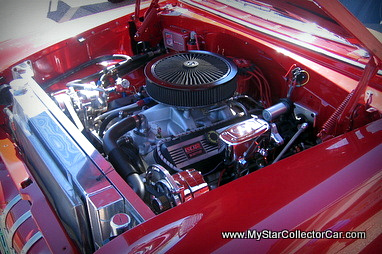 Stuart is fiercely proud of his non-trailer queen '55 Pontiac and he conceded, "It's got a few chips on it, some war wounds from driving it because that's why I built it-to drive not look at".
He admits the car isn't a full blown race car, "It's pretty civilized, it's got AC, satellite radio and rear seatbelts plus it's got a giant radiator so it doesn't overheat but it still has a stock front end". Stuart likes to leave a little challenge (and stock Poncho) in the game.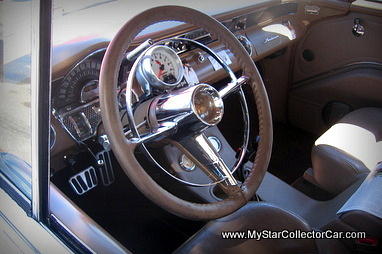 Stuart also admits he doesn't baby this classic Pontiac, "I'm not afraid to break anything, I broke the motor once, the ladder bar and a few trannys". Confession is good for the soul but in car world, it's not great for the bank account. Stewart considers these costs to be part of the game.
He is a realist about the old Poncho because he knows that the fun factor comes with a cost but Stuart lives by the creed that there is no point to a trailer queen.
It sucks the joy out of the ride.
Jerry Sutherland
If you like '55-56 Pontiac stories here's another one from MSCC.