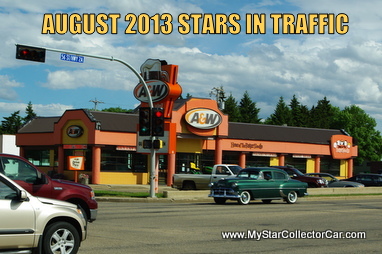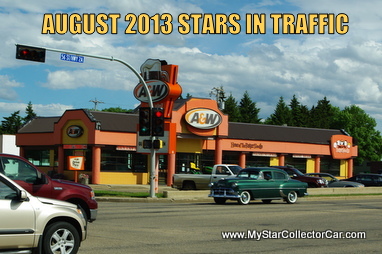 Car guys love to cruise in their old iron because it takes them back to a time and a place when the streets were full of '64 Plymouths,'56 Pontiacs and '65 Fords.
Every car guy in the world would agree that those days were simpler, kinder and gentler so that's why they like to look through the windshield of an old ride.
Stars in Traffic is dedicated to the car guys who love to drive old cars and trucks in new traffic.
This month's Stars in Traffic is dedicated to Cruisin' for a Cause.
This is an annual event where car guys hop in their cars and head to the local A&W to support a great cause.
Mary Roberts is with A&W Canada and she explained the history of Cruisin' for a Cause Day,
"Cruisin' for a Cause Day in support of the Multiple Sclerosis Society is the biggest day of A&W's year. It's a national Cruisin' the Dub day: every restaurant in the country is involved in some way, and everyone who has a parking lot invites car lovers to be there on August 22 through the afternoon and evening.
Many of the restaurants will hold extra-special cruises that may include music, the Great A&W Root Bear, prizes, games, and so forth.
For every Teen Burger we sell that day, $1 goes to Multiple Sclerosis. This is A&W's fifth year of Cruisin' for a Cause; previously we have raised over $3.3 million for MS, and this year we expect to do even better than last.
This is a fun and exciting day for the thousands of us who work at A&W from Vancouver Island to Newfoundland, and we're delighted and proud to help fight this disease that affects Canadians at a higher rate than people in most other countries of the world. Please come in and help us support MS–and have a wonderful cruise with us!".
Margaret Gray is the Special Events Coordinator with A&W Canada and she gave a brief history of the event, " We began the national campaign in 2009. A&W wanted to become more involved in the community and was looking for a cause that we could rally all our staff around. Ending MS was chosen for a few reasons; Canada has the highest rate of MS in the world, 100,000 Canadians are affected, and it is diagnosed most often in young people. Because most of our restaurant staff are young and it such a Canadian cause, we got in touch with the MS Society of Canada to form a partnership.
To date, we have raised $3.5 million, funds that go to support MS sufferers and their communities and towards research.
We raise money in a number of ways, including selling donation cutouts, and putting out A&W donation mugs. On Cruisin' for a Cause Day, one dollar from every Teen Burger and Double Teen Burger sold goes to the MS Society.
Additionally, many restaurants get really creative and come up with their own unique ways of fundraising. There are always lots of classic cars, root beer floats, and the Great Root Bear pops up here and there".
Mark August 22 2013 down on your calendar, hop in your car and Cruise for a Cause.