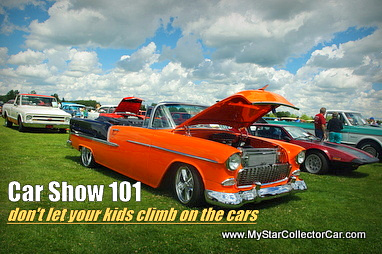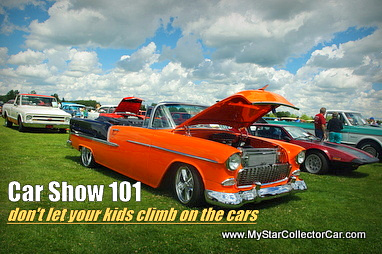 This topic comes up every year at car shows but the message never sticks, so here's another lesson in how to conduct yourself at a car show.
I had to revisit the topic after a weekend show where I saw a mother let her two young kids climb all over the door of a just-completed '55 Chevy convertible.
She clearly confused a $100,000+ car with playground equipment.
The owner wasn't around but he sure looked grim when I told him about this blatant case of parent-child stupidity.
The kids are easily forgiven because they don't know any better. Checks and balances are vague concepts for two or three year olds because they run at a lower IQ than a Border Collie.
That's where the parental guidance gene should kick in, but clearly there was none last Saturday when Mom let her brats turn a classic car into a jungle gym. In this case, Mom should have taken common sense lessons from the Border Collie.
Unchecked kids are just part of the problem because the real threat comes from guys who pop open your hood, poke around your engine, open your door, climb behind the wheel and throw rocks at everything you've done with your car.
These experts probably got to the show in a ratty old Toyota and the closest they've come to a classic Mopar is when they slipped behind the wheel of yours.
Guys holding big, greasy hamburgers and giant Big Gulps are another huge problem because these materials are toxic waste to a paint job or interior.
But that doesn't stop these clowns from leaning over your car with little or no regard for you, your old ride or their giant belt buckle that's carving your 25,000 dollar paint job.
Learn to be a good guest at car shows because the owners are fiercely proud and protective of their old rides. It could be because they have the equivalent of Chile's and Brazil's gross domestic product invested in their vehicles or it could be their father's last car.
Either way, owners love to show their classic rides but the last thing they want to be is a bouncer around their beloved rides at a car show.
Take a kid to a car show but lead by example and teach him respect at the same time.
Jerry Sutherland
show and shine commandments
PLEASE DO NOT TOUCH MY VEHICLE… I WILL EXTEND THE SAME COURTESY TO YOUR WIFE
MY VEHICLE IS NOT A PLAYGROUND FOR YOUR KIDS
MY TIRES ARE NOT A HALFWAY POINT FOR YOUR DOG'S TERRITORY AND MY PAINT ISN'T A SCRATCH TEST-PAD FOR PURSES,BUCKLES AND CAMERAS
DON'T POP THE HOOD OR OPEN THE DOORS WITHOUT PERMISSION AND I WON'T WALK IN NAKED WITHOUT KNOCKING AT YOUR HOUSE
WE LOVE OUR RIDES LIKE WE LOVE OUR KIDS… CRITICISM IS TAKEN VERY PERSONALLY