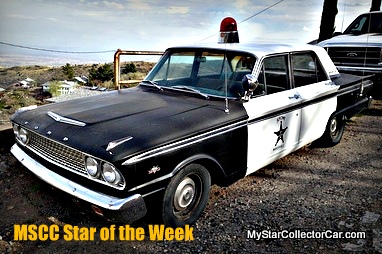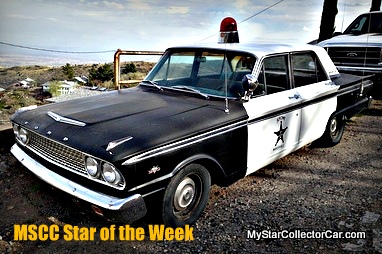 MSCC MARCH 16 STAR OF THE WEEK: JEROME ARIZONA '63 FORD FAIRLANE POLICE CAR FROM THE ANDY TAYLOR ERA
Old police cars are extremely interesting pieces of automotive history because they reflect an era when guys like Sheriff Andy Taylor patrolled Mayberry on TV.
The reality of law enforcement was far different in 1963 but another reality was that a homespun, family-friendly show like the Andy Griffith Show hit number one in that same era.
Andy was a Ford guy but he preferred the bigger Galaxies.
This MSCC Star of the Week Jerome, Arizona 1963 Ford Fairlane is similar to the Mayberry Sheriff's car and it does the same thing Andy's police car did back in 1963.
It makes you feel better.
MSCC MARCH 15 STAR OF THE DAY: '65 IMPALA CONVERTIBLE IN THE LAZY, HAZY, CRAZY DAYS OF SUMMER
Nat King Cole may have sung the world's best summer song back in May 1963 when he released "Lazy, Hazy, Crazy Days of Summer".
This was a song clearly designed to pump you up about the best season on the calendar.
Nat probably wasn't thinking of a summer 47 years in the future like August 2010.That's when this picture was taken but it was definitely an extremely hazy summer night thanks to some serious forest fires hundreds of miles away.
This MSCC Star of the Day '65 Impala convertible was out on that lazy, hazy crazy day of summer four years ago.
MSCC MARCH 14 STAR OF THE DAY: THIS IS ONE WAY TO PROTECT YOUR INVESTMENT-JAIL
Many car guys lose sleep at night worrying about their investment. Fires, thieves and wanton acts of vandalism top the charts of what keeps car guys tossing and turning into the pre-dawn hours.
There are many solutions to this fear including giant attack dogs, electrified barbed wire fences or state of the art security systems.
This MSCC Star of the Day Dodge pickup may be an example of the best solution possible because it's low-tech and it doesn't involve high-strung canine killers with a blood lust.
This guy just sentenced his truck to a few days in jail.
MARCH 13 MSCC STAR OF THE DAY: '53 FORD PICKUP-61 YEARS WORTH OF COOL
Ford has built some extremely cool trucks over the last century but the 1953-56 era ranks at the top of a that colorful history.
These Fords had a built-in appeal for a wide of buyers ranging from farmers to the custom car guys so that explains why the '53-56 Ford trucks still are top rung investments.
This MSCC Star of the Day '53 Ford was showing off its 57 years of cool in a rear view mirror four years ago.
61 years and counting in 2014.
MARCH 12 MSCC STAR OF THE DAY: VOLVO 544-STOCK, NON-STOCK-THIS SWEDE CAN GO THOR OR ABBA
The Volvo 544 had a late 40s cool style that was good enough to last into the middle of the Swinging Sixties.
They were fun cars that could outrun most of the lower-end import competition from England and Germany but on this side of the pond more than a few guys liked to upgrade these 544s with big block Buicks.
That modification cut into the handling of these spirited little Swedes but it turned them into Thor, the God of Thunder in the stoplight derbies.
This MSCC Star of the Day Volvo 544 was resting comfortably in the southern climes of Arizona last month and clearly this little Viking was still in ABBA, not Thor stage.
MSCC MARCH 11 STAR OF THE DAY: THE JURY WAS DEFINITELY IN ON THIS PONTIAC GTO

Flip Wilson didn't invent the phrase "Here comes the Judge" but he sure put it in mainstream lingo when he appeared on Laugh-In back in the late 1960s.
Pontiac spotted a marketing opportunity because Laugh-In was aimed at under 30 hipsters-the perfect demographic for GTOs with an attitude.
Poncho was in an all-out muscle car war with the highly successful Plymouth Road Runner and the Judge was definitely a counterpunch to the Mopar upstart.
This MSCC Star of the Day GTO was on the street back in August 2012 and it proved one thing.
You really did know when this Poncho hit the road.
MSCC MARCH 10 STAR OF THE DAY: 1940 DODGE-REAL WORLD…THIS IS HOW YOU CELEBRATE A LATE SUMMER DAY
The world of old iron has two types of car guys.
There are the guys who limit their exposure to the combined hell known as real weather in real traffic so their rides never see a rainy day duking it out with guys in giant one-ton 4x4s.
They never expose their classics to the nightmare of a 16-year-old girl texting and driving behind the wheel of her Toyota.
There is no way they risk their old rides in a world where morons think a 60-year-old Pontiac stops like a two-year-old Mazda.
Then there are the other car guys like the owner of this MSCC Star of the Day 1940 Dodge in traffic back in 2010.
He knows the risk but that doesn't matter to the second type of car guy.
For past Stars of the Day please follow this link.
Star of the Day page sponsored by Southside Dodge.