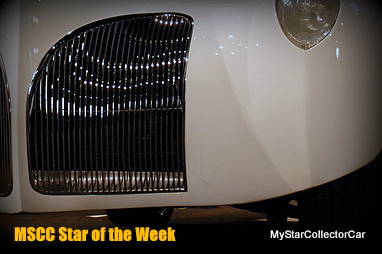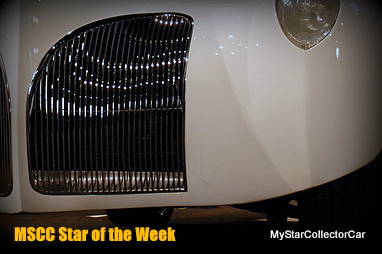 MSCC MARCH 9 STAR OF THE WEEK: END THE WEEKEND WITH A GUESSING GAME
Clearly this car is light years away from factory stock. There are many clues about what it is in the shape and the grille but it's obviously not a 2013 Subaru.
Cars like this require thousands of hours, boatloads of money and limitless craftsmanship to arrive at this point.
Purists who know exactly what this mystery car is will take a dim view of the transformation from classic to custom but that's a debate with no end.
This MSCC Star of the Day was in the spotlight back in September 2013 and for those of you who still don't know what it is, you're going to get rewarded for reading this far…
It's a 1939 Lincoln Zephyr.
MSCC MARCH 8 STAR OF THE DAY: '27 CHEVY-THIS IS HOW THEY REALLY LOOK OVER 80 YEARS LATER
Very few cars from the Roaring Twenties are still in "as-is", survivor condition.
Time took the biggest toll and things like the demand for metal during World War II substantially lowered the inventory of old iron.
Hot-rodders scooped up a significant number of 20s rides and a few lucky ones underwent ground-up restorations.
A small fraction of cars from the 1920s are pure survivors like this MSCC Star of the Day '27 Chevy at a show back in June 2010.
MSCC MARCH 7 STAR OF THE DAY: '66 MUSTANG GT-ON THE CUSP OF ANOTHER SUMMER STORM
Summer 2013 was a barrage of summer storms in some areas so the old iron was under heavy fire.
You couldn't go across town from June to August without taking a furtive glance at the sky every five minutes.
This picture was taken at a car guy funeral back on August 20 2013 and it was yet another typical summer day where the weather was iffy at best.
The difference was simple. This was a car guy's funeral so neither rain, nor sleet nor snow could stop a show of support from the fraternity of old iron.
This MSCC Star of the Day '66 Mustang GT was part of that day.
MSCC MARCH 6 STAR OF THE DAY: '55 TALBOT-LAGO T26-AND NOW FOR SOMETHING COMPLETELY DIFFERENT
The MSCC Star of the Day world is large and varied. You'll see everything from rusty old 3-ton trucks to classic survivor muscle cars in the spotlight.
You'll rarely see a car like this-not because it isn't worthy of MSCC Star of the Day status but because it's impossibly rare.
This MSCC Star of the Day is a 1955 Talbot-Lago T26 Grand Sport and it's one of only 11 survivors left in 2014.
It was in Vegas back in September 2013 but the odds of seeing another one would break the house.
MARCH 5 MSCC STAR OF THE DAY: CELEBRITY ALERT-ANOTHER TOW MATER SIGHTING
Tow Mater was supposedly based on a '51 International Harvester tow truck, but the cartoon version looks more like a '56 or '57 IHC.
There have been many Tow Mater sightings over the years because anything weathered, truck-oriented and built in the 1950s seems to qualify.
That's watered down the Tow Mater business model to an Elvis impersonator level but occasionally you do get a typecast example.
This one-eyed (headlight missing on the wrong side) '56 IHC at a yard back in August 2011 was a Hollywood casting dream and an easy MSCC Star of the Day.
MARCH 4 MSCC STAR OF THE DAY: '49 MERC-THE GRANDDADDY OF THEM ALL
The 1949 Mercury started a new era for hot-rodders because they saw instant cool in these low-slung beauties.
The standard hot rod platform was pre-war for the leather jacket crowd but these new Mercs barely got off the dealer's lot before the standard wheel covers were chucked, the chrome was stripped and the ride lowered.
This MSCC Star of the Day '49 Mercury from a summer day back in 2011 makes it easy to see what custom guys saw back in the early 50s.
They were the granddaddy of cool for a reason.
MSCC MARCH 3 STAR OF THE DAY: 1974 PLYMOUTH ROAD RUNNER-THIS BIRD WAS DOOR # 2
Clearly,a fair number of Mopar guys truly believe the Road Runner era ended with the 1972 version of the beloved bird.
They didn't buy into the next version of the Runner for many reasons but the key argument against the '73 and up models distills down to the phrase "bumper car era".
Another popular argument against '73 and up is found in the phrase "smog era" even though the '72 Road Runner was choked off too.
Nevertheless, time was clearly kind to these cars because this MSCC Star of the Day 1974 Road Runner at a Mopar show back in 2012 was outstanding.
Delayed cool factor at its finest.
For past Stars of the Day please follow this link.
Star of the Day page sponsored by Southside Dodge.