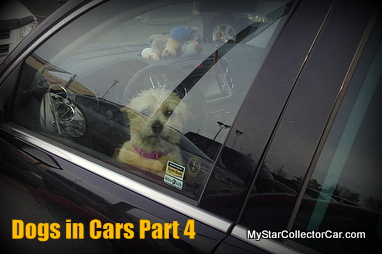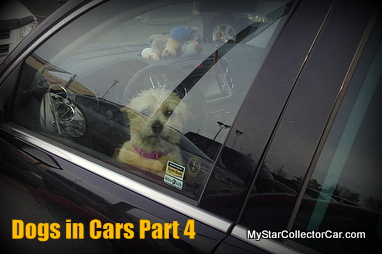 There are very few reasons not to take your best buddy for a ride.
Your dog doesn't back seat drive, complain about the music or give bad directions.
He's just happy to be part of the road trip so that's why you always need to have a furry guy riding shotgun.
Take look at some more canine co-pilots.
This guy is clearly enjoying the moment and the only real problem is pretty obvious-Buddy needs to be a little taller to really get that open window experience.
Furry and inquisitive-that's the way this guy rolls. The world is a mystery that runs by at 60 miles per hour in automotive comfort.
Cocky and completely unaware of how he looks in the mirror. This guy oozes tough guy cockiness in a miniature frame.
Here's another pint-sized co pilot but his attitude is a bit more reserved. He obviously did look in the mirror.
This guy can back up the tough guy routine with his size, but that neckerchief makes him lose every ounce of toughness. A consultation with his owner would help.
This dynamic duo has set up a hierarchy-one guy gets the driver seat and the other guy gets the window. Maybe it was a coin toss…maybe they settled it in the street.
There are no dibs on the window for this guy because he's traveling solo. It wouldn't matter because this looks like a situation where that window isn't open for debate.
Here's a case where the window is shared. Maybe that human-dog connection is a little more democratic.
This is another good example of how things work with the uncontested shotgun seat. He was there first and that back seat is still a possibility.
There is no conflict with this guy. That front seat is his until his owner gets back and then it's back to riding shotgun.
Finally, this guy has a pretty decent fur coat but for some reason he's wearing a vest. This was winter so maybe he was looking at a few more hours in the car than his fur coat could handle.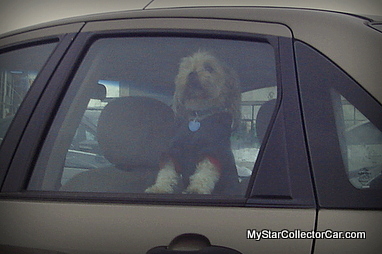 These two guys are holding the fort and waiting for that happy moment when they get reunited with their owner.This joyous reunion probably happens at least twenty times a week but it never loses its magic.
There's a constant in these pictures that every owner should recognize-every dog in the picture loves riding shotgun.
Jerry Sutherland