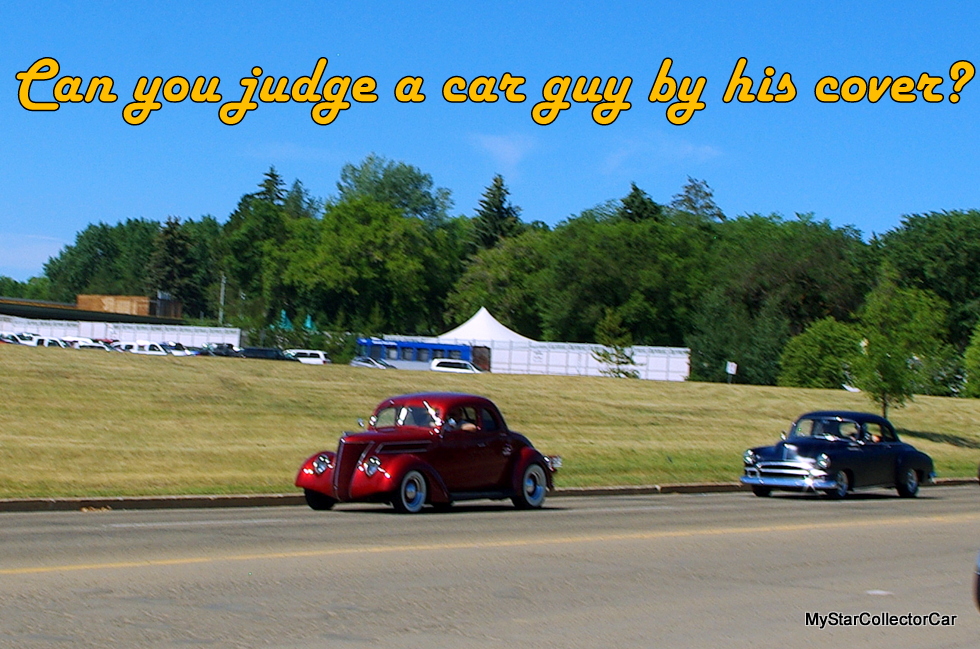 There is an old maxim: Do not judge a book by its cover.
The idea is applied to people and whether they fit your preconceived notion based solely upon their appearance.
Our MyStarCollectorCar question: how does this notion apply to old cars and trucks?
We decided to take a run at the idea of a stereotypical owner for old iron and write about our experiences, based upon many years of contact with owners of all types of vehicles. Here are our less-than-scientific conclusions:
The first rides on our list are stock sedans from the past. An older Detroit-built four door sedan, with its original appearance still intact and original engine still under the hood, likely has a sentimental owner.
The unaltered car usually has a strong family connection and has been with the family for many years. The age of the car (and current owner) will determine the family history.
An older current owner means the car was previously owned by their parents or an uncle/aunt, while a younger owner suggests the car was owned by grandparents or a great uncle/aunt.
Conversely, a four-door sedan scraping the pavement with a rough but restorable paint job and enough stereo power in its trunk to break windows with a big bass hip hop sound means a younger owner. The older four doors are still an affordable option for a young car guy and he can put his own stamp on the car when he slams it and gives it a Mad Max paint job.
60s-early 70s muscle cars will also have an older, typically male owner behind the wheel. He will have to be over 50 to go on this ride because he will need some serious cash to fulfill his childhood fantasy to own one of these cars.
These cars are all about kid dreams that come true for their middle-aged owners.
Full-on hot rods are usually the domain of over-65 owners because they loved them as kids and still love them in their golden years.
Many of these guys built hot rods when they were teenagers and acquired enough talent over the years to build even better hot rods, although some have nothing left to prove and decided to hang up the wrenches and buy a completed hot rod project.
The most important part of the equation for these cats is the hot rod itself because it defines their philosophy and age group.
The custom rides are also the primary domain of older car guys because the investment of time and money is very significant for a show-winning vehicle.
Rat rods are a beast unto themselves and offer an inexpensive way for their typically younger owners to get into the hobby.
The rat rods are a throwback to a post-war early hot rod era when pre-war cars from the 20s and 30s were stripped of body parts so their youthful owners could get a better power to weight ratio.
The young hot rod pioneers from the 1940s and 50s share a common bond with the new rat rod generation because both age groups had to work with a limited budget-and unlimited imagination to build their rides.
These are the basic categories found in abundance at most car shows and it suggests you can typically judge a book by its cover in our humble opinion here at MSCC.
Jim Sutherland
CLICK HERE to Like us on Facebook
CLICK HERE to Follow us on Twitter
CLICK HERE to Follow us on Pinterest
Please re-post this if you like this article