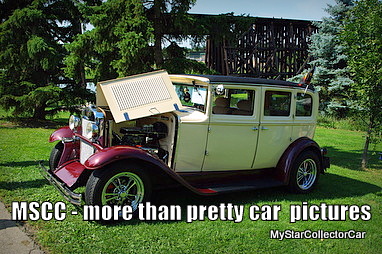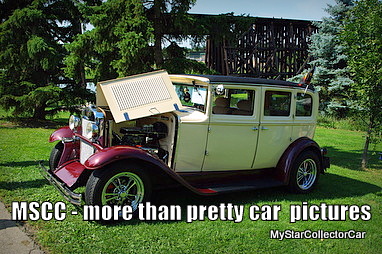 We like to reach every potential reader any way we can at MyStarCollectorCar.com.
The new age of communication means we spend time on most of the major players in social media, including Facebook, Twitter, Tumblr, Reddit, Digg, Google+ and even Pinterest.
Pinterest is primarily a female-oriented social website, but there is a niche market for our photos on Pinterest and they are popular for that reason.
However, we are not just about pretty pictures at MyStarCollectorCar.com. In fact, photos are only part of the process for us.
Our main goal is the story behind the rides and we actively seek the best stories for our monthly features, whether they are car or truck stories.
We feature our car stories under "Stories" on MSCC and you can find them under that listing at the bottom of the front page of our website.
Stories will take you on a journey over the past six years since our April 2009 startup and you will not be disappointed with the trip.
We have found many incredible car stories over the years and they are available at the touch of a mouse on our web pages.
The truck stories can be found under "Star Truckin" at the bottom of the front page. We were kids in the early 70s when the term "Truckin" had a mercifully short run in popular slang. We never used the term, but it fits with our celebration of vintage trucks.
Virtually all car and truck feature stories will appear on the front pages of MSCC during the course of the month in which we run them. For example, all January 2015 Stories (car) and Star Truckin (trucks) will appear in the spotlight of the front page at some point this month.
We will share the stories with Facebook, Twitter, Google +, Reddit, Digg, Tumblr and Pinterest on a designated day so they can be viewed by our followers and then shared by them with their followers.
We also have a large email list of MSCC readers and send out a daily message to them, including links to our car or truck stories.
Incidentally, you can go to the top right of the front page of our website and click on "Advance Search" in the white letter/ black background format to check our stories for vehicles in your range of interest.
We have hundreds of features and we lean toward the unusual, so check out our library of vintage rides through Advance Search.
We run the car and truck stories for a month and then we drop them down so we can replace them with the new month's features.
The past stories are always available to our readers if they want to find them through Advance Search or a trip backwards from either Stories or Star Truckin.
The new age of communication means we like to keep things moving on our front page, so we have a Star of the Day feature which is a pretty car or truck picture with a brief story, generally a gut reaction to the photo gleaned from our archive of almost 200,000-and counting car /truck photos.
We also run articles about the car hobby under Editorials and explore a wide range of topics under this banner on a very regular basis.
It can be found at the bottom of the front page under Editorials. Tech Tips is a solid advice section with information provided by experts in the automotive field and it can also be found at the bottom of the front page.
Stars in Traffic, Stars of the Show, and Fallen Stars are three more sections on MyStarCollectorCar that are monthly features and are more visual than our other features.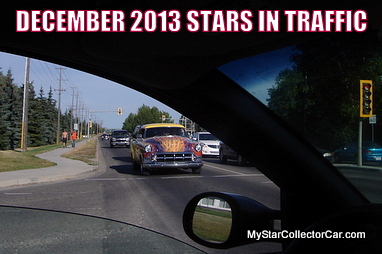 Stars in Traffic features vintage rides on the streets, while Stars of the Show is concentrated on car shows.
Fallen Stars is all about vehicles after they have been discarded and are rusting in pieces. All three can be visited through links at the bottom of the front page.
Thus ends the answer to this question: what is MyStarCollector all about?
We are one of the hardest working and best written automotive websites in the world in our opinion; share it with your car guy buddies.
Jim Sutherland
CLICK HERE to Like us on Facebook
CLICK HERE to Follow us on Twitter
CLICK HERE to Follow us on Pinterest
*Re-post if you like this MSCC article…thanks.