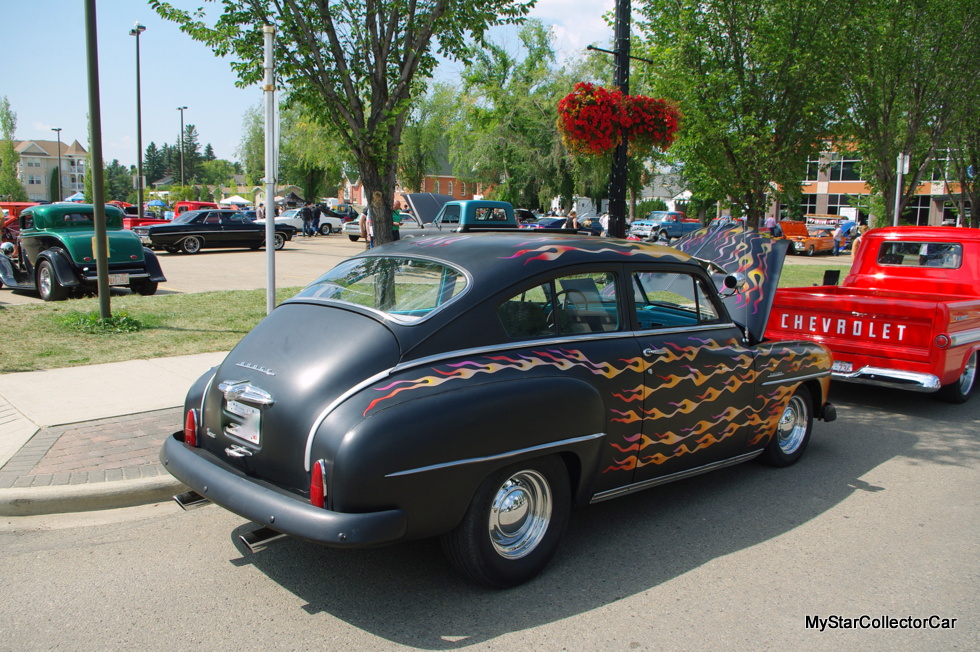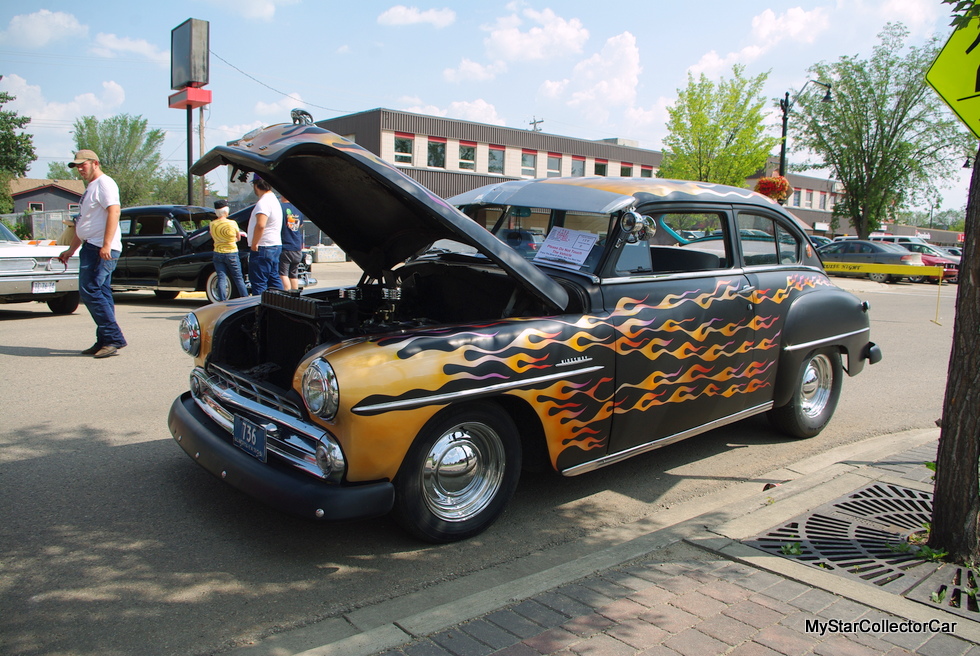 Car guys have two approaches to purchasing classic iron.
They either research the life out of a potential buy or they go in spontaneously and come home with an old car.
This 1951 Dodge Kingsway was definitely in the second category.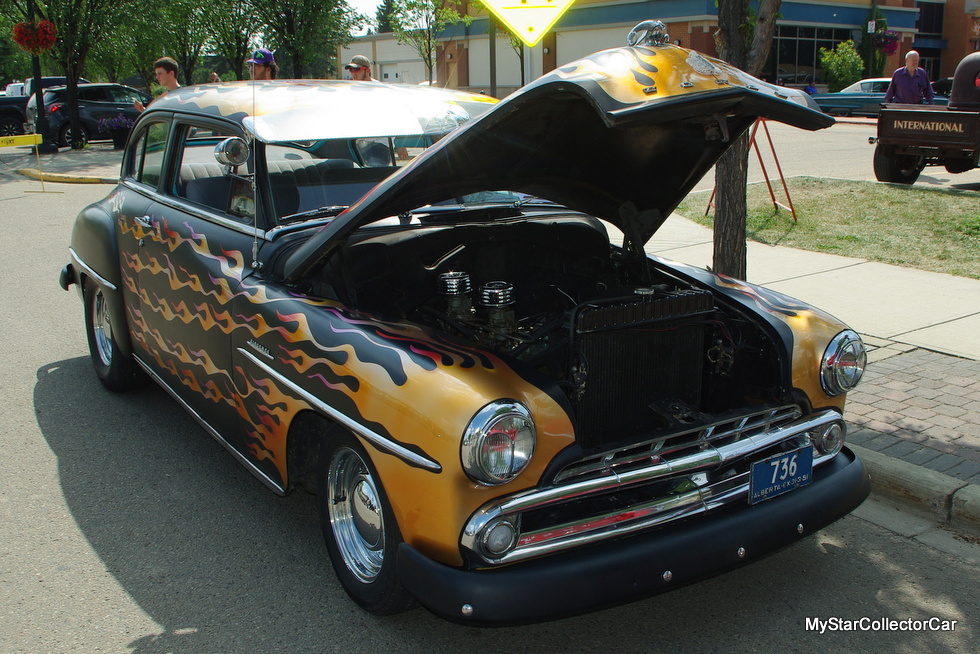 Dan McLelland was with his wife in a town because she had to go to a funeral so he went to an auction. Needless to say, Dan came home with the car.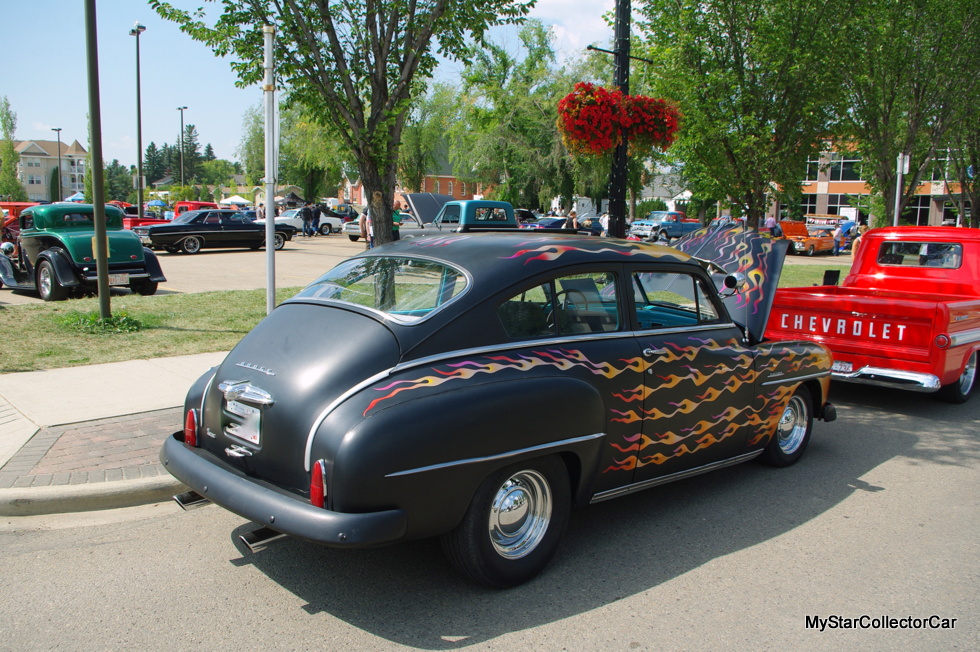 This wasn't a love at first sight experience for Dan's wife because the first question she asked was "why did you come home with a clown car?" Five years later, she's embraced the philosophy—if not the spirit behind this '51 Dodge.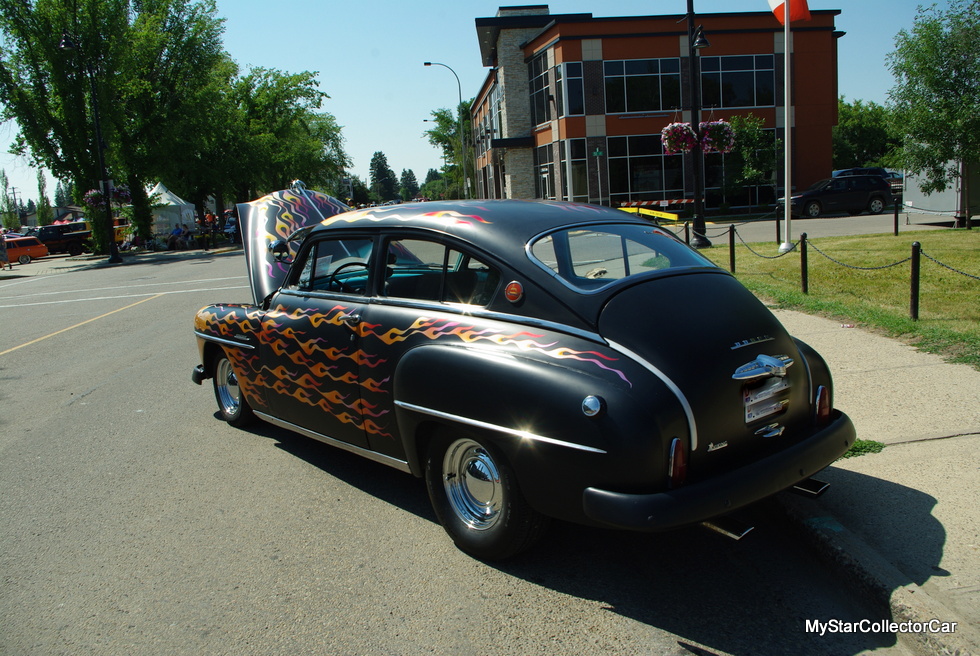 This Dodge Kingsway was a Canadian version of the US Dodge so it has a number of Plymouth components plus it's the rare Fastback model so Dan owns an extremely rare vehicle.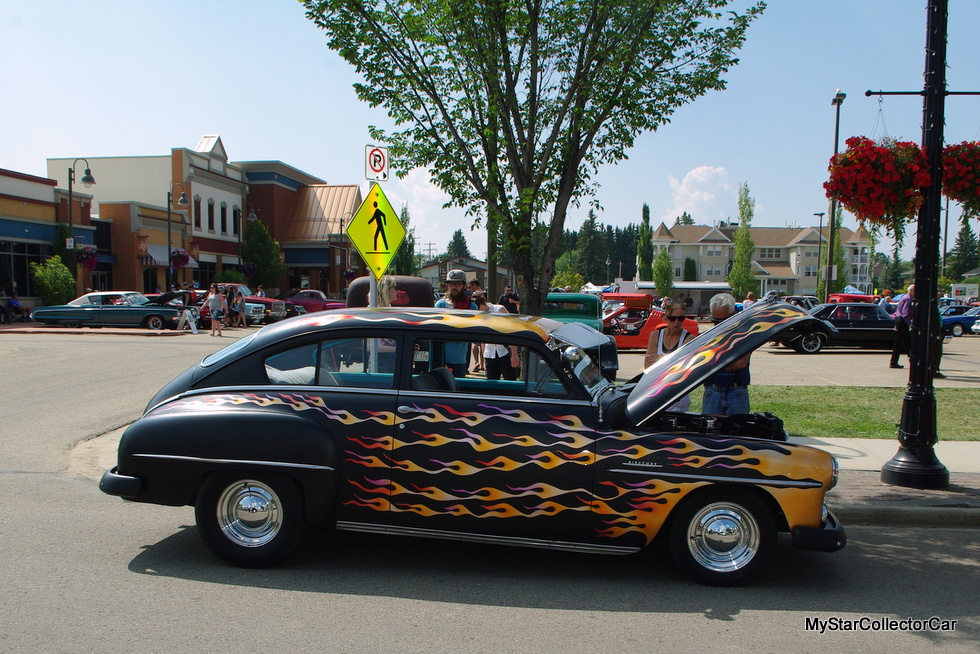 Dan has done very little to the Dodge (two carb kits) since the purchase. It came with the flamed paint and Dan wants to keep it that way despite his wife's advice to dump the flames.  He wasn't sure who painted the car but he's definitely happy with the look.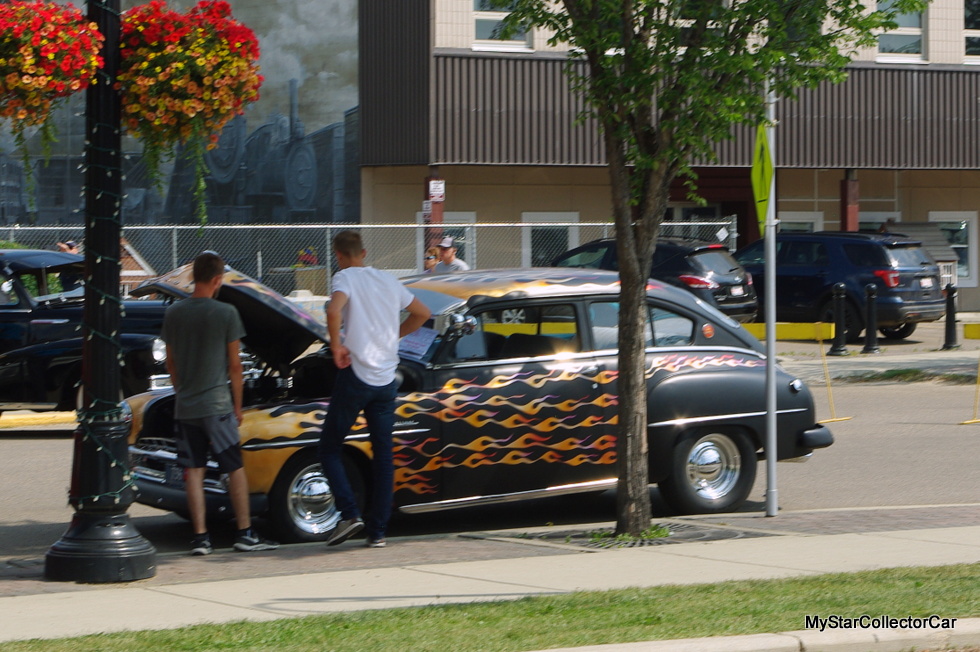 The other piece of advice Dan gets far too often is to dump the flathead six and "put a Hemi in it". Dan has no interest in that kind of modification because this car is just perfect for him in factory form.  In fact, he can't understand why he keeps getting the same advice.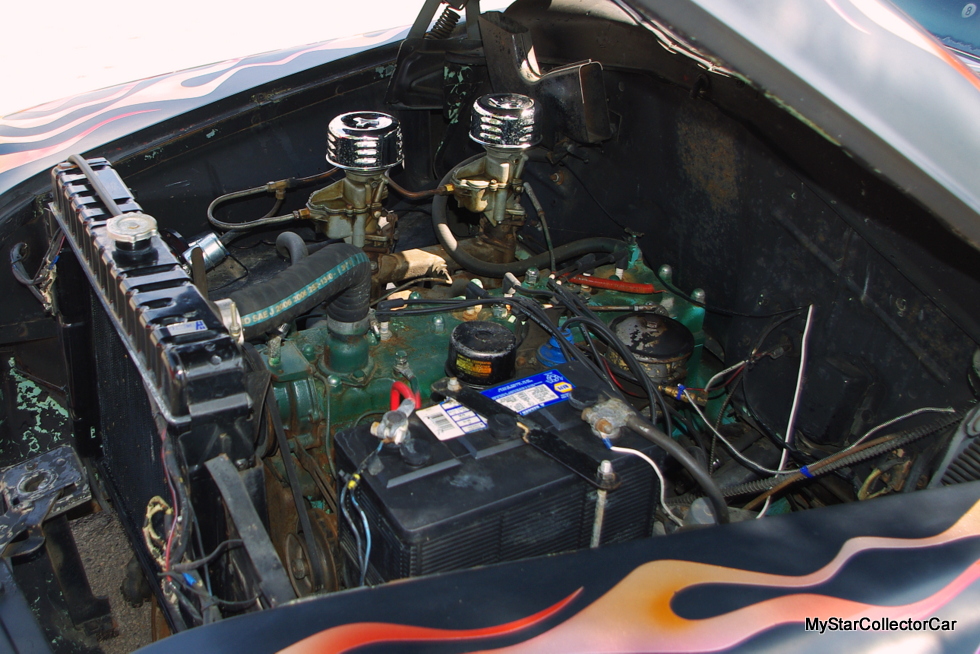 He's curious about the Royal Canadian Dragoons medallion on the C-panel and he'd like to know more about it plus he'd like to find another one for the other side because Dan has a definite sense of symmetry.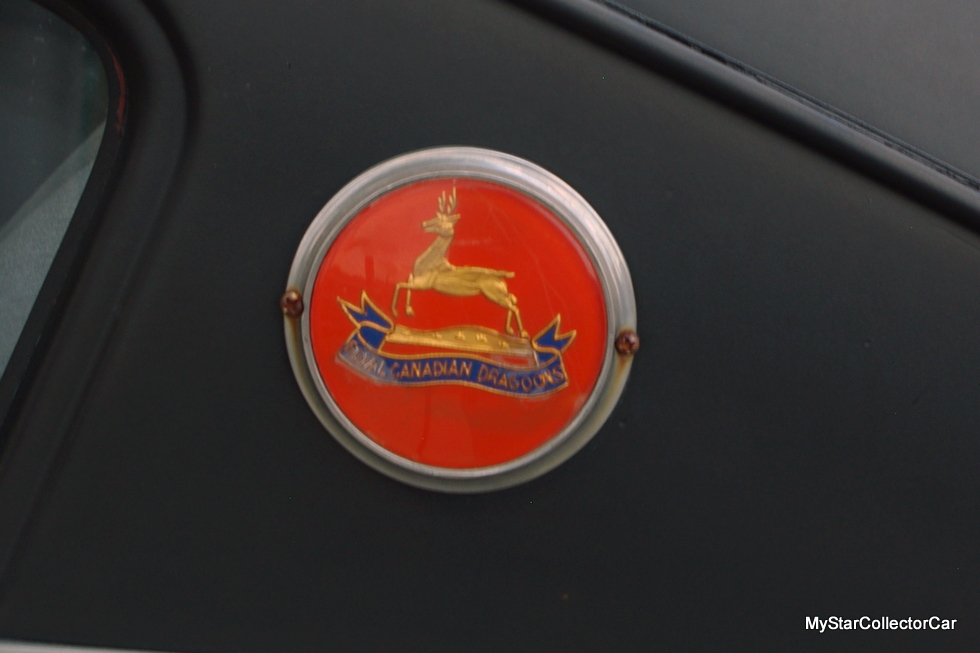 He also found a factory shift knob after a lengthy search but he had to buy the whole steering column to get it and he hasn't installed it yet.
The Kingsway is in solid shape because Dan had a body tech look under the car when it was on a lift and he was very impressed with the condition of this 68-year-old car. In Dan's words, "He could not believe it".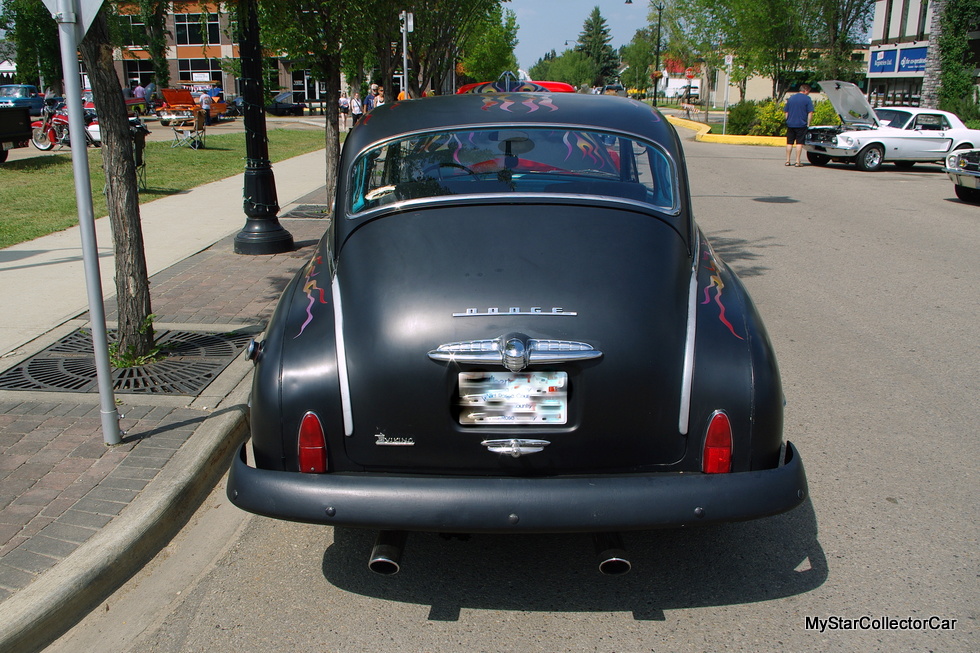 The Dodge definitely has a few issues with its add-on dual carb setup because Dan has to dump gas down it to get the Dodge running. Once the car warms up it starts easily plus it "loves to leak" when it's parked but Dan looks at that as a simple part of the adventure.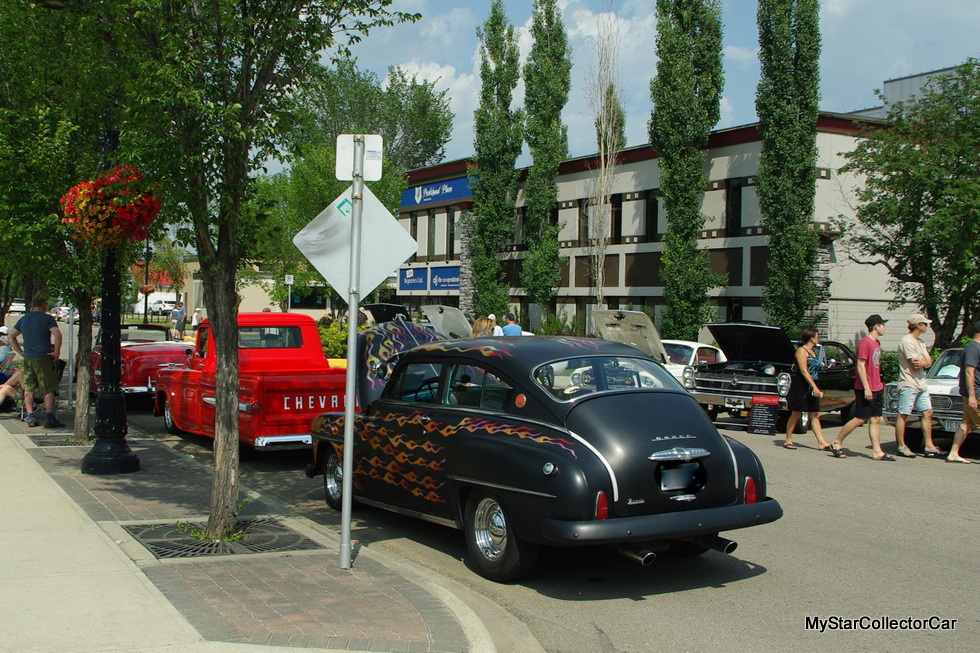 The quirky carb doesn't deter Dan from piloting the old Dodge because this car is literally a daily driver from spring through fall.  Dan lives in a small city so everyone in town knows his car because he's on the street seven days a week in the nicer seasons and a flamed '51 Kingsway is definitely a signature ride.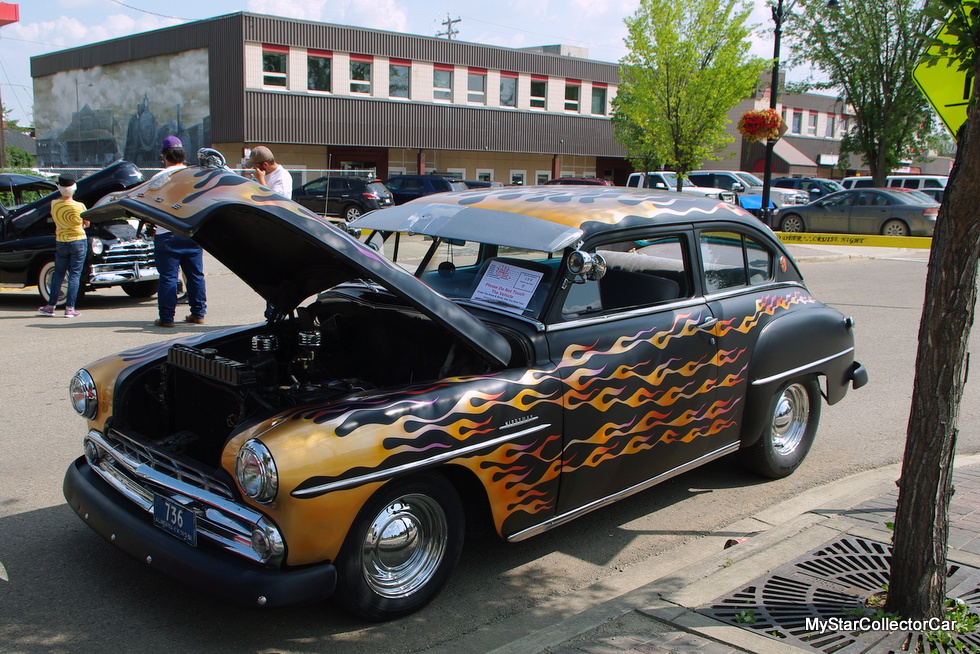 That behavior falls well within Dan's "If I'm going to own it, I'm going to drive it" philosophy so the Dodge sees a lot of time on the road. The Kingsway is surprisingly disciplined on the road and Dan said it does 70 miles per hour on the highway with relative ease because it's "so heavy it can't shake" but it "sounds like a tractor" with the non-factory dual exhausts.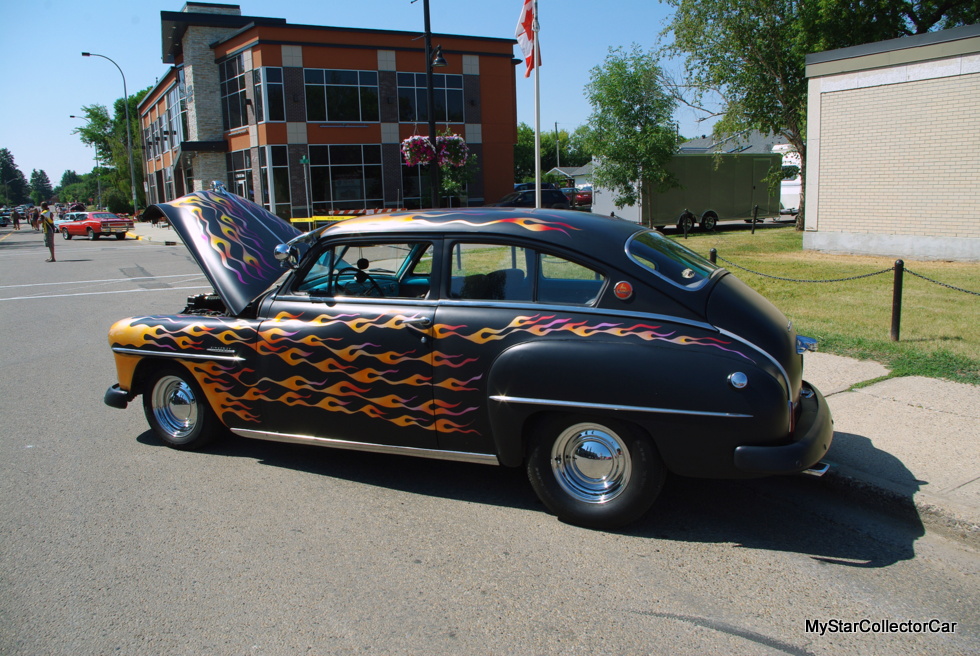 Dan has the perfect car and owner relationship because his expectations don't exceed reality—the Dodge is in great hands.
By: Jerry Sutherland
Jerry Sutherland is a veteran automotive writer with a primary focus on the collector car hobby. His work has been published in many outlets and publications, including the National Post, Calgary Herald, Edmonton Journal, Ottawa Citizen, Montreal Gazette, Saskatoon StarPhoenix, Regina Leader-Post,  Vancouver Sun and The Truth About Cars. He is also a regular contributor to Auto Roundup Publications.
Please re-post this if you like this article.