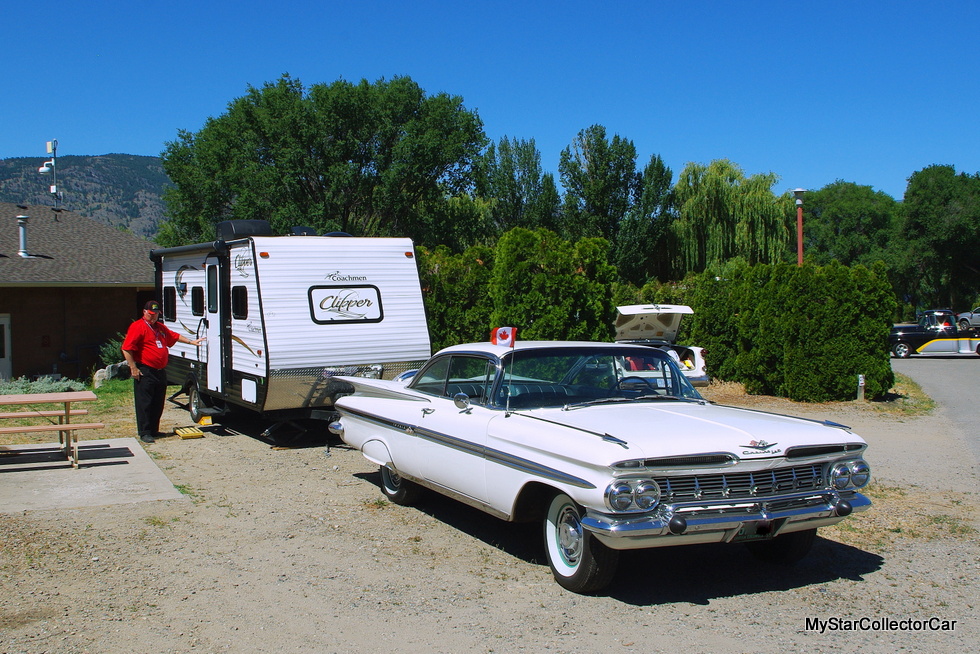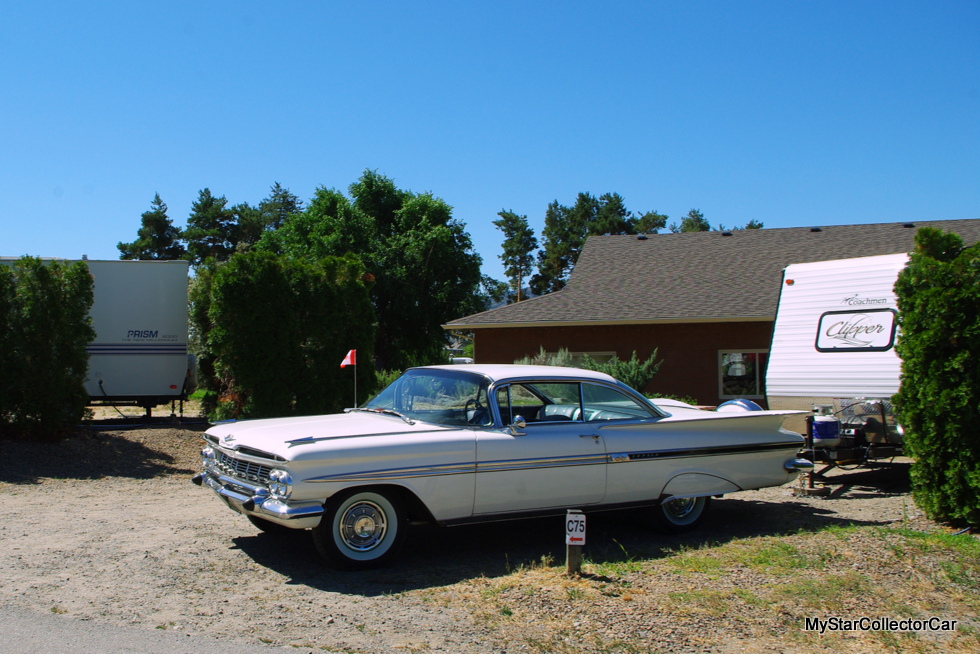 This is another Canadian Coasters story with a veteran car and driver on the adventure.
Leo Salsman was on the 2010 Coasters tour and he did it in the same 1959 Chevy Impala but there was one difference.
The trailer is new.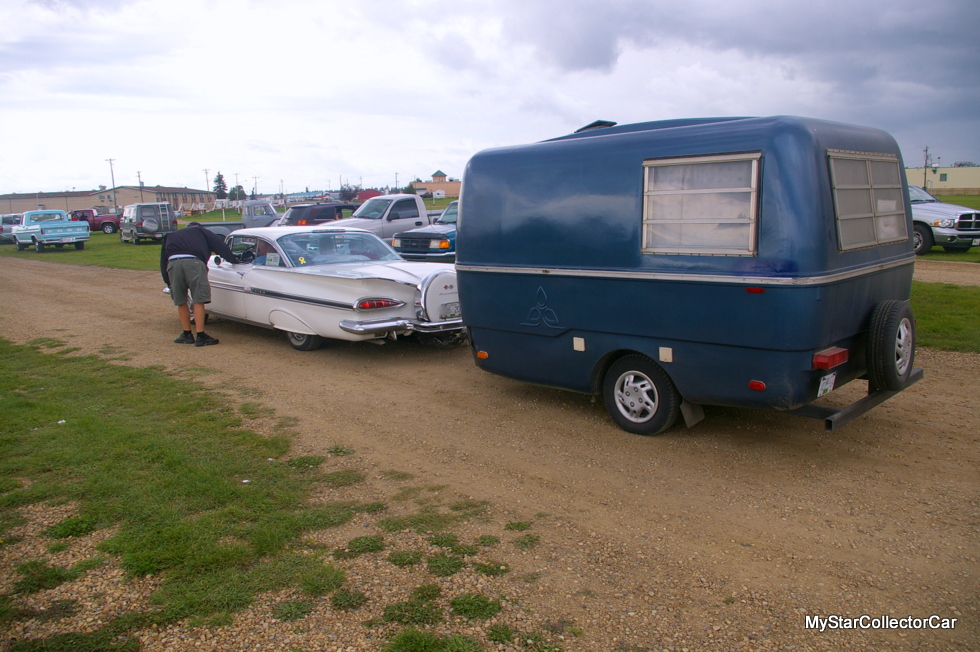 Leo had no trouble talking his wife into the 2017 Coasters cross country adventure but his wife had one caveat.  She told Leo she "wanted more comfort" so the trailer was upgraded from the 2010 trip because he said, "a happy wife makes a happy life".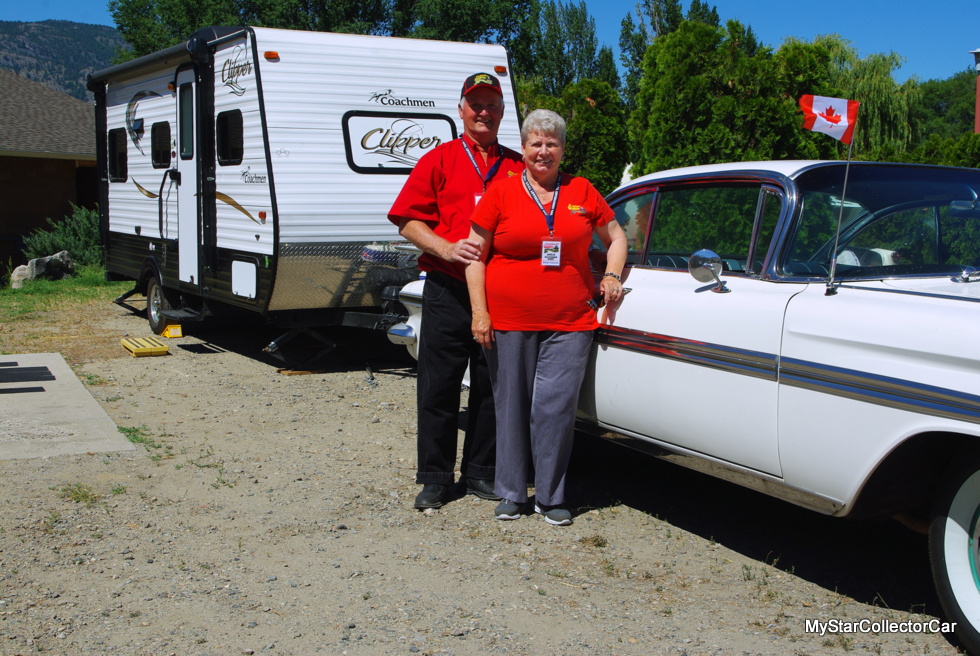 Leo said the last trip had "no real problems" because the Impala passed all the tests on this marathon drive. It's a former museum car so it was a solid vehicle and he's owned it "for about 10 years".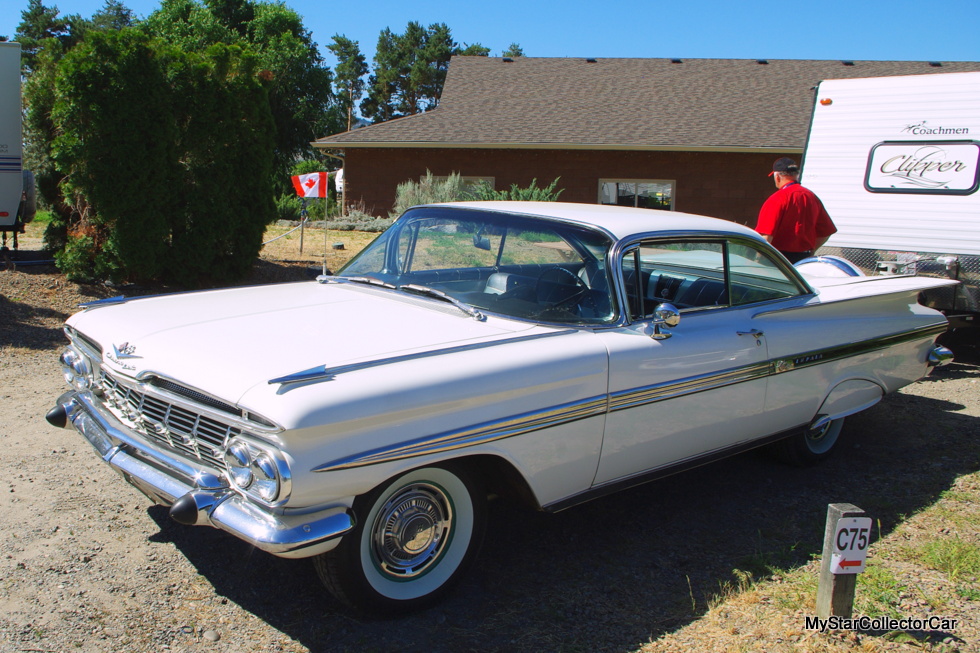 This is a 348 cubic inch Impala so it has a lot of power—enough for a trailer from any era.  Leo doesn't push his Impala so he runs it at "50-ish miles per hour" and up to 60 "if the road is good". There's a different philosophy when it's unhooked because he was tailgated by a guy on the last Coasters tour and he lost him at "around 90″.
He told his wife to tell the guy there was a six-cylinder under the hood so the would-be challenger (also a member of the 2010 Coasters) thought he'd been thumped by a "hot rod Chevy with a 6-cylinder" .
Leo is a big believer in stock equipment so this car has the factory Powerglide but he has made a few upgrades.

He went with a dual master cylinder (without power) brake system simply because it makes so much sense when you're hauling a trailer across a giant country like Canada. Leo also likes it because he can "understand this stuff if there's a problem".
He runs the car on radials because bias tires give new meaning to the phrase "mind of its own" on some highways with ruts.
Leo added station wagon springs to all 4 corners to handle the extra weight of the trailer and it's paid off in a big way because the Impala handles the load with ease. The new trailer is only 7' wide so he didn't need the trailer mirrors his last one required.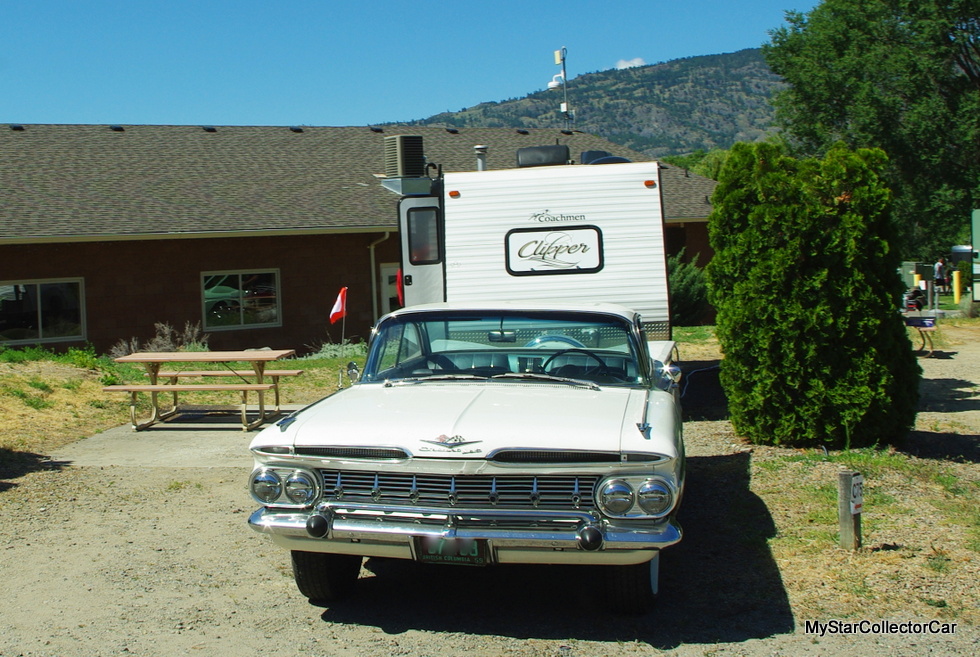 Leo knows this preparation before the trip is a great way to minimize problems on the road. His trunk is full of safety equipment, parts and tools because a 58-year-old car on a 9000-mile road trip is a gamble.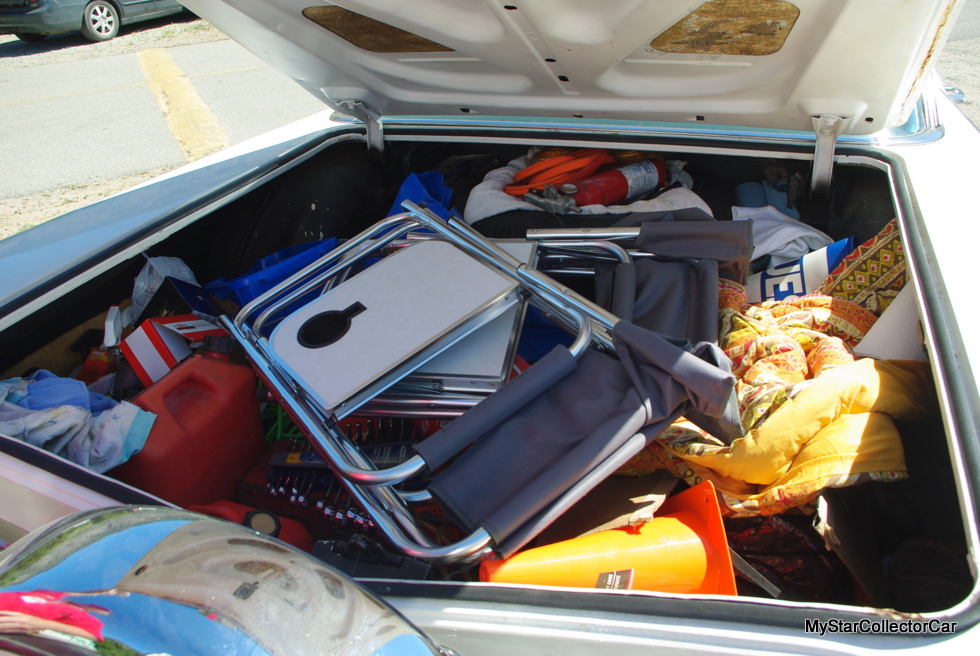 Leo's biggest takeaway from the Coasters experience is the sense of family in the group. He mourns the loss of some of his friends from the 2010 trip but he also realizes making this 2017 trip  in their memory is the highest honor the Coasters can give a member.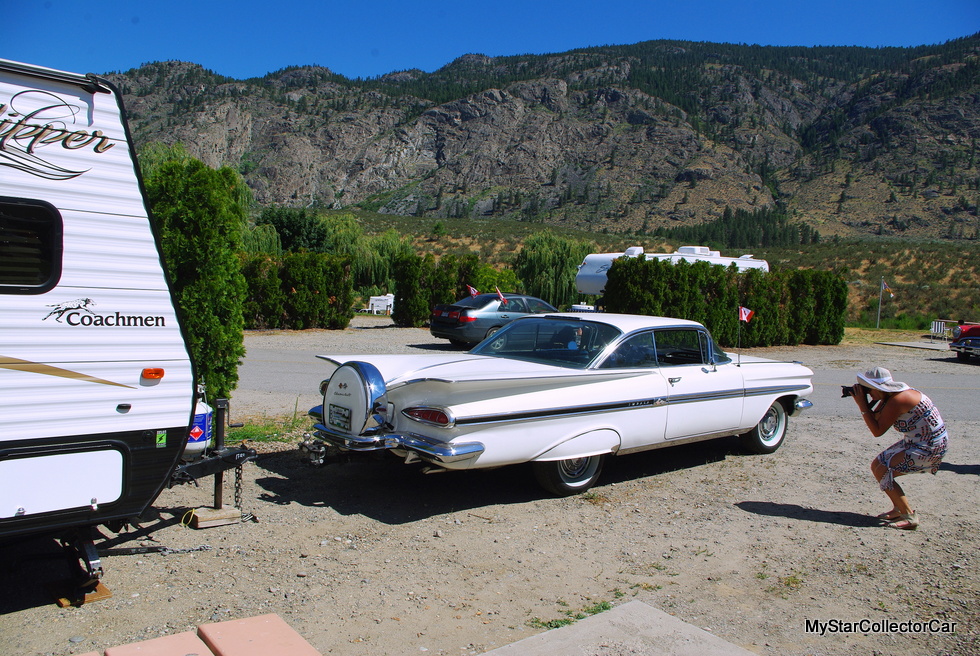 Leo is a firm believer in the "live for today" philosophy and this trip is ultimate expression of it. Every day on the road is a new experience because every new turn in the road or crest of a hill is a potential success or failure but it's all part of the Coasters experience.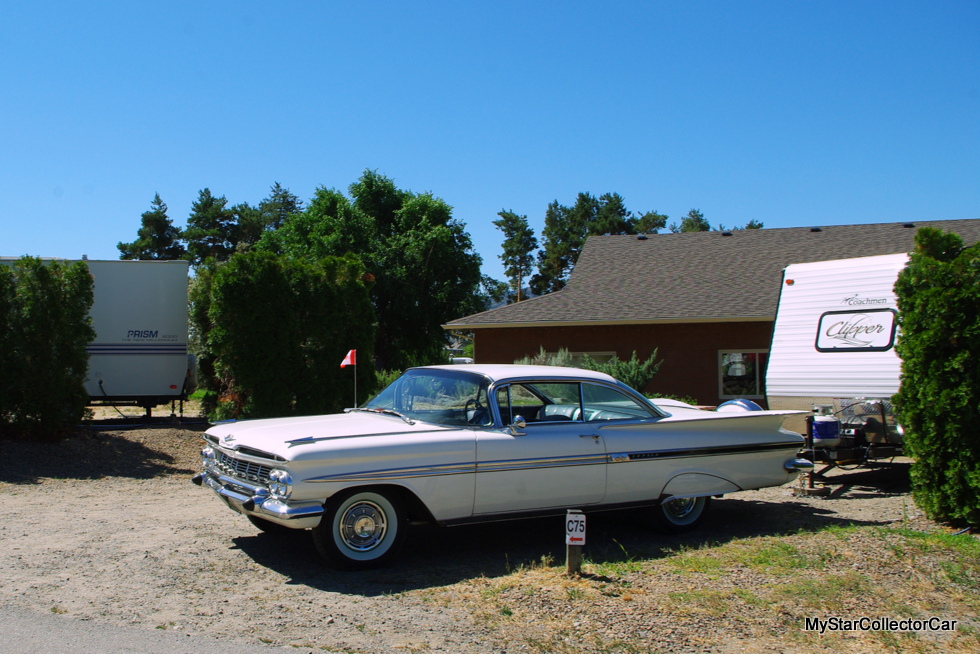 The trip will take the whole summer to complete but Leo counters that with the question: "what is time worth if you're not spending it on something like this?"
By: Jerry Sutherland
Jerry Sutherland is a veteran automotive writer with a primary focus on the collector car hobby. His work has been published in many outlets and publications, including the National Post, Calgary Herald, Edmonton Journal, Ottawa Citizen, Montreal Gazette, Saskatoon StarPhoenix, Regina Leader-Post,  Vancouver Sun and The Truth About Cars. He is also a regular contributor to Auto Roundup Publications.