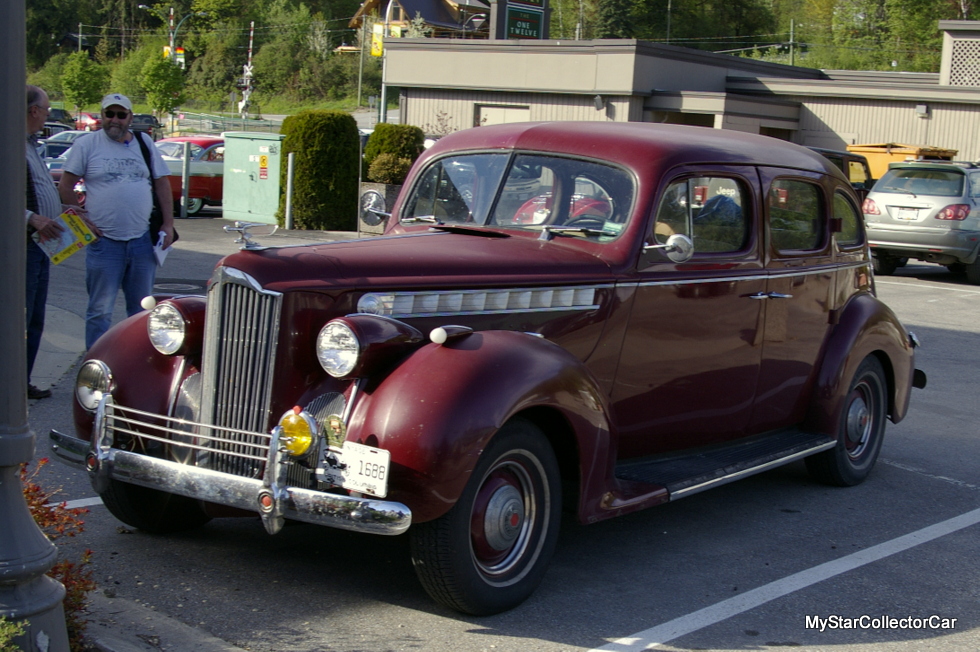 We ran into Vic Bourne at a car show held in a railroad town in the Canadian Rockies.
Revelstoke, BC is a beautiful mountain community located along the famous Trans-Canada Highway and you will face steep grades to get to Revelstoke from either direction on the Trans-Canada.
Arrival in Revelstoke from the east is a big test for vehicles and, while the west route is less of a challenge, it is still a tough mountain road.
What caught our attention was the car Vic had chosen to drive from the west coast of Canada to Revelstoke: a 1940 Packard.
Not just any Packard, a stock 1940 Packard; one with a modest little 260-ish cubic inch six cylinder. There was no danger of whiplash whenever Vic put the pedal to the metal but he is a firm believer in the idea of stock rides.
He is co-owner of the car with Brenda Flynn and the two of them share a common interest in history found in its purest form, from antique telephones to vehicles.
They embrace the past and their road adventures include journeys through the mountains in a 75-year-old car to attend a car show with like-minded enthusiasts.
They chose to take a secondary highway that used to be a primary route for travelers. Their road was mostly a two lane throwback with some steep sections, but less traffic than the superhighway that replaced it in BC.
The biggest part of the equation was whether the Packard could still handle the steep mountain grades and Vic assured us the old warrior passed the test.
The trip was about 400 miles and took an hour longer than the superhighway, but Vic found the journey more relaxing for him. The Packard now features seat belts, an addition Vic described as "wise."
Vic averaged about 50-55 mph (80-90 km/h) on the highway and is a fearless man when it comes to his Packard.
Many owners would choose to trailer their stock 1940 Packard under the same circumstances but Vic and Brenda would not even consider turning their car into a trailer queen.
Vic and Brenda belong to a group of like-minded people in their antique auto club, the Vintage Car Club of Canada (Vancouver Chapter). The VCCC have many chapters in BC and they are heavily involved in the organization.
The Packard story has a bit of a twist because Vic has a penchant for Ford products and owns a driver quality 1915 Model T that he and Brenda use for short excursions. He was looking for a 40s-era Ford when he discovered the Packard at what Vic described as a "fair price".
Vic is a practical man and did not want to lose an opportunity to own a vintage car because it was not his first choice. Good call because a 1940 Packard is an unusual car and commands a lot of interest from curious onlookers.
Both Vic and Brenda enjoy the experience of the Packard as a conversational ice-breaker with people and are happy to explain the car.
We thoroughly enjoyed our interview with Vic and admire a guy who still loves car adventures during his golden years.
Jim Sutherland
CLICK HERE to Like us on Facebook
CLICK HERE to Follow us on Twitter
CLICK HERE to Follow us on Pinterest
Please re-post this if you like this article.