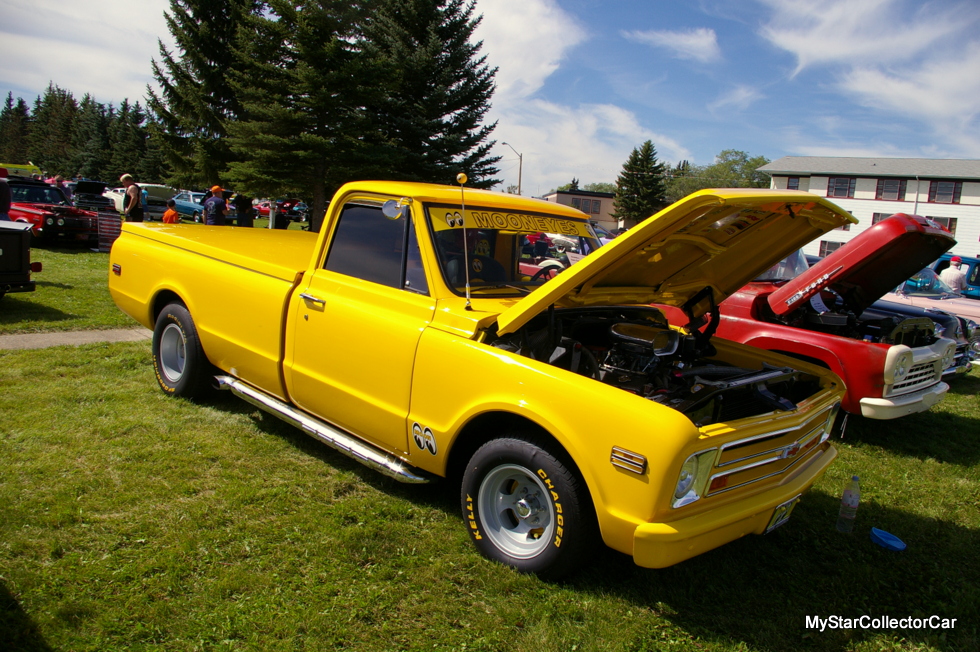 Steve White is an expert in 1967-72 Chevy and GMC pickup trucks because he has owned over 200 of them in his lifetime.
'His bright yellow 1968 Chevy C-10 resto mod stands above the rest even though it was originally a 1969 GMC that Steve bought to haul garbage.'
The truck was previously owned by a buddy and Steve rebuilt the engine for the guy in the early Nineties.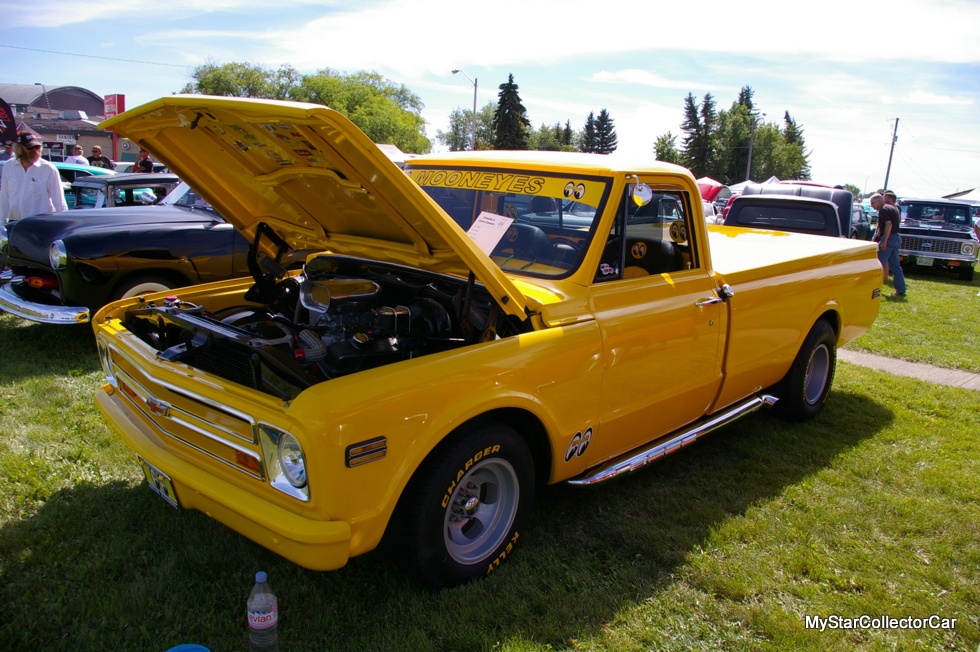 The then-GMC pickup was rusty but it ran like a top and Steve told his buddy he would buy it when the guy decided to sell it.

Steve is a licensed body man with a strong mechanical background so a truck project is well within his skill set. He has done many projects over the years and attributes his car guy heritage to the influence of hot-rodders in his extended family when he was a kid.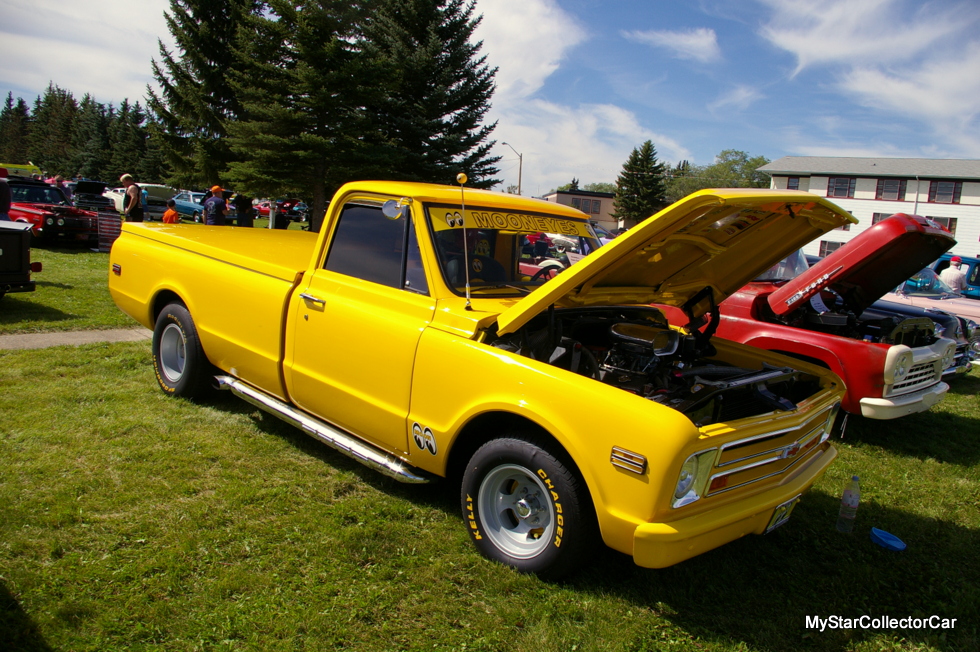 The Mooneyes theme on his truck is a tribute to his early connection with the hot rod culture. In fact, Steve said "I was learning how to rebuild engines while other kids were learning how to ride a bike."
Steve added that he had "no interest in comics and only read hot rod magazines when he was a kid". Those early years in Steve's led to a long history of automotive related projects- including his bright yellow truck painted in Steve's favorite color.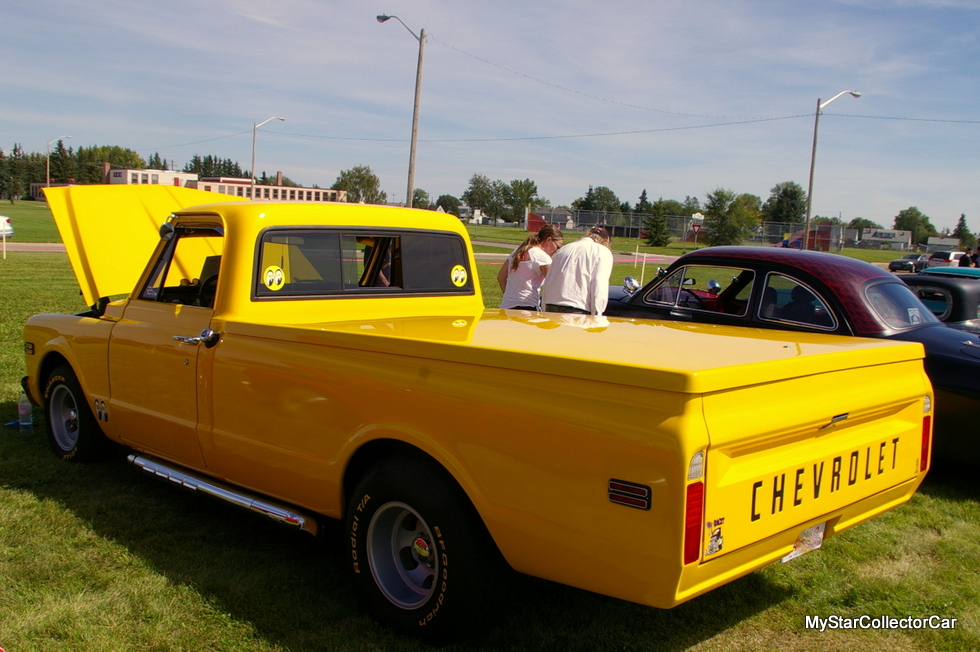 The former 1969 GMC is now officially a 1968 Chevy C-10 in the registry with the changes made by Steve and it is a very fast '68 Chevy. Steve used a 355 small block Chevy engine in the truck and used to run a 250 shot of NOS on the track.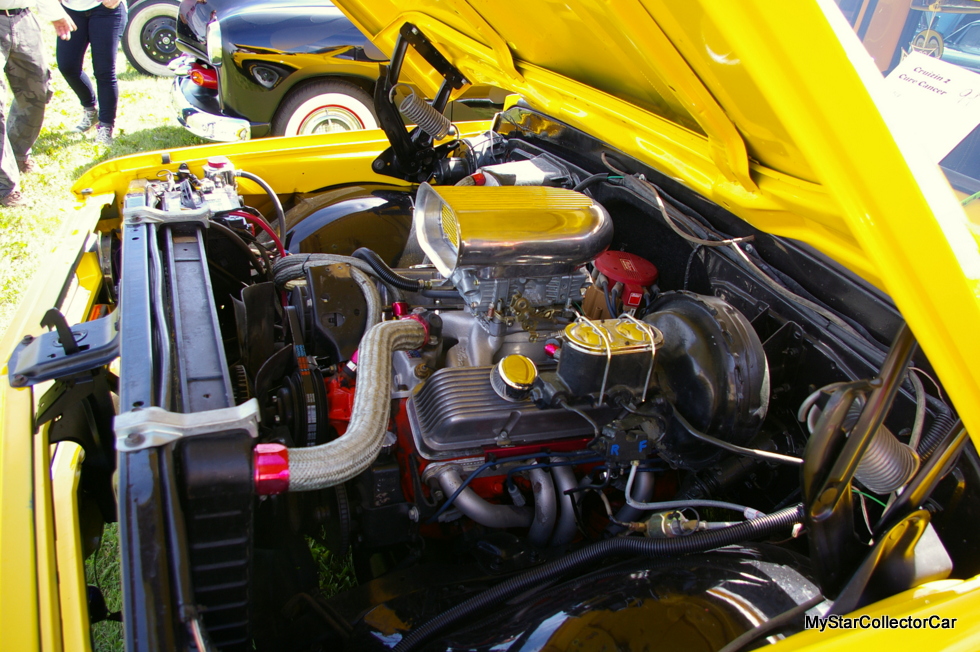 The result was a 12 and a half second truck that could hit 112 mph in a quarter mile. Steve has backed off a little on the truck's performance off the track where it does not need a nitrous boost to go fast.
His small block Chevy is bolted up to a Saginaw 3-speed manual transmission donated by a Chevy Vega that was sitting on its side at a neighbor's farm. Steve offered the guy 50 bucks for the tranny and the farmer accepted the price if Steve removed it.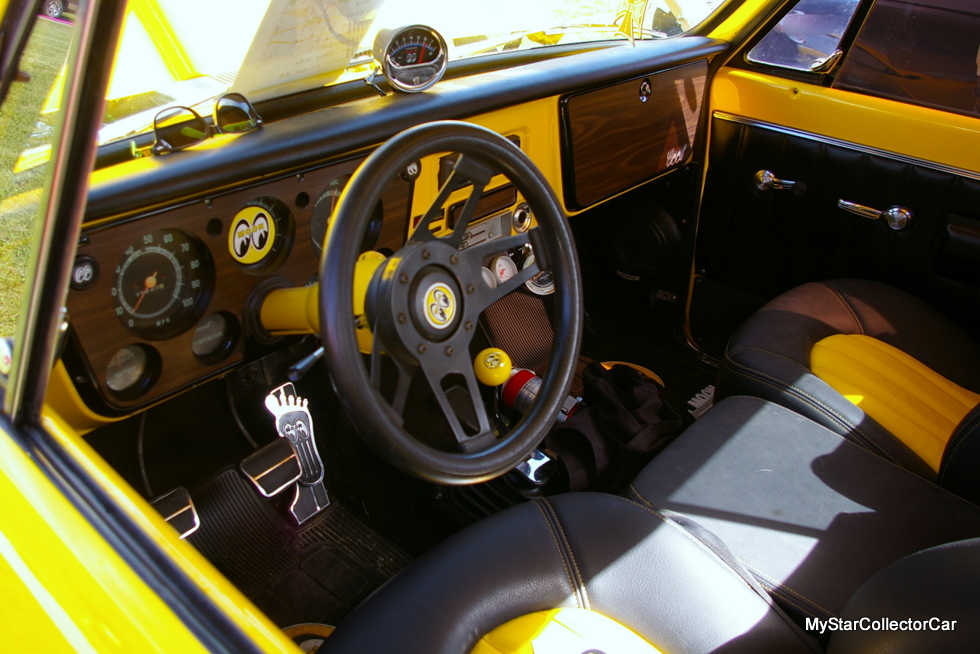 The transmission would appear to be an unlikely addition to a performance build, but Steve explained how the first low gear ratio in the Vega tranny offered a good base for a quarter mile launch when combined with the 4:10 posi rear end.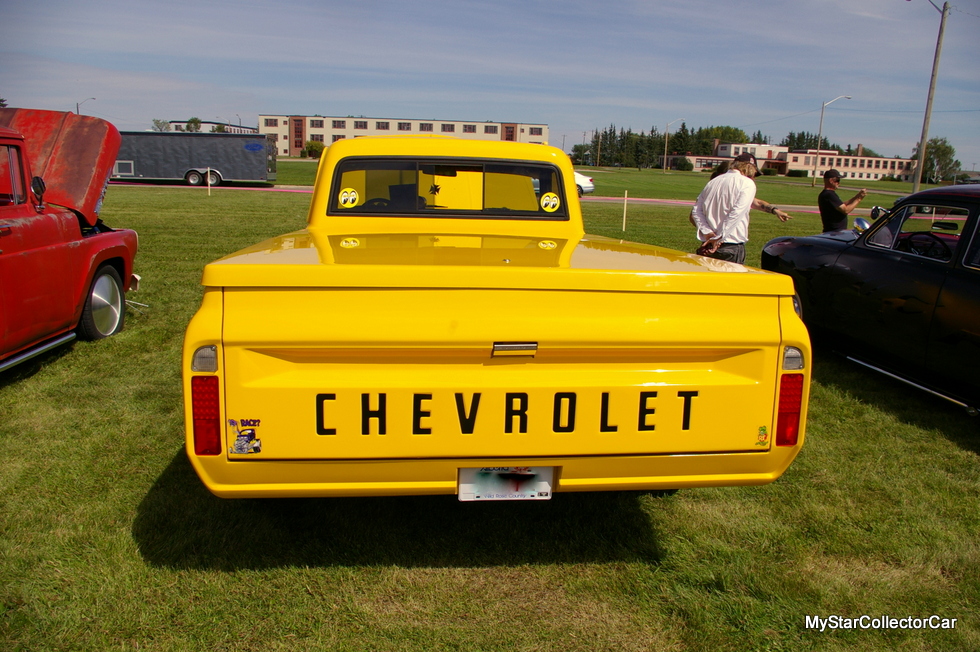 Steve is a big fan of manual transmissions and prefers to use them in his builds, even though automatics are more efficient in his opinion.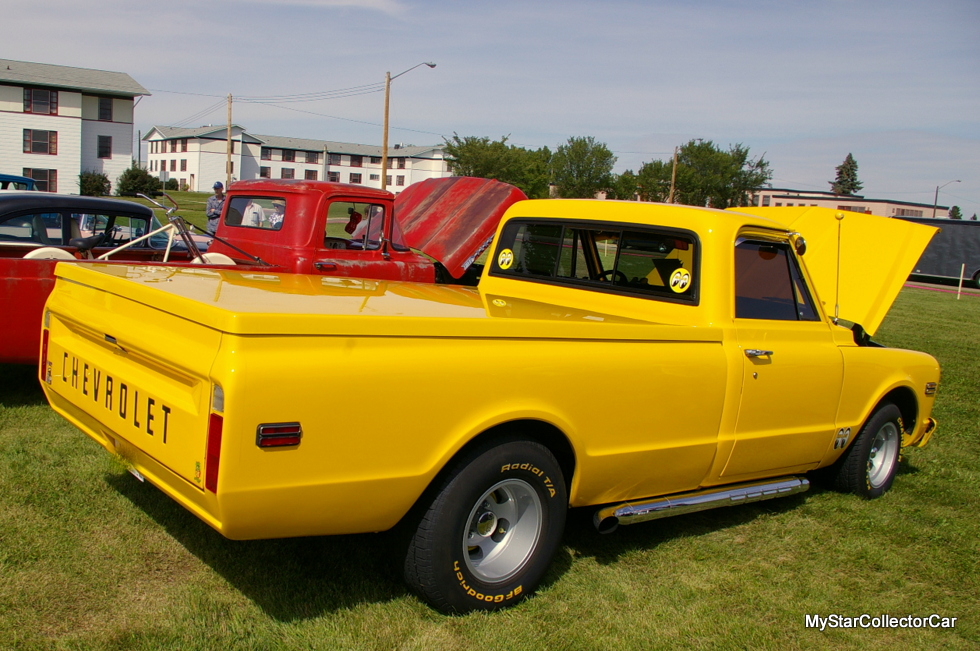 These days the Chevy is lightly used by Steve for special events like car shows and 100-foot shootouts. He likes to drive his truck to shows and finds the truck to be fairly comfortable at highway speeds, given the low gears in the rear end.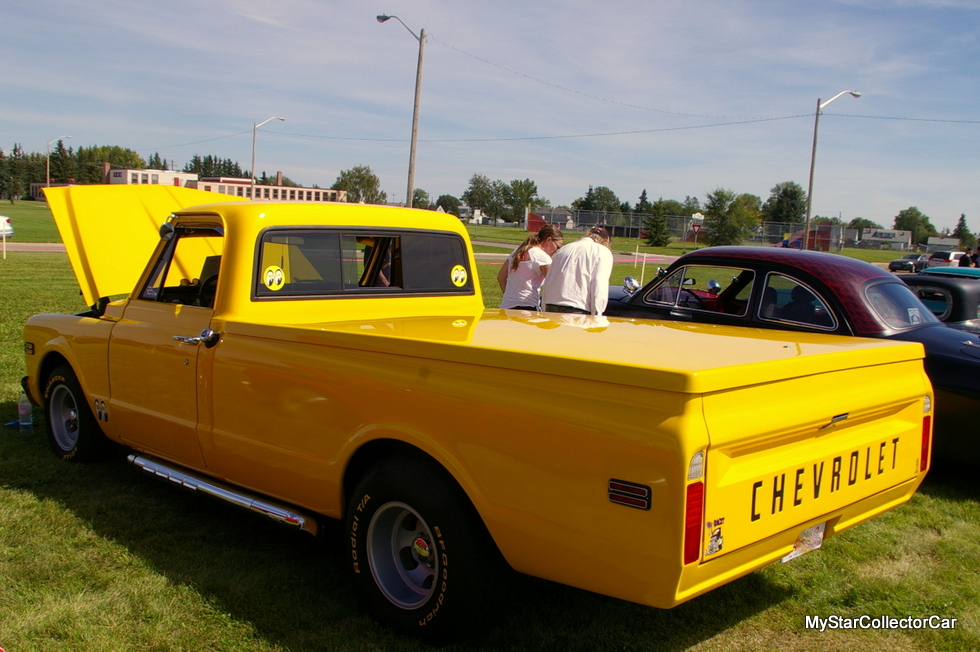 It will more than keep up with the fastest traffic on a highway and runs at about 3600 rpm at higher speeds.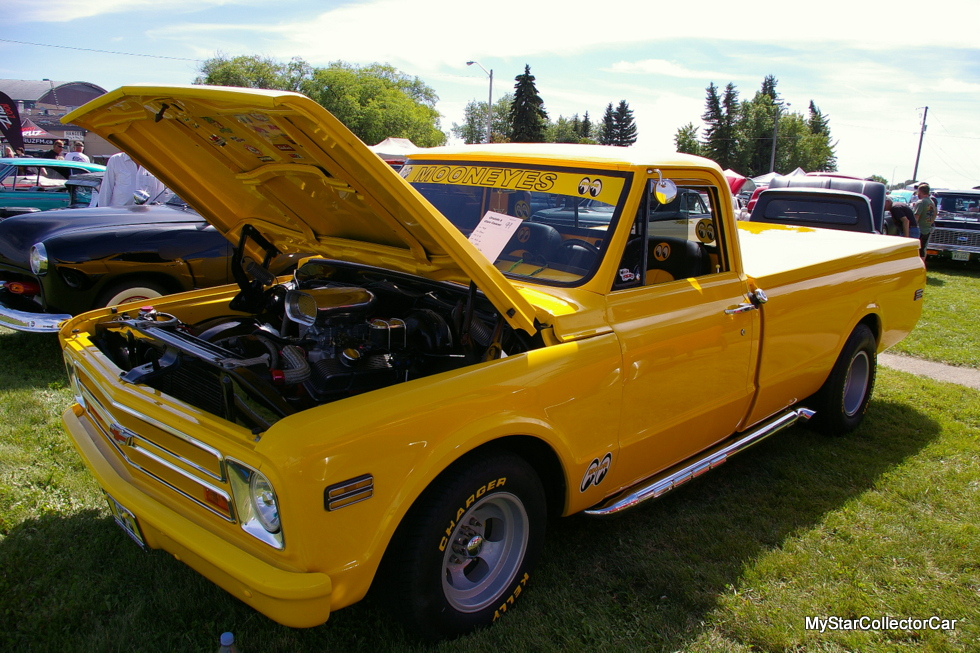 We had one final question for a man who has owned over 200 of these trucks:
Do you plan to keep this one?  Steve's answer: "They're going to bury me in it". Good answer.
Jim Sutherland
CLICK HERE to Like us on Facebook
CLICK HERE to Follow us on Twitter
CLICK HERE to Follow us on Pinterest
**Please re-post this if you like it.