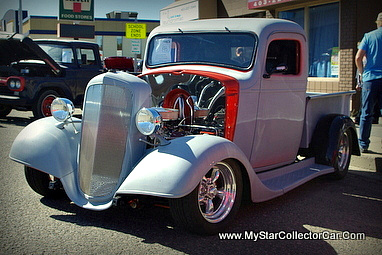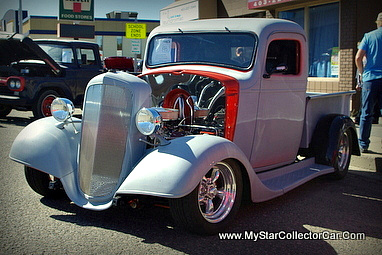 Terry Kumm has a very understanding wife who really knows that her husband is an incurable car guy.
She thought he needed a project, so she gave him a 1936 Chevrolet pickup truck for a Father's Day gift many years ago and let him put his own custom stamp on the project.
Terry has a diverse background that includes both the auto body trade and a university education to go with his current occupation in the petro-chemical field. Terry had to lean heavily on his auto body experience to tackle this beautiful custom Chevy truck that he built over a nine year period.
Terry got used to many questions from the car guys in his town about the completion date for his project, but Terry's early experience in the auto body trade taught him to do the job right and not to set deadlines.
The transformation of a truck from the Dirty Thirties into a comfortable 21st Century street machine required a lot of planning by Terry. The truck was initially built for the sole function of hard work and was not designed for comfort in any way, shape or form.
Terry wanted to ensure that his Chevy truck was ready to take him around the car show circuit in both comfort and style, so he added a few touches that gave the truck both of these features. The changes included a Mustang II front end to give the truck a quicker ratio and more comfortable ride.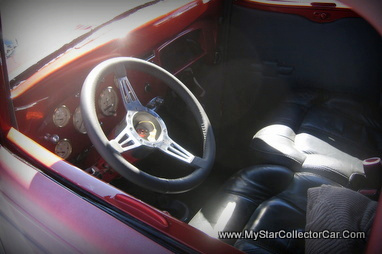 Terry also replaced the wooden cab components with metal to give the truck a more rigid and durable framework for the road because he also added a 350 Chevy to the truck. The tight fit meant that Terry had to install an electric radiator fan because of clearance issues.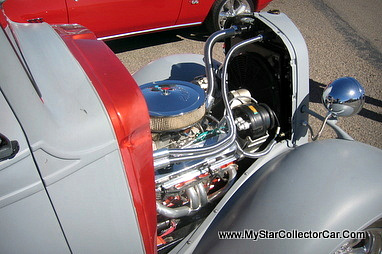 Terry hand-built the lower cowls and door skins for the Chevy so that he could get the perfect fit for the truck. He also modified the firewall so that he could fit the new steering column into the truck.
These trucks had very minimal cab space so Terry fabricated new floor pans to give the truck a little more leg room for extra comfort on longer trips. He also shortened the box because he wanted the truck to have a better look on the street.
These old Chevy half tons had a windshield that opened up and a front vent in front of the windshield that provided fresh air to the passengers in the truck. However, Terry got rid of both of them and modified the front dash so he could install an air conditioning system in the truck.
The front headlights include a very cool signal light system because these old trucks come from a time when many drivers used hand signals to show left or right turns. These days a hand signal usually involves one finger, but the 1930s were a different time for both turn signals and courtesy.
Terry summed up his Chevy truck project with this thought; "It doesn't matter what you touch, you're changing everything."
In Terry's case, that meant a big change for the good for his custom 1936 Chevy pickup.
Jim Sutherland