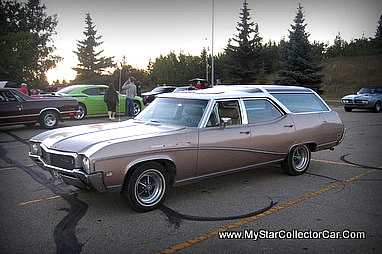 The Buick Sport Wagon was a first cousin of the more famous Olds Vista Cruiser and there was reason to confuse the two luxury wagons from the General.
They both had the famous raised roof that had a skylight built into the roof line.
They also had a cool factor built into the un-cool station wagon formula from days of yore.
These days the old long roofs enjoy a very hip image because they are not found in great numbers at any show. Add a skylight to that long roof and you add even more curb appeal to these wagons.
Full disclosure here: we saw this 1968 Buick Sport Wagon and immediately assumed that we had just seen a rare appearance of an Olds Vista Cruiser at a show. These cars look as much alike as Patty Duke did playing both roles as lookalike cousins in that bad sit-com from the early 60s and we are not that bright.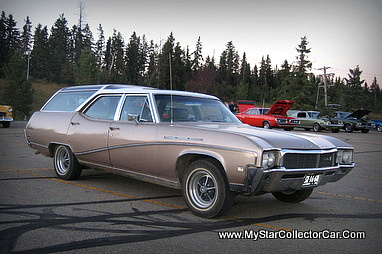 The Patty Duke characters were different because she faked a British accent for one of the cousins while the Buick badges were a dead giveaway on the Sport Cruiser. The wagon's owner was an outgoing guy named Ken Knights and the first thing he did was throw us the car keys.
The Buick was still very solid after 35 years and 132,000 miles so we enjoyed an opportunity to get behind the wheel of a very unusual station wagon. The 400 cubic inch big block was the biggest and baddest engine option for the Sport Wagon in 1968 and got the big car in the 8 second range for its 0-60 times according to the specs.
The stylish wagon was estimated to hit around 121 mph for its top end speed, but we piloted it very gently around the show that night and got plenty of thumbs-up along the way.
Owner Ken likes to purchase unusual vehicles and a high end survivor station wagon from the late 60s certainly qualifies as an unusual purchase. Ken described the Buick purchase in pretty simple terms; "the owner needed some money and I had some money." That is a pretty brief but accurate summation of the facts.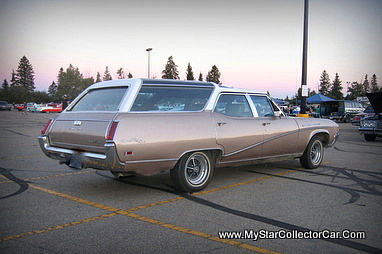 The 1968 Buick Sport Wagon was built on a larger wheelbase than its basic Buick counterparts in '68. In fact it had a 121 inch wheelbase that allowed Buick to fit three rows of seats very comfortably into the cabin of the wagon.
The three seats all faced forward and we are sure that a grateful herd of 60s-era kids happily avoided car sickness with this configuration in the Sport Wagon. Nothing produced sudden bouts of hurling better than a rear-facing seat in a station wagon in a bygone era of summer holidays.
Few things were more effective than highway markers moving away at 60 mph from the rear-facing backseat of a wagon to induce a geyser of sandwiches and Kool Aid in a queasy kid.
This Buick wagon is in the proper hands because Ken simply wants to keep it in its original family-hauling look. In fact he even talked himself out of a plan to add a ram air hood to the car because not too many of these wagons were modified with that feature in 1968. Our best guess would be none.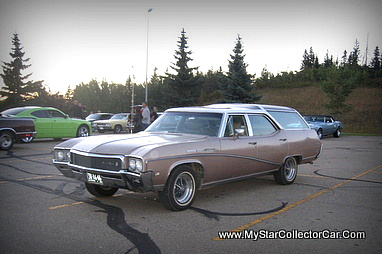 We were glad to see this Buick version of a Vista Cruiser at a show and we promise to never again confuse this wagon with its more famous Olds cousin.
Jim Sutherland