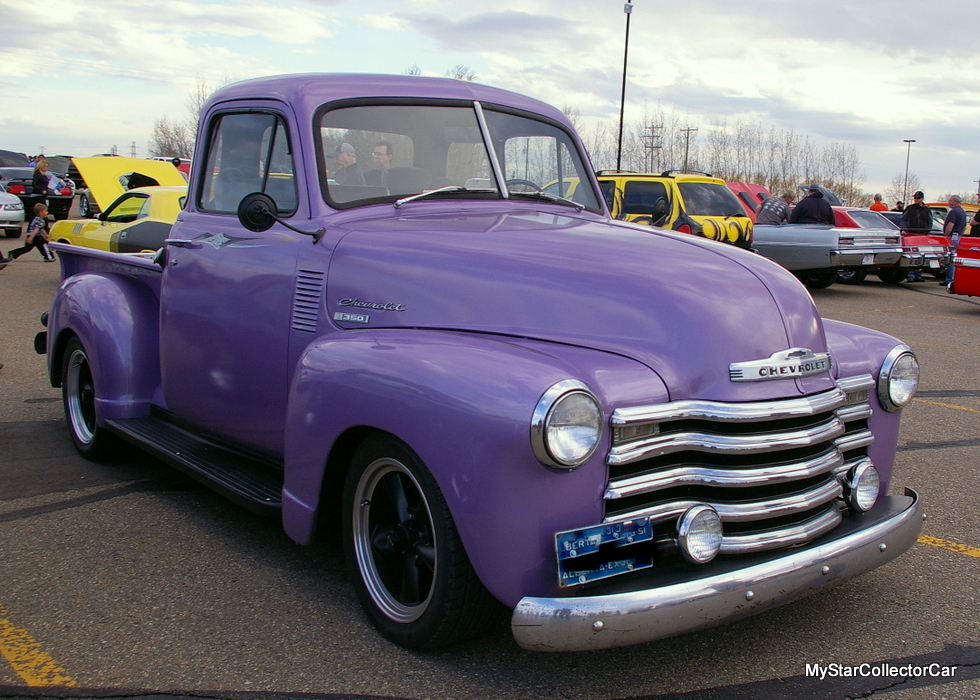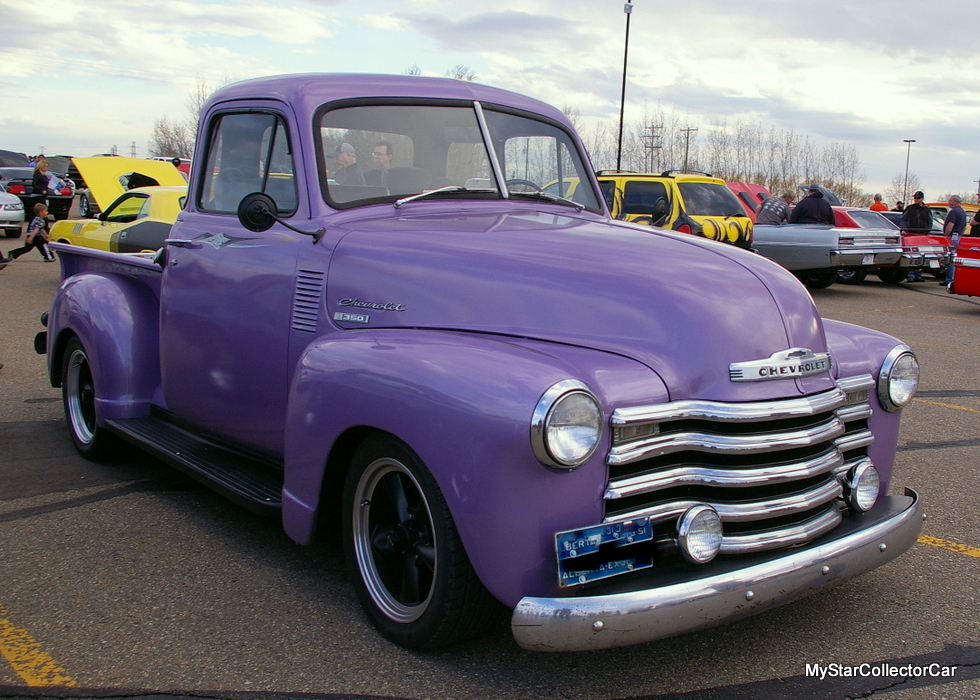 A purple 1951 Chevrolet 3100 pickup truck is a dead giveaway about one thing: this baby is not stock.
In fact, the original truck was a ¾ ton with 3100 badges on its side-but this truck had 8-350 badges on its side-and they were even custom-built.
Joel Jackson was the truck's owner and he told MyStarCollectorCar that "8-350" represented the Chevy V-8 small block transplanted into the 67-year-old truck.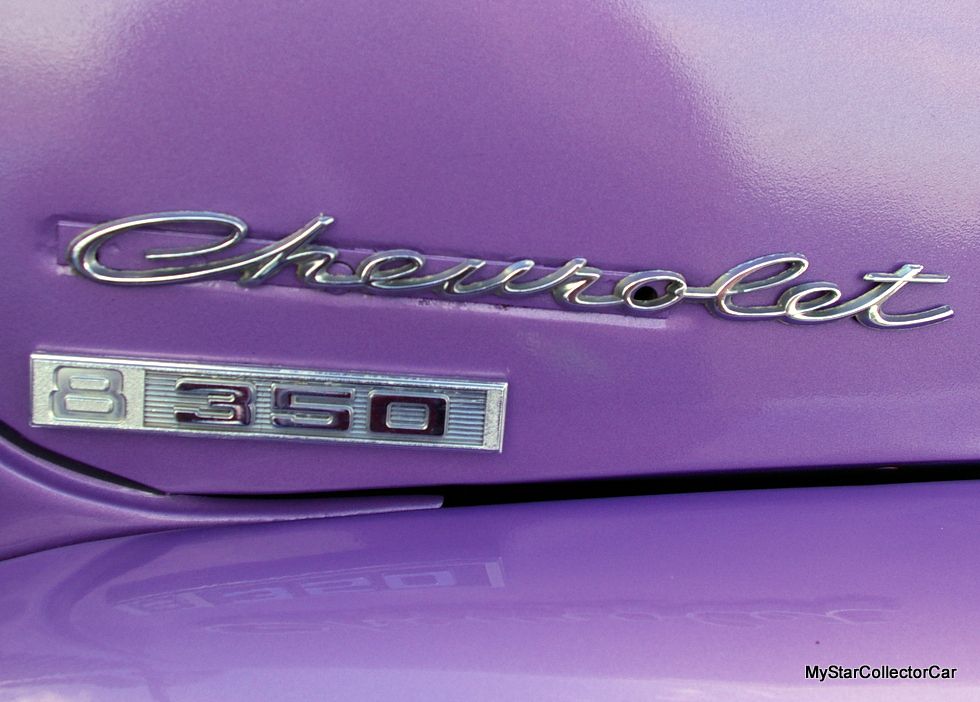 Most car guys will already know that a 1951 Chevy never left the factory with a V-8 engine of any kind, but now Joel's truck sports a 1982 Chevy 350 cubic engine that is cradled into a Chevy S-10 frame under the '51 Chevy. "We redid the 350 and put it in", according to Joel.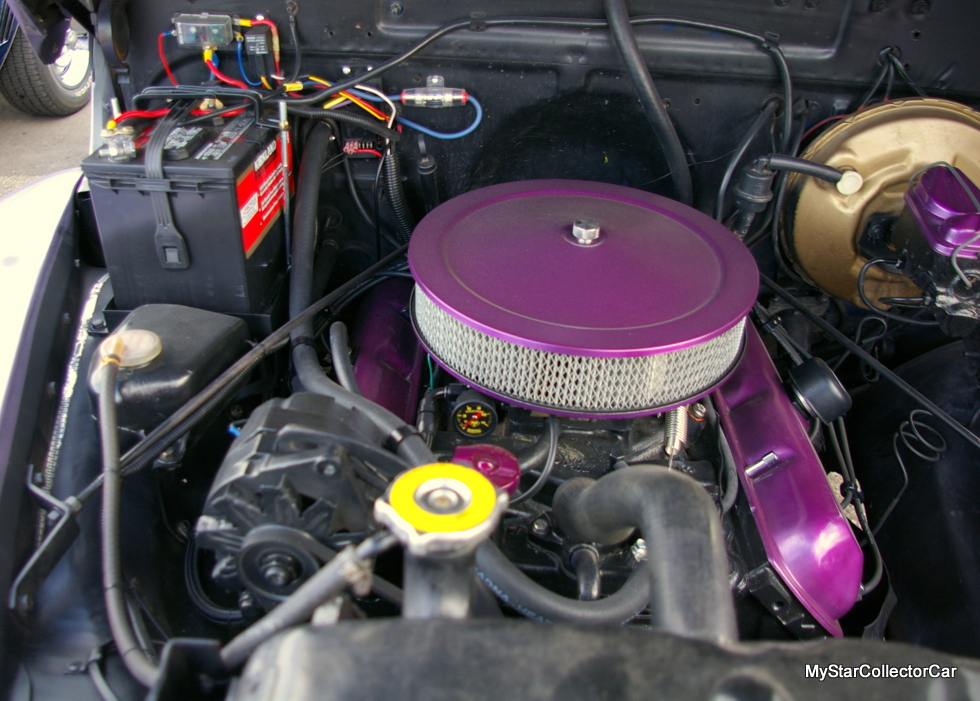 The original manual transmission in the pickup has also been replaced by a Chevy automatic tranny that gives the old Chevy truck a brand new lease on life. The newer truck frame underneath the '51 also boasts disc brakes on the front and rear drums.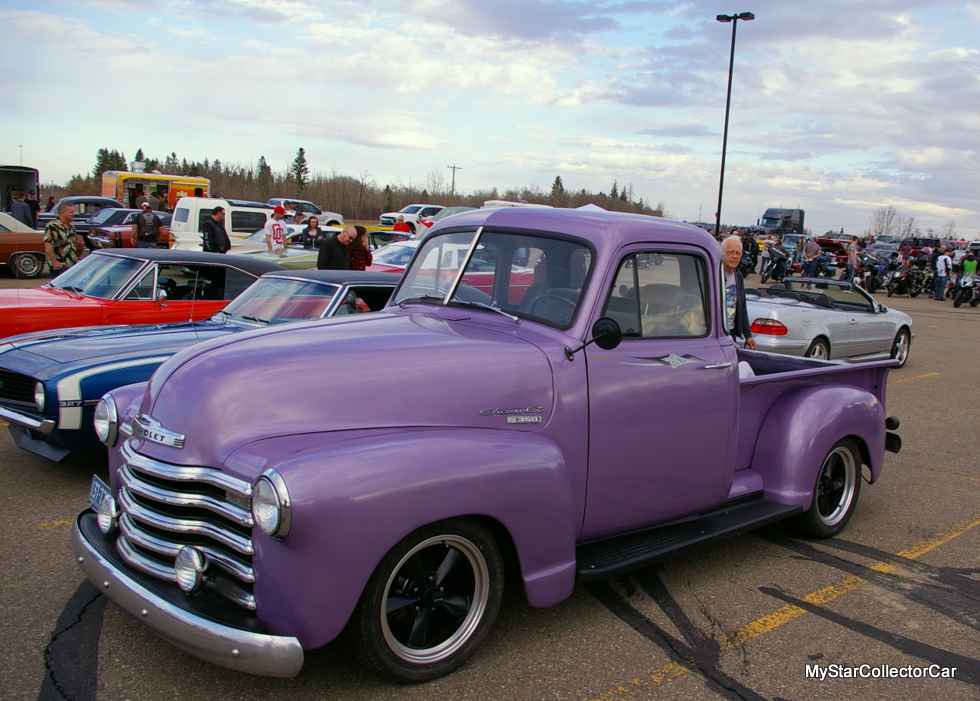 The result is a nimble truck that is "good on the highway", according to Joel. His custom build now offers great performance and ride comfort that was never available on the factory Chevy truck in 1951.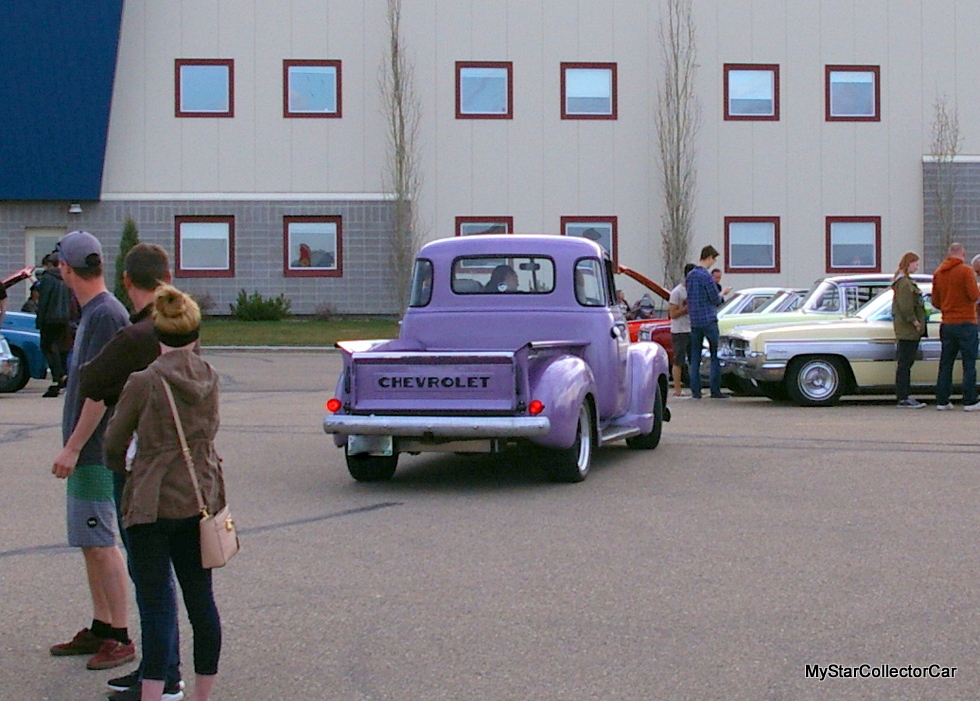 The interior of the truck has also been upgraded and now offers a more comfortable ride with its seats that were donated by a Chevy Suburban (third row seat in the newer truck). The Suburban seats also have built-in seat belts for safety reasons and this important fact: Joel admitted, "My wife made me do it".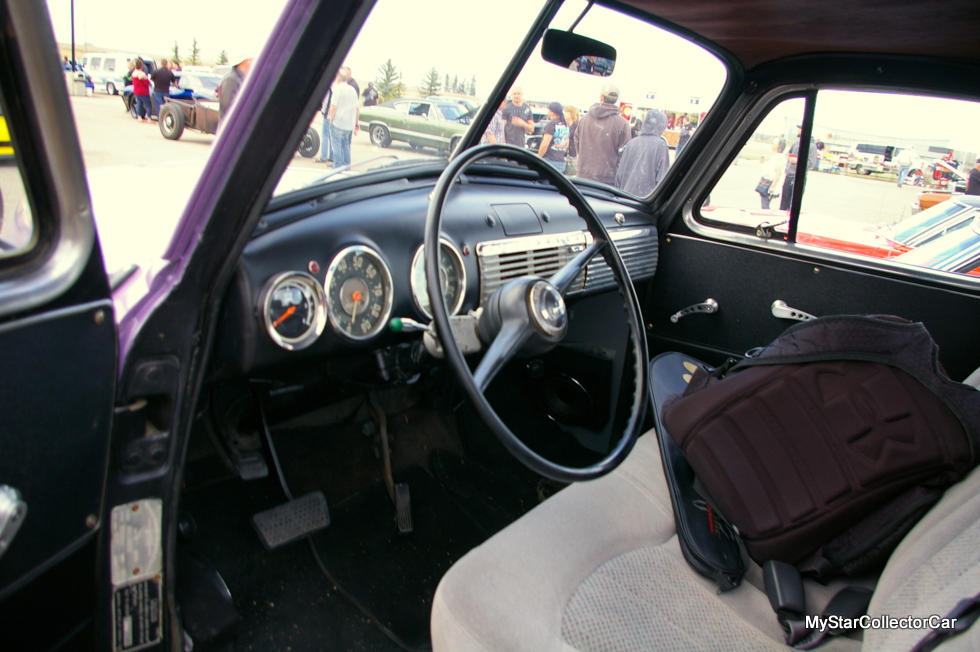 The '51 Chevy truck still sports its original side window vents and Joel is pretty happy with the noise level in the truck's cab so he added a hidden stereo and a good sound system to it.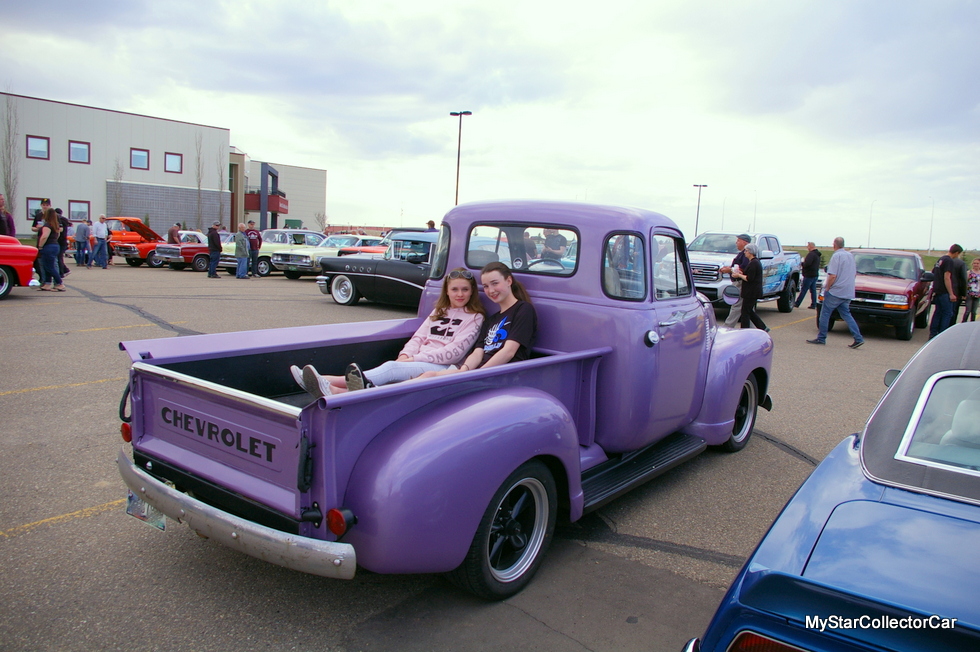 Joel removed his truck's original gas tank from its position inside the cab and added a fuel cell custom-built into the rear of the frame. The '51 Chevy's transplanted engine now receives its fuel from an aftermarket electric fuel pump.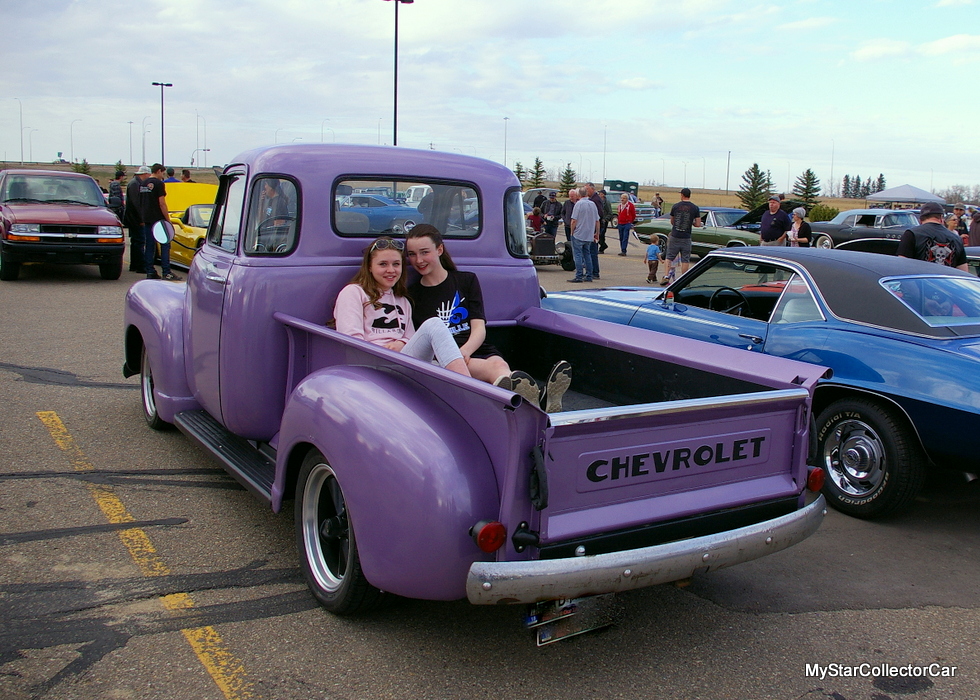 Joel was not comfortable with the idea of sharing cab space with a fuel tank–particularly a cab where he could smell raw gas-so he made the change.

The 1951 Chevy may be a custom build but it's still a truck, so Joel applies a practical touch to his pickup truck. He uses it on a regular basis as a wood, bottle and garbage-hauler during the summer months, along with duty as a daily driver when the weather is good.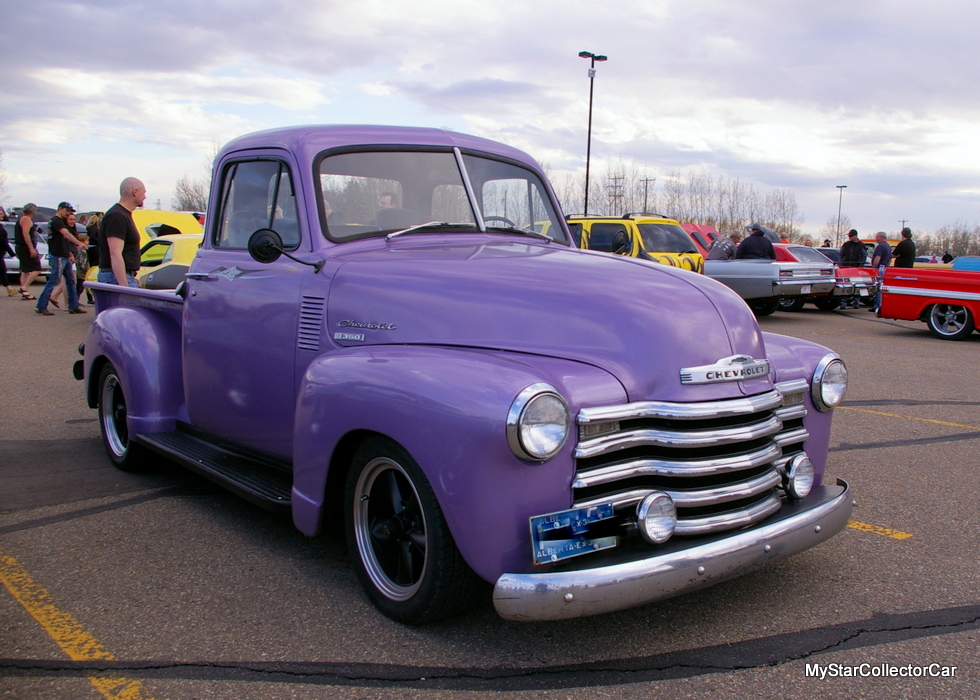 Warm weather is not a big issue for the truck because it's also cooled by an electric fan system to prevent overheating issue.
The Jackson's unusual family heirloom is now caught the attention of Joel's young daughter in a big way and MSCC confidently predicts that she will become an important part of the 1951 Chevy truck's future in Joel's family.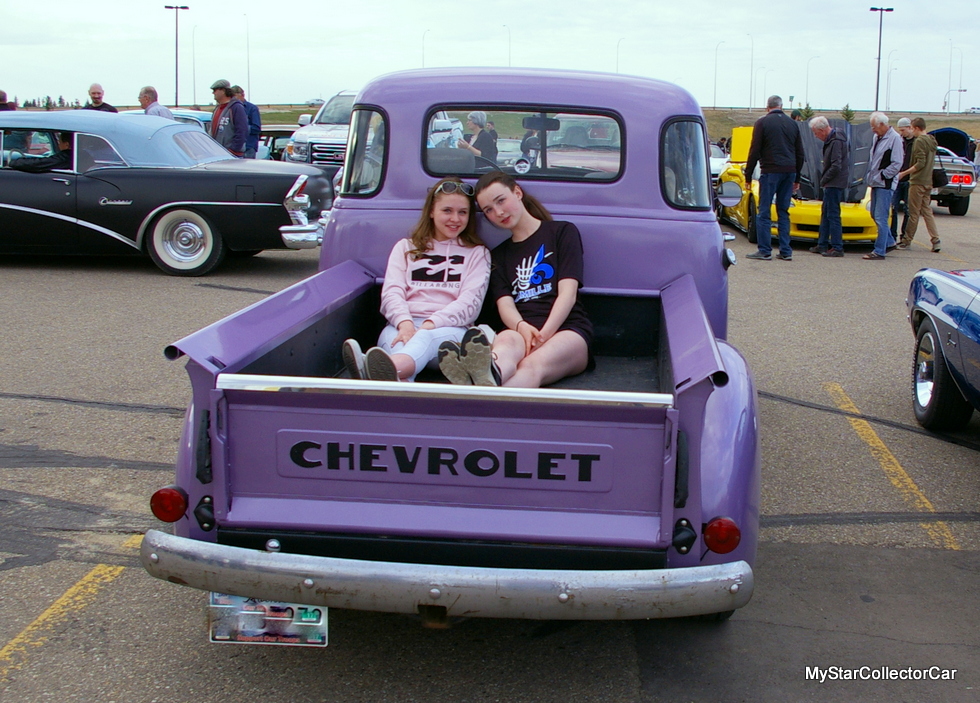 However, Joel is a younger car guy who does not appear to be anxious to hand over the keys for his custom truck to his daughter in the near future.
BY: Jim Sutherland
Jim Sutherland is a veteran automotive writer whose work has been published by many major print and online publications. The list includes Calgary Herald, The Truth About Cars, Red Deer Advocate, RPM Magazine, Edmonton Journal, Montreal Gazette, Windsor Star, Vancouver Province, and Post Media Wheels Section.