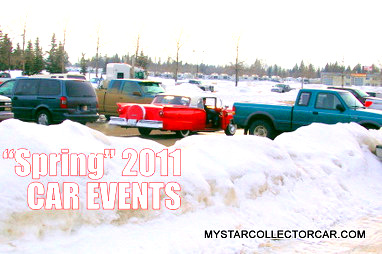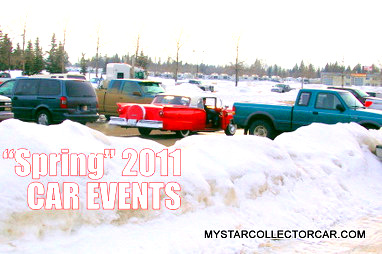 This was the first weekend of spring for many parts of the world.
Our part of the world was not on the list.
Winter has held on like an obnoxious house guest in our region- the kind of house guest that should leave with a fairly impressive boot print on his butt.
So an annual "spring" car show/auction was an optimistic sign that we actually have a car season here on the frozen tundra.
George" King of the Kustoms" Barris was here, as well as Brett "The Big Schwag" Wagner from 'Monster Garage' and 'Pass Time'.
There was no truth to the rumor that these guys arrived by dog sled, but neither seemed too concerned about the snow and barely-above-freezing temperatures on the weekend. George really enjoys his new gig as a judge on 'Car Warriors', and he assured us that feelings do indeed run high during the builds. We didn't ask George whether any of these build guys will win the coveted Dwayne (American Hot Rod) award for biggest TV car show a….- well you know the rest.
Those of us with no current plans to get the hell out of Dodge (until real car guy weather makes an appearance) were content to see all of the classic iron at this spring show. All of the vehicles were inside a large building where both cars and car gawkers could enjoy shelter from our spring-in-name-only weather.
We included a few of the many cars that were on display (or up for sale) at this event. The pick of the litter may have been the ultra-rare 1954 Kaiser convertible at the show.
Unfortunately, snowfall warnings meant that many cars were not at the show, including an equally rare 1963 Plymouth Max Wedge convertible.
Both cars at the same show would have been as newsworthy as two Bigfoots doing the Hustle on 'Dancing With The Stars', but only one dance partner was at the hop.
But the real fun of a spring car event is the notion that our car season is not too far into the future- despite the current frozen wasteland theme in our neck of the woods. Maybe it will just make our car guys appreciate every day on our streets where they don't need snow tires on their beloved rides.
Spring fever for car guys is officially here, even in an area where it is still only a concept like ours.
Jim Sutherland

Many car stories from better climates at https://www.mystarcollectorcar.com/