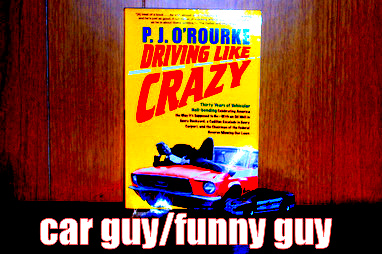 One of my personal writer heroes is the legendary P.J. O'Rourke.
He has written for many publications from Rolling Stone to Esquire.
He has also written many highly entertaining books about the volatile world of politics and social issues as they relate to a bigger world.
His style is funny, cynical and highly educational to his readership.
He is well researched in the subject matter, plus he can deliver a solid reason to finish his books- you are guaranteed to "lol" in a legitimate non-Facebook way.
I have been a big fan of the guy since his out-of-control National Lampoon days. It was an era of excess (real and imagined) for O'Rourke, but an ability to write great fiction is the trademark of every great non-fictional writer.
Consequently I was pleasantly surprised when a buddy of mine in a very respected occupation sent me a copy of O'Rourke's car guy book; 'Driving Like Crazy'. The sender is a guy who loves cars and used to test the optimum velocity of his cars in his younger days. He is also a PJ O'Rourke fan.
The book is a chronicle of O'Rourke's adventures over the past thirty years of motoring. Some are re-prints from his guest appearances as a car magazine writer, while others are an extension of his primary task to cover a political or social upheaval event.
He chronicled his experiences in the Baja 1000 race with former Monkee Michael Nesmith as he witnessed an off-road race that will destroy a vehicle and occasionally claim lives.
He included a cross-country odyssey in a 1956 Buick that was a little under-engineered for the job.
The message of his adventures were stories about cars journeys that became more about the journey than the car, but they all had the common thread that P.J. O' Rourke is a consummate car guy. The kind that embraces the spirit of adventure embodied in any car trip that steps well outside of our comfort zone.
I only had two complaints about the book. The first was typical of any O'Rourke book because eventually I was going to hit the last page and the fun would be over. The second was his lack of real love for North American iron.
As an unapologetic fan of Detroit's finest, I head down a different highway than P.J., but there is always room for open debate in car guy world.
Jim Sutherland
Much more about cars at https://www.mystarcollectorcar.com/
COMMENTS
BOB:"Isn't it interesting that when you find out some guy is a car guy you know that you have a lot in common with them. It doesn't matter what they do, if you met them the conversation would flow easily".