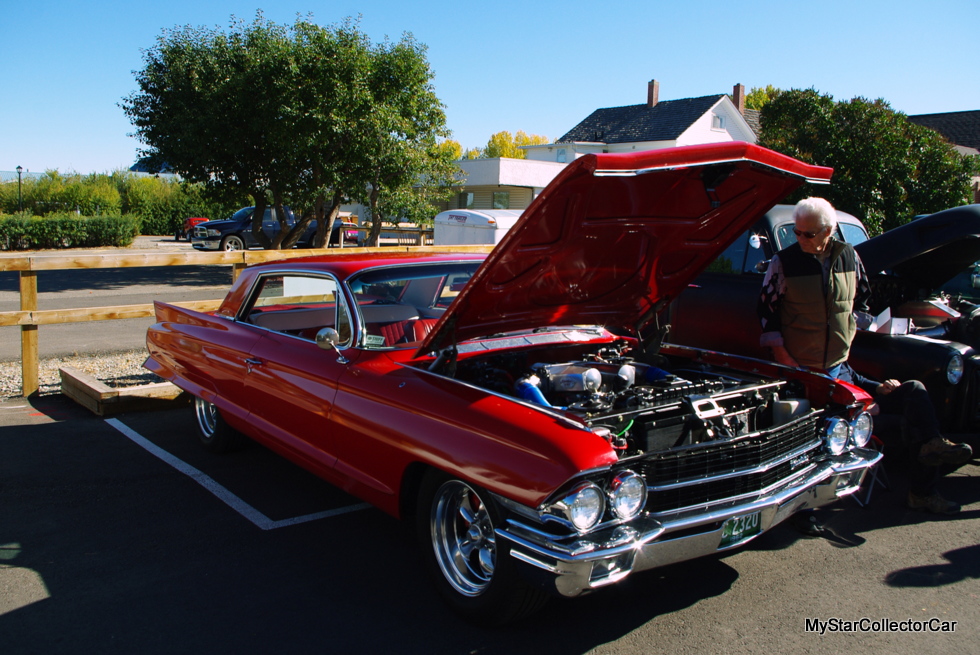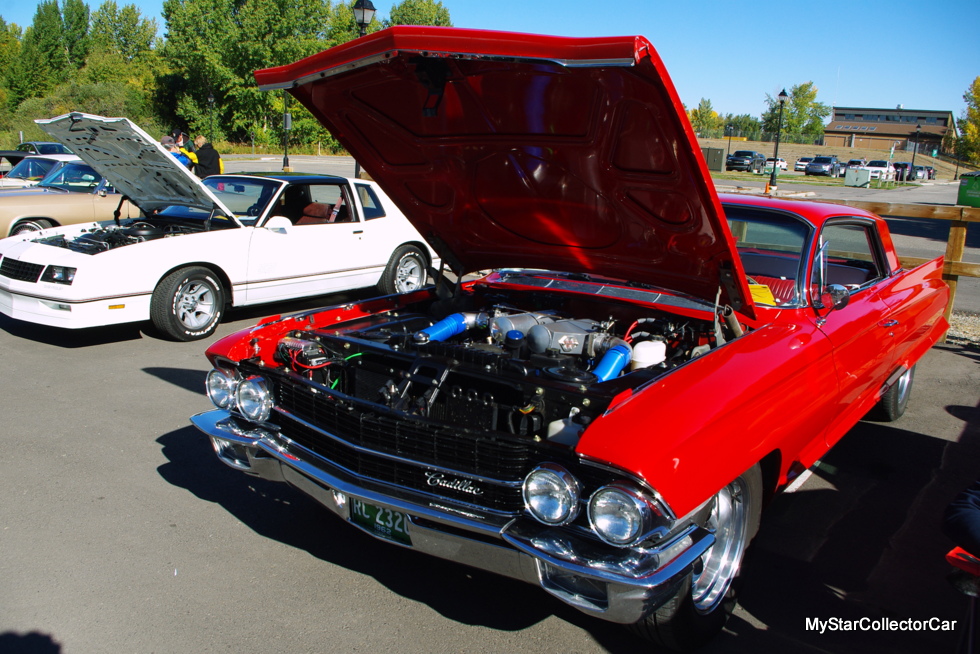 Donor cars have a pretty basic role in the car hobby—donate parts to a project.
That's a simple formula but what happens when the owner of the donor car becomes attached to it?
This is a rare occurrence but this 1962 Cadillac two-door hardtop is a classic example of how a donor car received a stay of execution.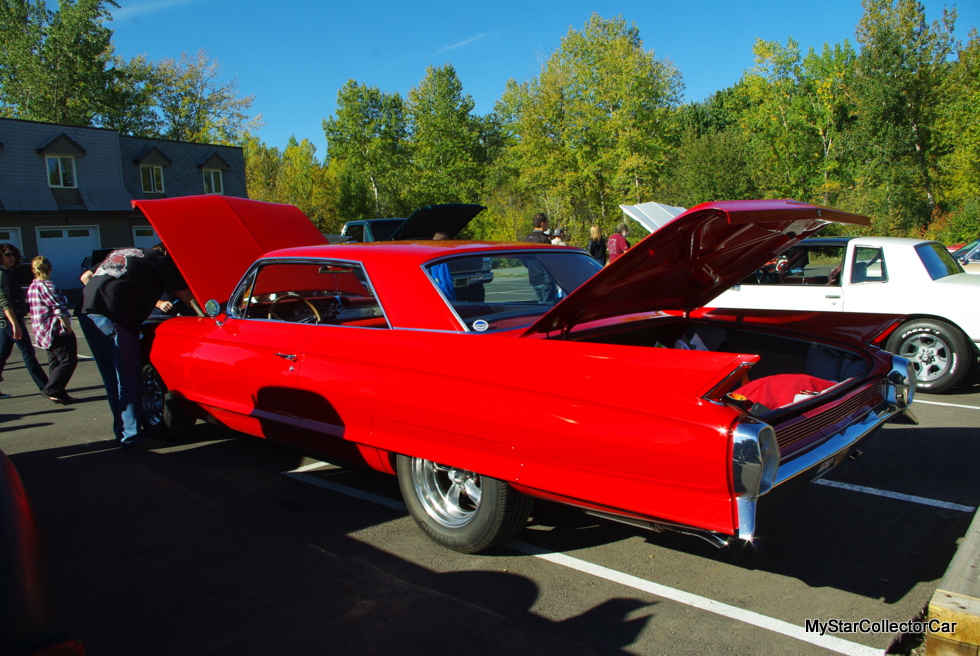 Dan McNarry bought the car over twenty years ago solely for the 390 motor but he made a big mistake—he drove it home.  Dan found out he'd "bonded with the car" so its bleak future changed overnight even though it was a low end, low optioned Caddy with a lot of rust issues.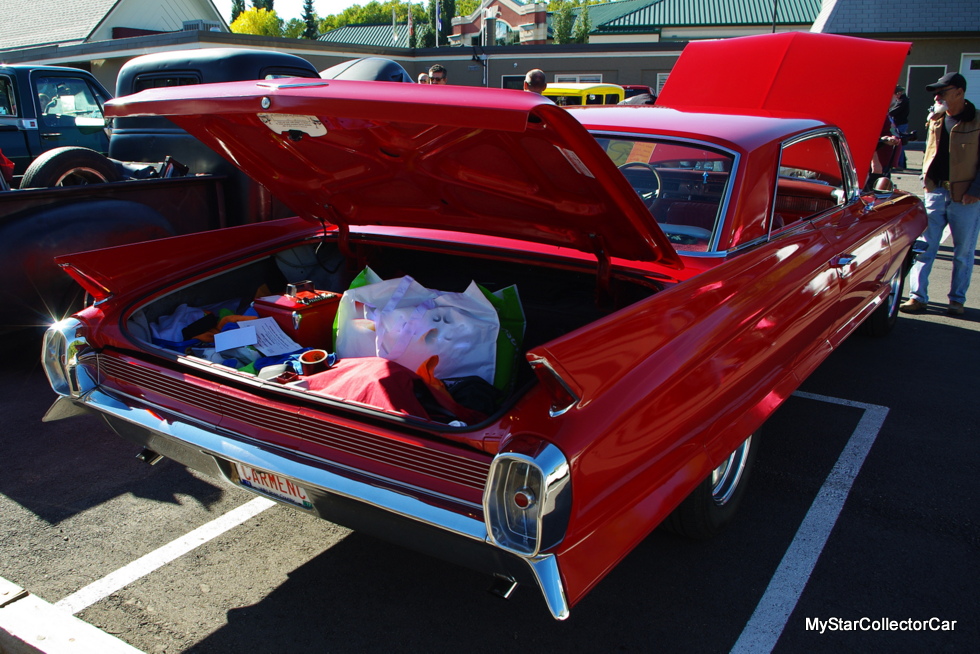 The Caddy became a daily driver so it performed family duties including a trip to the hospital to pick up his newborn daughter. This started a long process where Dan worked out his vision for the 56-year-old Cadillac.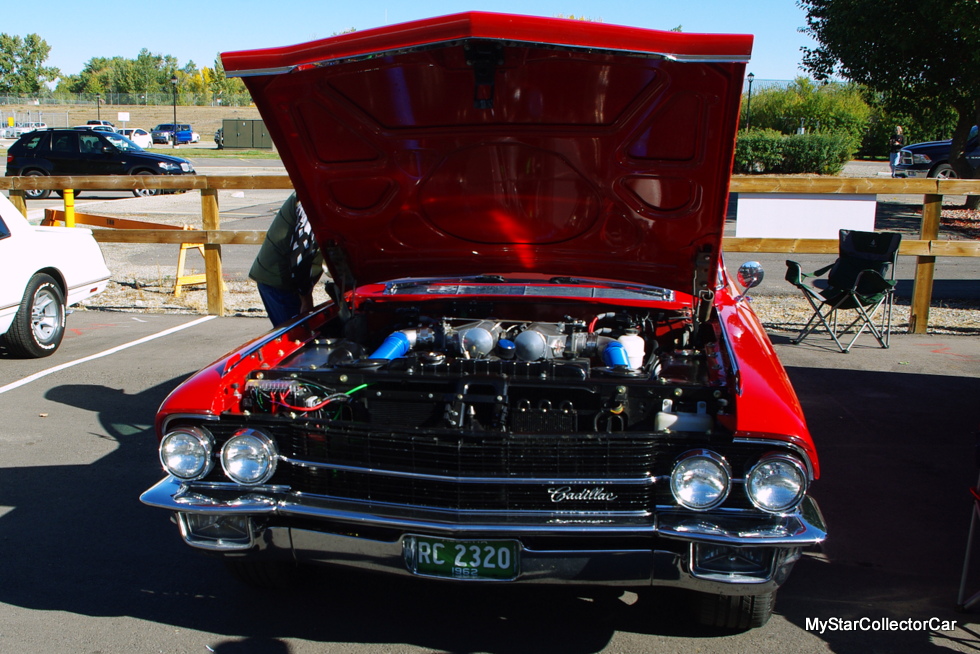 Dan approached the project with the attitude that he'd "pick away at it" as time and finances would allow. He wanted to build it the old school way with junkyard parts but he also wanted a resto-mod with a number of modern upgrades. Dan took that attitude to another level.

Dan's a hands-on guy so he "did all the mechanicals" with very little outside help. He was limited because he didn't have a heated garage so his working environment was limited by seasons but he did get a buddy to spray on the Chevy Victory Red paint.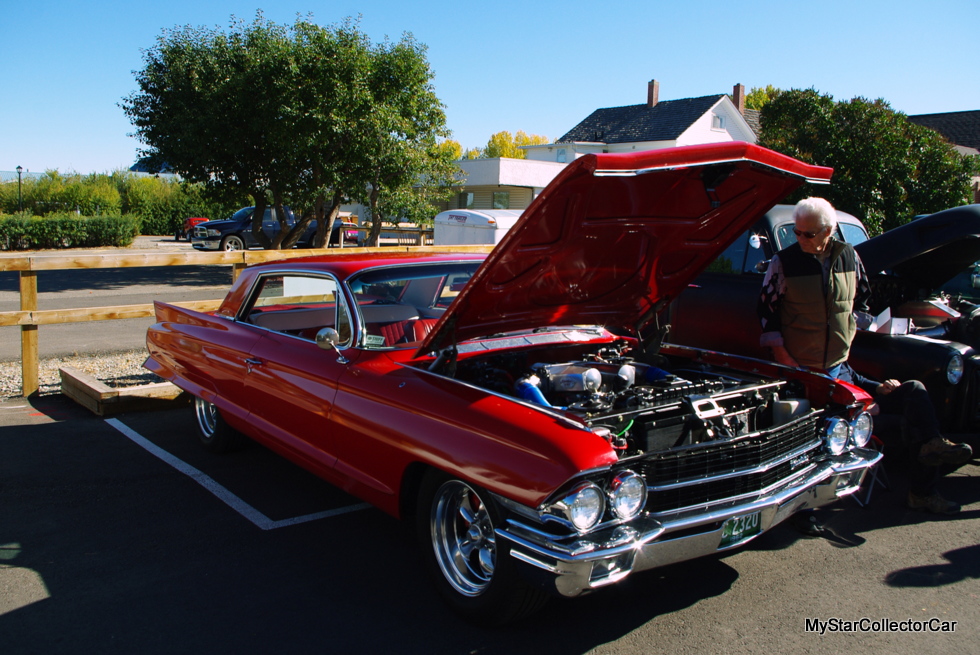 He wanted to work with the 390 but take it to another level so Dan decided to add a turbo to the mix from a donor Silverado truck. Dan believes GM "fudged a little" on the 330 horsepower rating for the 390 engine so his goal was to match the 330 advertised horsepower with a minor caveat—do it at the rear wheels.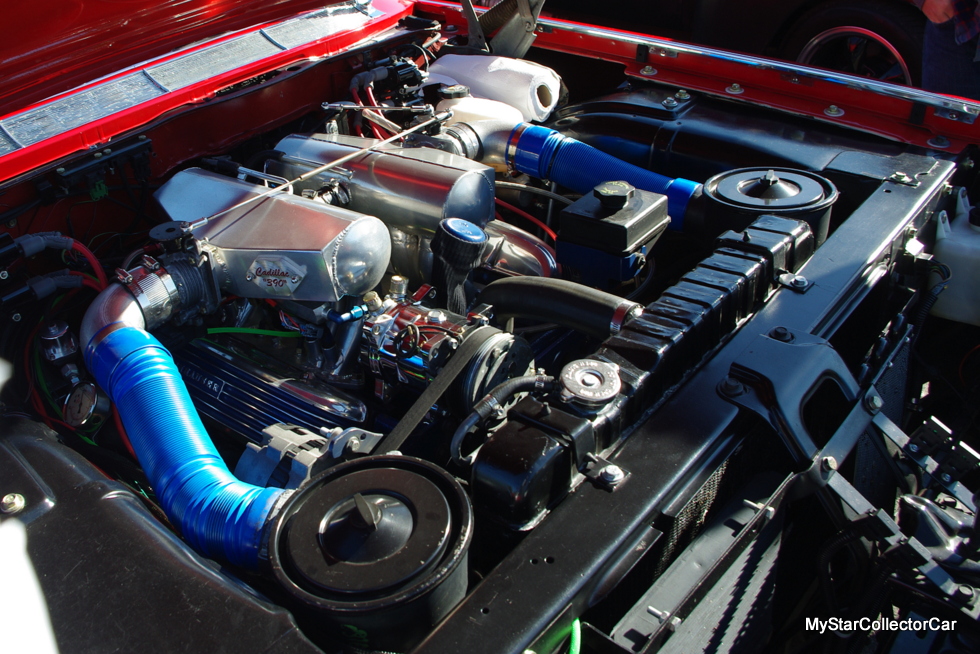 Dan also wanted a manual transmission so he added an aftermarket 5-speed to give the Caddy a sportier feel on the road. Some guys do this for the extra mileage but Dan wanted close ratio gears so there's no big drop between 5th and 3rd. He was happy to report that the new version of the 390 with the 5-speed took his mileage from around 12 miles per gallon in stock form to around 20 mpg—with 3:71 gears.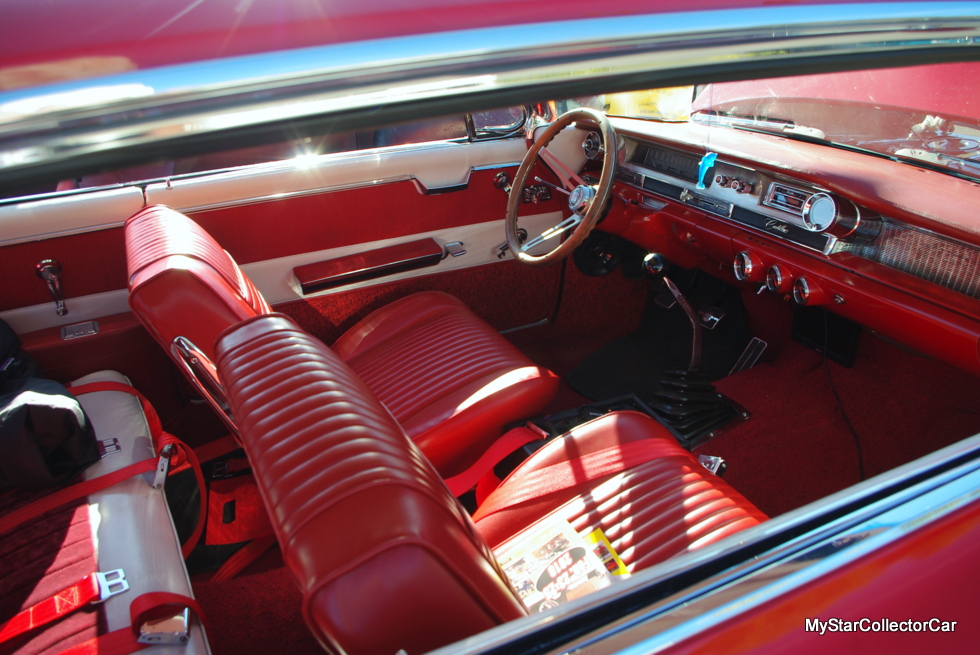 Dan is a junkyard junkie so he found most of his parts on other cars. He likes to find a piece then mock it up to make sure it fits so he has a spare 390 block for trial and error experiments. The extra block was invaluable when Dan designed the serpentine belt system. This Caddy has a Monte Carlo steering box, mid 70s Pontiac front calipers, Chevy bellhousing (with an adapter) and Corvair bucket seats.  It also has a custom exhaust system (designed and built by Dan) and a trick rear suspension (designed and built by Dan).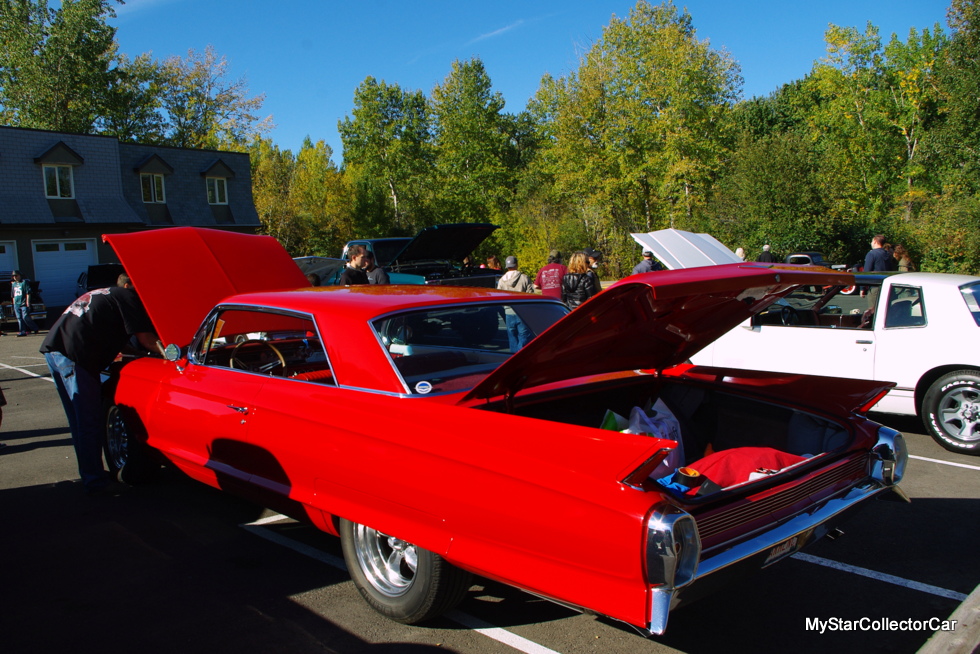 The Cadillac began as a daily driver for Dan and in its own way it still is because this car sees a lot of road time. Dan said he runs it "rain or shine" during the summer plus he's taken extensive road trips in the car. He has two daughters who literally grew up with the car and he admits "they love it".
Dan's Caddy is definitely a member of the family so it had to have a name and personalized plate — Carmen.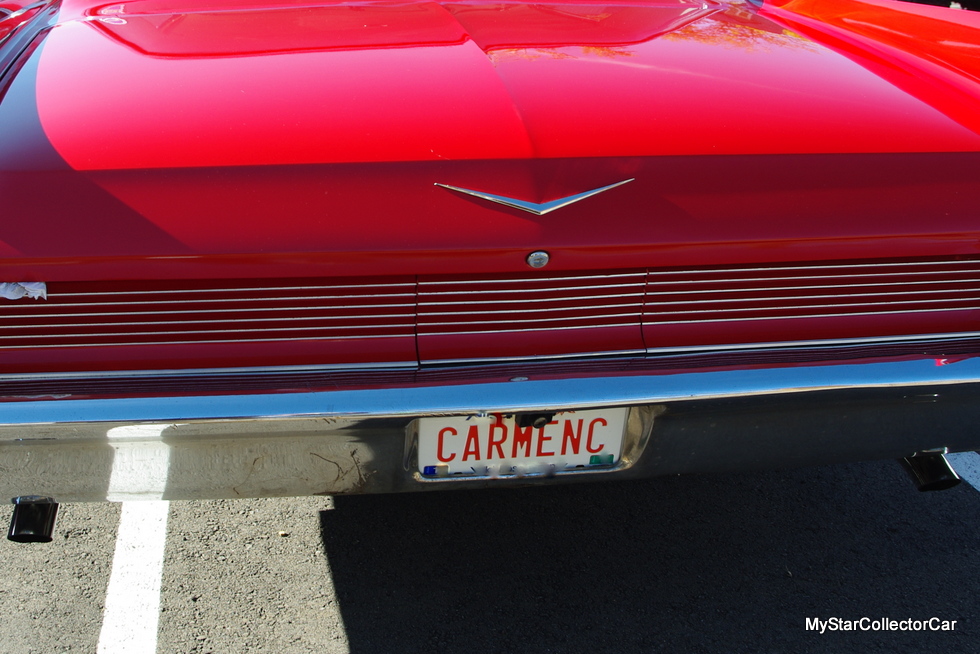 Carmen had a bleak future until the day Dan bonded with a rusty old Cadillac.
By: Jerry Sutherland
Jerry Sutherland is a veteran automotive writer with a primary focus on the collector car hobby. His work has been published in many outlets and publications, including the National Post, Calgary Herald, Edmonton Journal, Ottawa Citizen, Montreal Gazette, Saskatoon StarPhoenix, Regina Leader-Post,  Vancouver Sun and The Truth About Cars. He is also a regular contributor to Auto Roundup Publications.