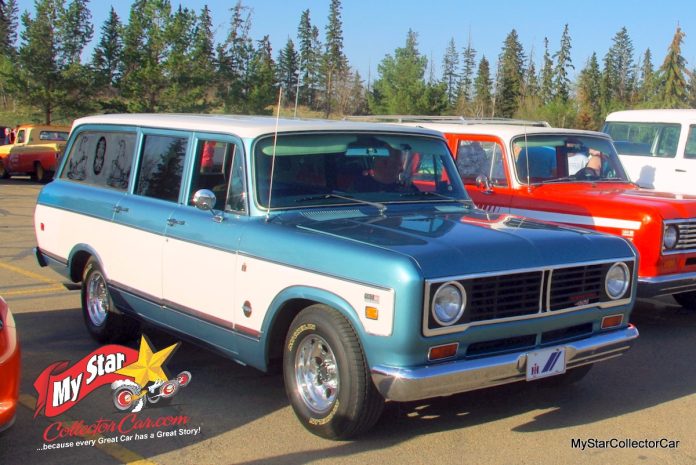 The average IHC guy has an above average connection to the International Harvester brand because they're not like Mustang fans where strength in numbers is an understatement.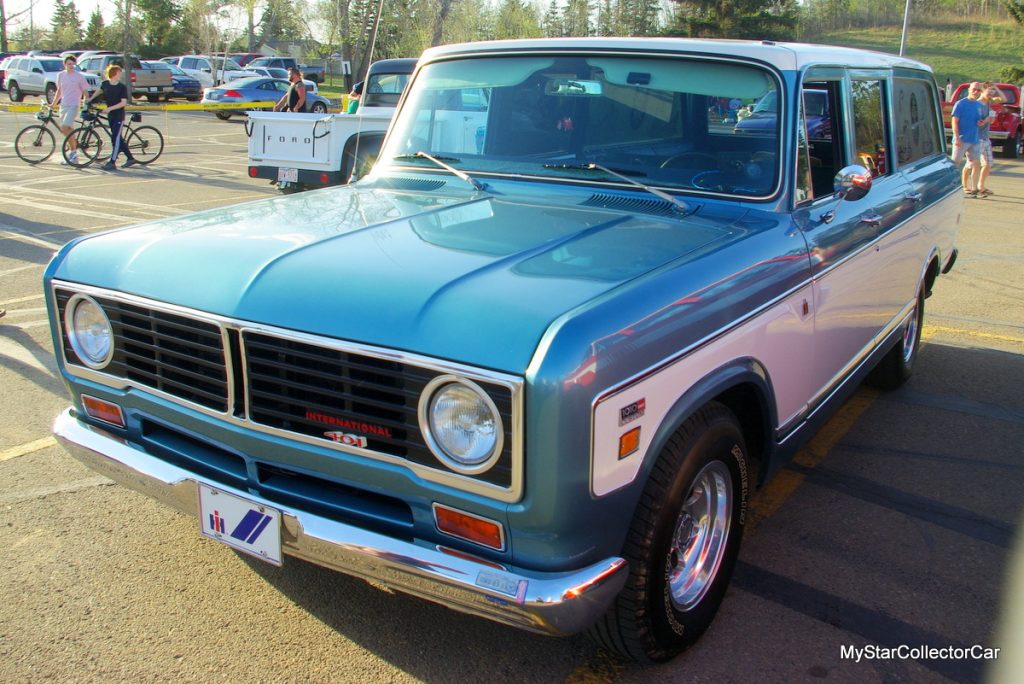 Jay Fisher's grandfather started an IHC dealership back in 1924 and it was in business until 1979, so the roots run deep. Jay used a Travelall to carry his father to the cemetery back in 1995, so his IHC commitment is hardcore—he said it "was a good send-off" for his dad. This Travelall is part of his IHC fleet, but it's one of his favorites because of its history.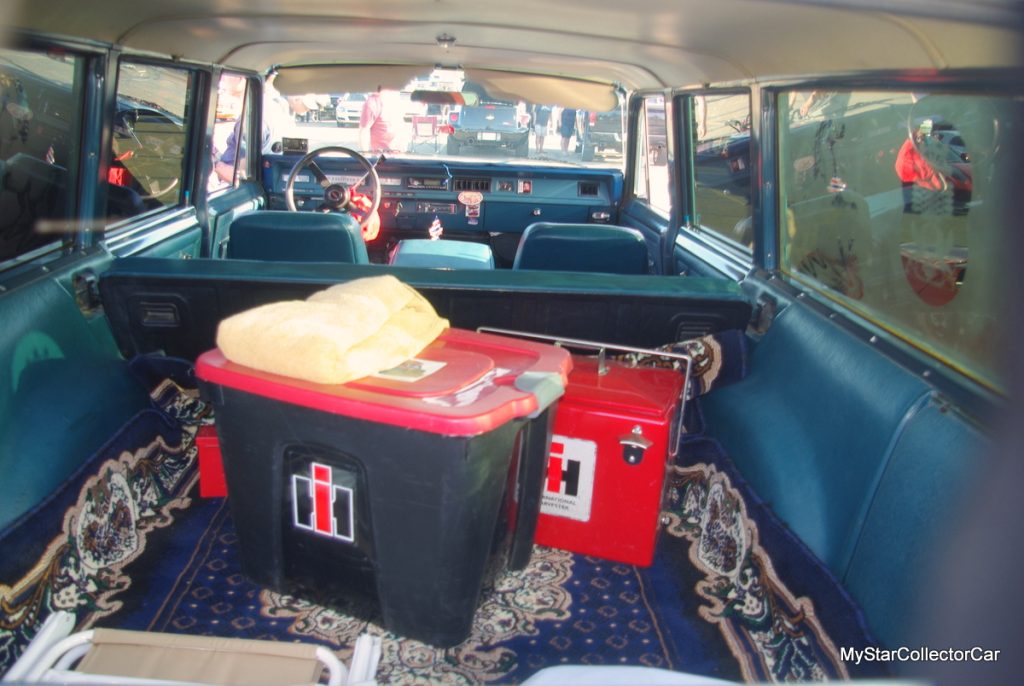 Jay is the second owner of this classic truck. The first owner was a US military officer who used the big IHC to haul a trailer on vacations with his family. Jay said he was very detail-driven, so all the maintenance was done at the right time on this 114,000 original miles beast of burden.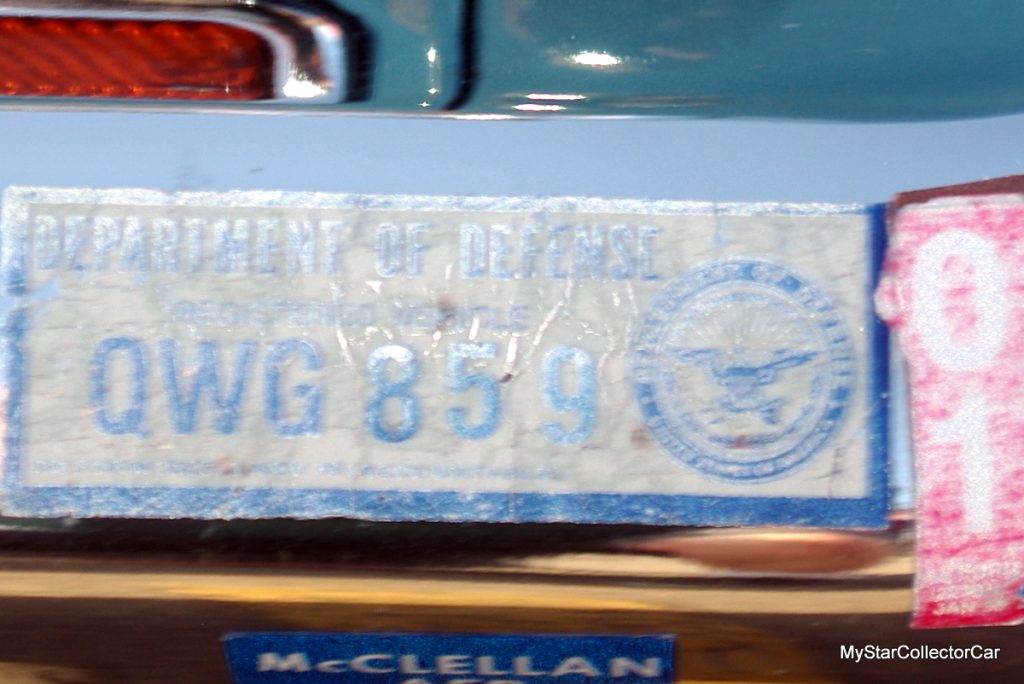 This 1010 has a 401 AMC engine under the hood. Jay explained how these versions varied from the AMC passenger car version because they came with two-barrel carburetors. Jay made a few modifications to the Travelall, including a rear-end swap to change the factory 3:73 gear to 3:31.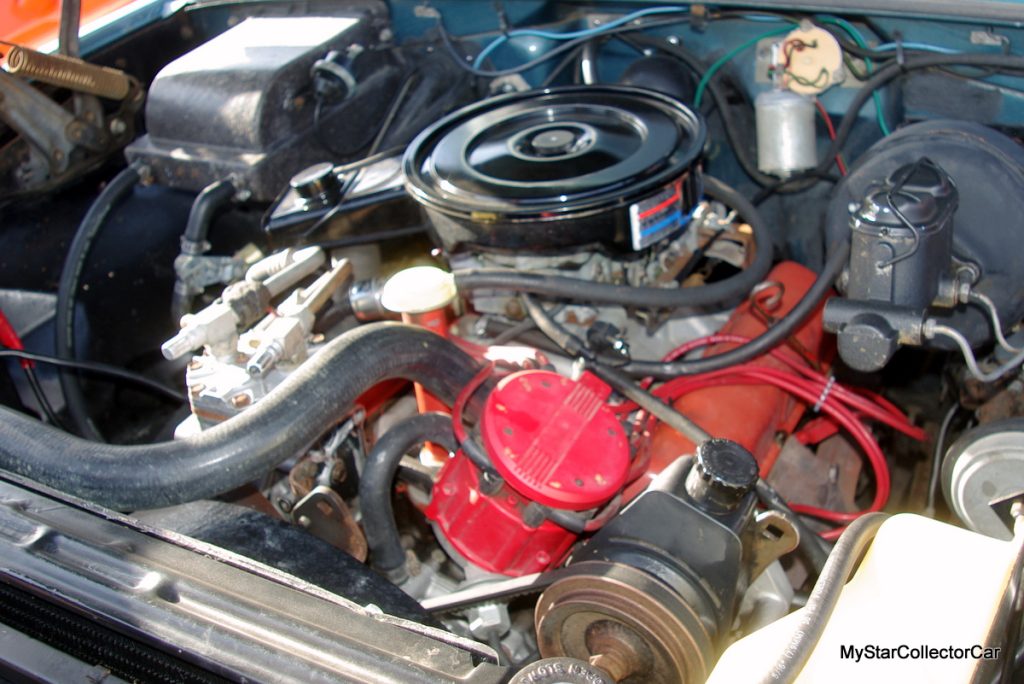 He added a four-barrel to pick up some more performance because this truck gets regular exercise. Jay is a firm believer in this because he said, "you have to drive them to keep them running right". This plan clearly paid off because Jay said, "It fired right up after sitting all winter".
Jay placed a few personal touches on his Travelall—including some very unique acid-etched side glass. Jay explained how this is the fourth IHC he's put them on after finding the glass on a wrecked Travelall. He also replaced the factory decals on the white side panels with real paint to make them look better and last longer.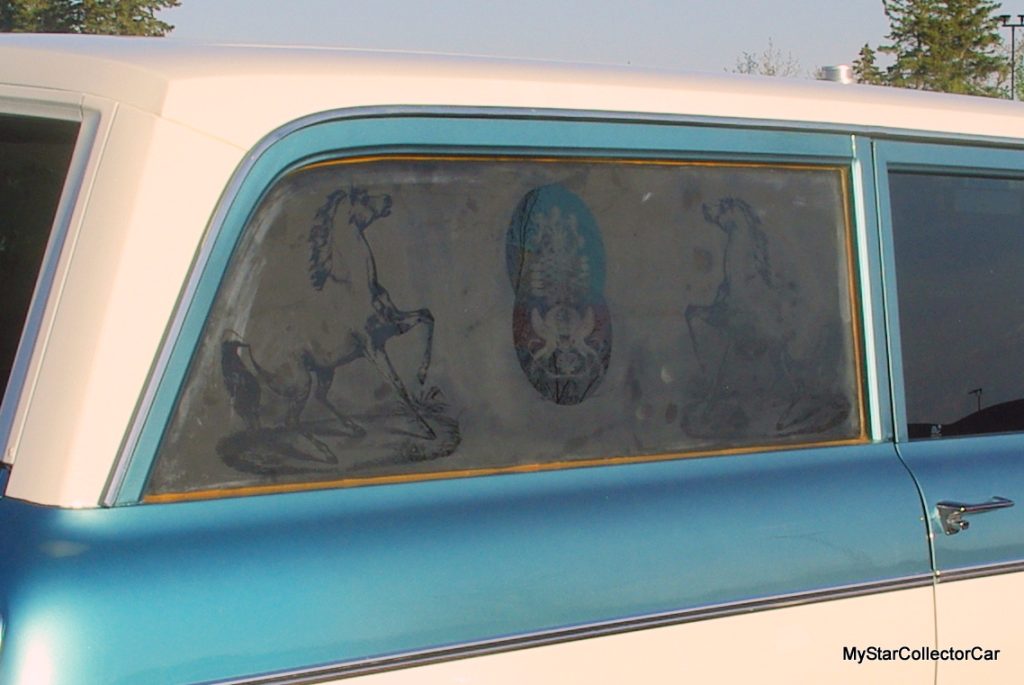 He added BLUE MAX letters to the tailgate because the movie 'Blue Max' was a family favorite. He had a buddy try to make a custom badge for the truck, but it didn't work out. Jay solved the problem by making his own badge out of letters he found at a store. He said he has to routinely explain that Blue Max wasn't a special model for '73 Travelall.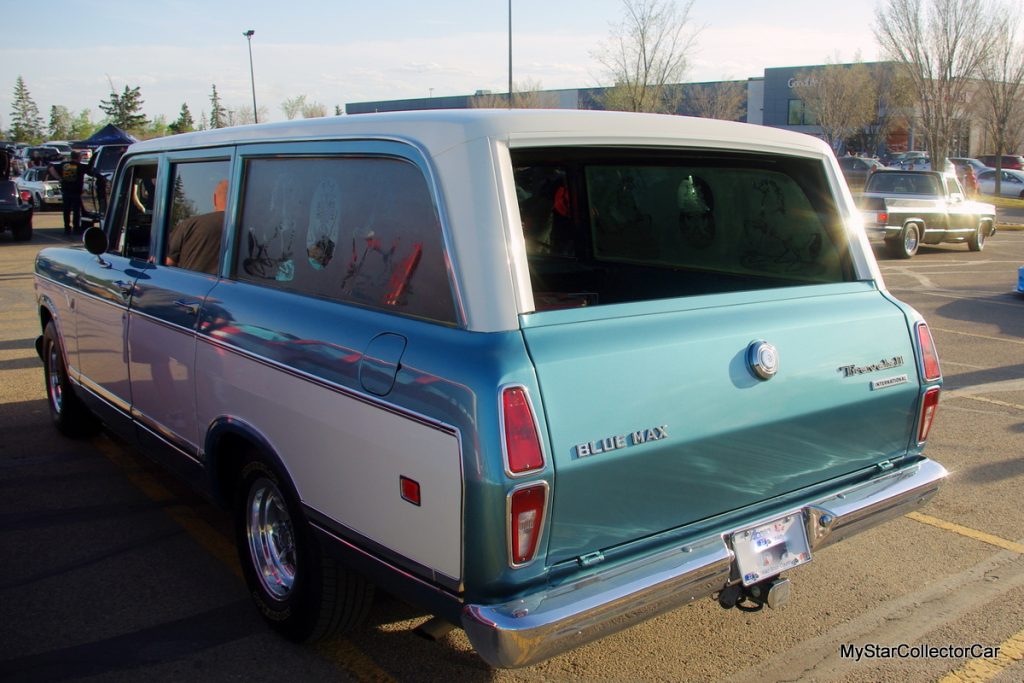 This is a factory air-conditioned vehicle, and to Jay's surprise—it still works. That feature makes road trips in this 4200-pound 1010 a breeze—in a literal sense. This is a 1010 model, so it has a torsion bar front end that makes the driving experience predictable–a "fun machine" in Jay's opinion.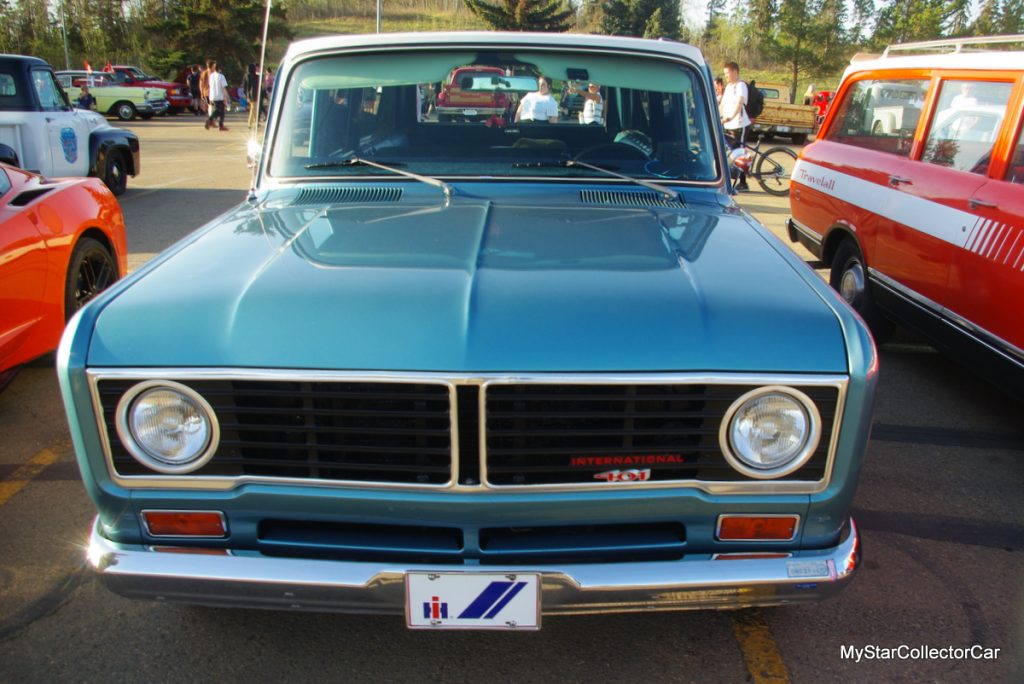 The idea behind this Travelall 1010 was to recognize the deep family International Harvester roots and have a reliable road machine. This one is a winner on both counts because it keeps the IHC heritage alive and it's a dream to drive. That's why Jay was very comfortable with a 500-mile run to Great Falls, Montana to attend a car show and pick up some carpet for the truck.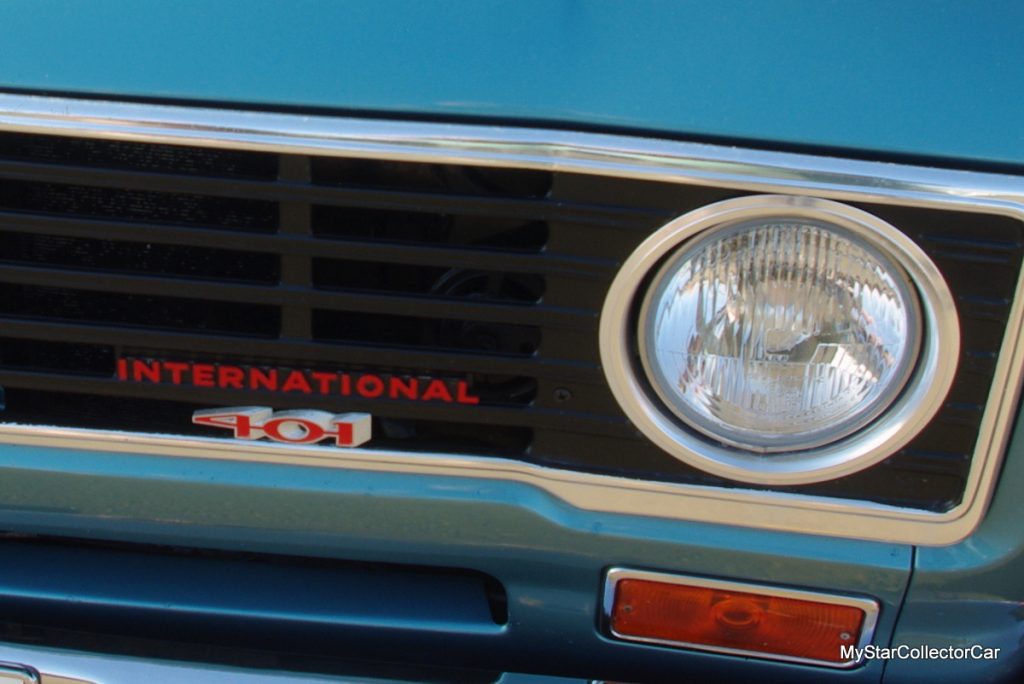 By: Jerry Sutherland
Jerry Sutherland is a veteran automotive writer with a primary focus on the collector car hobby. His work has been published in many outlets and publications, including the National Post, Calgary Herald, Edmonton Journal, Ottawa Citizen, Montreal Gazette, Saskatoon StarPhoenix, Regina Leader-Post, Vancouver Sun and The Truth About Cars. He is also a regular contributor to Auto Roundup Publications.
Please re-post this if you like this article.