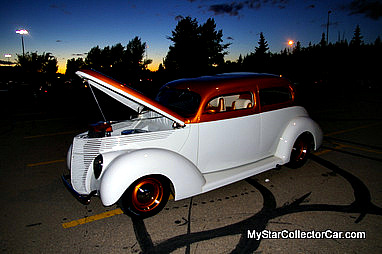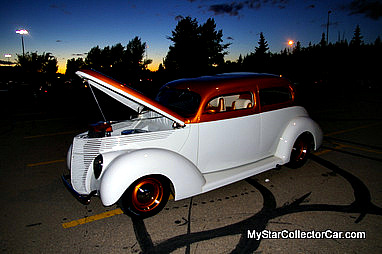 Lloyd Goetz has always been a fan of the '40 Ford until he saw a 1938 Ford and all bets were off for him.
He wanted a 1937 or '38 Ford for a long time after he fell in love with the style and lines of the car.
All Lloyd needed was the financial wherewithal to be able to purchase a Ford from this era. His patience paid off and now he is the proud owner of this copper and cream 1938 Ford resto-mod that looks like it belongs on a car calendar.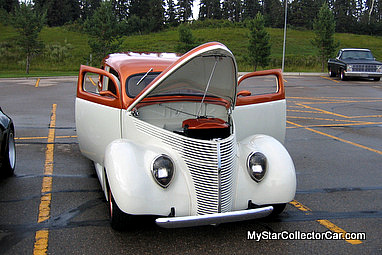 However Lloyd's '38 is no pinup car or trailer queen. Lloyd is a practical man who likes to get behind the wheel of his '38 and hit the road. Cars like this deserve time in the spotlight because they make today's traffic so much more interesting to other drivers.
The car has a 350 Chevy heart that has been massaged into a serious street machine. It has been chopped 3 and a ½ inches along the roof and the subtle change is just enough to give it a sleeker appearance.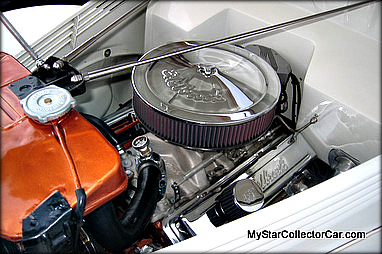 This '38 Ford has an Invisi-shifter in it that is not easy to spot in the car-in fact it is invisible unless Lloyd point it out in the car.
The Ford does have a few original features such as its original headlights and heater because keeping vintage factory parts on old ride amp up the "cool factor" exponentially.
The '38 was one of those cars that attracted so much attention that photo ops had to be timed between onslaughts of spectators. No problem…this '38 Ford looks fantastic in any light so when the sun set during attempts to get pictures it just made this old Ford more spectacular.
Lloyd has added wipers to his '38 because it is a driver and he wants to spend plenty of time behind the wheel of his prized '38 Ford.
It has steel wheels because Lloyd has always liked them on a car and finally, it has a full gas tank because he loves every second behind the wheel…
We were happy to catch up to Lloyd and his Ford because this car guy was happy to tell the story about the car of his dreams-one of the nicest '38 Ford resto-mods that we have seen at any show.
And she is no pampered trailer queen.
Jim Sutherland
Follow us on Facebook-http://www.facebook.com/MyStarCollectorCar
Follow us on Twitter at- https://twitter.com/#!/MyStarCollecto1