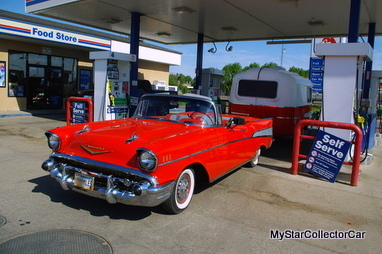 If you own a '57 Chevy Bel Air convertible you literally own an icon.
These cars are so popular their numbers have actually increased in the last 20 years thanks to reproduction bodies.
This one is the real deal so it's 58 years old.
Smiley Johnson's connection to the '57 Chevy extends back to the day these cars were brand new and he knew at the time he would own one of these classics as he explained, "I always wanted one since I was young". He still has a book he got from a dealer back in the days when these cars were still in showrooms so the hook was set firmly.
Smiley's search was lengthy and it went down some dead end roads. He said he "missed out on a lot of two-door hardtops" in his quest for a '57 Bel Air but he found this convertible about six years ago. Since then he's truly enjoyed life with an American icon.
This car needed a road companion and Smiley nailed it with a Burro trailer. This unique feature is like a neon sign for his '57 Chevy Bel Air convertible and these Bel Airs are a huge draw on their own.
Smiley wanted the trailer to match his car so he swapped out the axle so he could add stock '57 Chevy wheel covers and added decals to enhance the look. He drives this car in what could be called a leisurely manner because it's basically stock but he's extremely confident in its performance. He said he could do "90-100 miles per hour no problem" but that's not how he rolls in 2015. Smiley doesn't ask the trailer and the car to perform anywhere near its limit because this is a 58-year-old icon. That's like asking Tony Bennett to sing hard rock.
This is a factory 283 car but it does have a few add-ons like power steering assist and the original air cleaner is upgraded to one that "breathes a lot better".
Smiley would like to add a backup camera to the trailer to enhance the handmade mirrors he rigged up because backing up is a bit of an adventure.
This classic Chevy is a veteran of many parades because these cars add so much style to any event. Smiley has been behind the wheel for every one of these parades and he does admit it "gets a little hot" with the stop and go driving. The Bel Air has also been a guest at several weddings because it's such a show stopper in pictures.
Smiley's real joy with this '57 Bel Air convertible is found a generation down with his grandchildren. They love his old Chevy and they leap at a chance to ride in Smiley's convertible.
Smiley doesn't have many rules but he insists that they take their shoes off when they ride "parade style" by sitting on the top of the back seat during special events.
They're constantly asking him for a ride in the car and if he's "going to take the lid off" when they ride in it. Every one of them want a picture of "Grandpa and me" in the car.
Smiley admits he's "had a lot of offers on the car" but people also ask him why he would sell it "because he's got the only one in town". The reality is this '57 Chevy will never be sold under Smiley's watch.
It took too long to find this and his grandkids would never talk to him again if it left the family.
Jerry Sutherland
CLICK HERE to Like us on Facebook
CLICK HERE to Follow us on Twitter
CLICK HERE to Follow us on Pinterest
Please re-post this if you like this article.