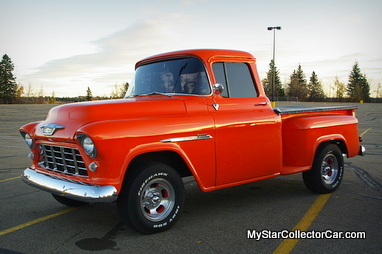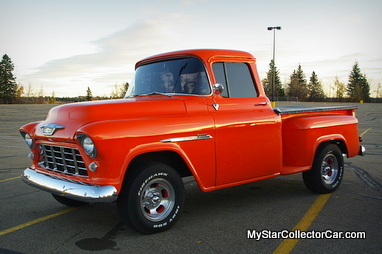 There is a trio of brothers who share a common family bond beyond a DNA link:
The Rayner brothers all own 1955 Chevy 2-door sedans with plenty of resto-mod muscle under the hood.
Our first encounter with these devoted Chevy guys occurred several years ago when the three brothers pulled into a car show with their colorful collection of '55 Chevys along with a few extra Bowtie friends from that era.
The boys arrived a little late for the show, but they stole the show because the sight of a herd of Tri-Fives is an impressive sight.
We have called them the Tri-Five Brothers for this obvious reason, but now we could add the more generalized Double Nickel Brothers handle into the mix.
The Rayner brothers have begun to dabble in 1955 Chevy pickup trucks and the latest Rayner to join the classic Bowtie truck club is Bob.
He has owned his 1955 Chevrolet 3100 for about a year and is now able to keep the family tradition alive and well when it comes to '55 Chevy products.
The truck was listed by its former owner in Las Vegas and he was a guy who was forced by circumstances to sell the Chevy.
Bob has a local car buddy, who was in Vegas at the time, have a look at the truck on his behalf.
His buddy was a guy who knows vehicles very well, particularly customs and resto-mods, so Bob trusted his judgment when it came to a thorough assessment of the truck and instructed him to buy the truck after his friend gave the '55 a thumbs-up.
Truth be told Bob "needed the truck like a hole in the head" in his words, but he went ahead and bought it because he always wanted a big rear window '55 Chevy pickup truck.
The Chevy sports a 350 crate engine and Bob has a few changes in mind for the truck.
The 3:90 gears mean the truck screams at 70 mph on the highway, so Bob only put 600 miles on it last year. He will make some big adjustments to the excessive rpm issue over the winter when he drops in an overdrive unit to make the '55 more usable at higher speeds.
It is always good to see family members keep their traditions alive and the Rayner brothers should be commended for their enthusiastic support of their family links.
Their Tri-Five traditions definitely run deep when it comes to the Chevy brand.
We would suggest they include their wives, sons and daughters in the mix as drivers if they want to bring all of their Double Nickel Chevy cars and trucks to future shows because their collection continues to grow as fast as their enthusiasm for the vehicles.
You have to love a family that knows how to play together like the Rayner boys.
All it took was a classic year for the Chevy brand to bond these brothers.
Jim Sutherland