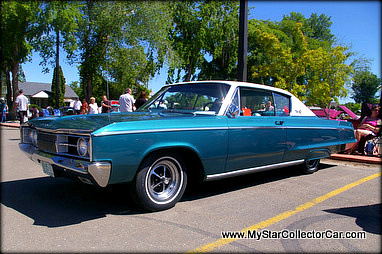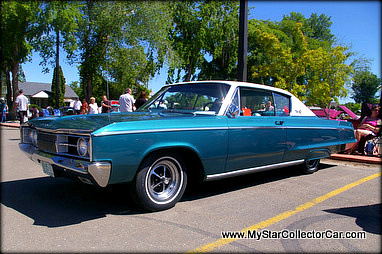 David Crosley freely admits it was love at first sight and I knew I'd own one" when he saw his first 1967 Dodge Monaco.
He bought into the look of these Dodges from Day One and never lost his yearning for the big luxury Mopar.
That set off a chain of events that led to this 1967 Dodge Polara 500.
David has always been a Mopar guy even after this admission, "my first car was a Mustang" but he always carried a torch for the Pentastar products. His link with Ford was severed permanently when he saw this Dodge, "I traded a '66 Ford F-100 pickup for it. We'd seen each other's vehicles and thought about swapping but he wanted to wait until the end of the season".
This wasn't a '67 Monaco but it was the next best thing in the form of a Polara 500. David knew the history of this car and learned that he would be the 4th owner. The car was fairly solid, "it needed a few patch panels and a paint job" but generally this was a well-maintained car because Polara buyers had a much lighter foot than Hemi RT drivers back in 1967.
The Polara was a blend of power and economy as David explained, " it's got a 383 two barrel with a 2:73 rear end so it's not neck snapping but it'll run on the highway all day. I'm not sure what the top end would be but it would probably wind out pretty high but it does a lot better than the F-150 did on gas".
This car makes even more sense now that an older David has moved on in life," We wanted something we could carry grandkids in so they could ride with us to shows". The car sees a lot of highway miles and David loves every minute behind the wheel, "it's a gorgeous ride on the highway, no problem doing a few hundred miles. It's got a pretty big turning circle and the brakes took a little while to get used to because they stop so fast but it's a lot of fun".
Most car guys have an ongoing agenda with their rides and this car is no exception, " I wanted the Monaco interior for the bucket seats so they replaced the bench seats. The interior is all reproduction but the carpet is still original. I'd like to find the Monaco back for the seats too".
There are other features in the Polara including an optional FM radio with a reverb speaker because that's what a state of the art car had in 1967. The original roof was painted white but David wanted a little more upscale look so it's now a vinyl top to make it closer to the upscale Monaco. The car is also dropped 2″ from factory.
This big Polara is in perpetual motion during the car show season because you drive big, comfortable cars on summer days and David is a big disciple of the "you drive 'em, you don't leave 'em in the garage" mantra.
You don't hide something you've loved since 1967.
Jerry Sutherland
If you liked this article then you may be interested in this mscc story about a '66 Polara.