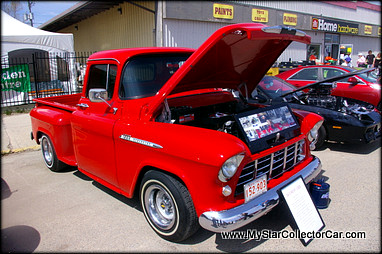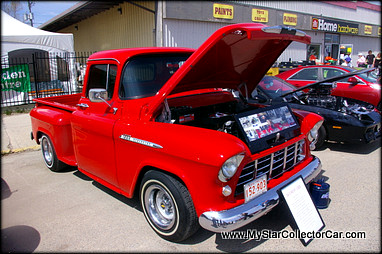 Temptation is the biggest curse of car guys.
There isn't a day that a car guy doesn't look at an old ride and think about the possibilities but fear, common sense and hostile wives usually outweigh the impulse to buy a project.
That was the case with this '56 Chevy pickup but after six months fear and common sense lost their edge.
Gordon McKibben drove by this truck for over half a year before he decided in 2007 that the '56 Chevy was "the one". He explained, "it was for sale and sitting outside on a farm. I drove by it for six months before I pulled in on a Saturday and bought it. It's Canadian built so it's pretty rare. There are 25 left". He's a transplanted Irish guy who clearly embraced a North American classic in the tri-five Chevy.
The truck was clearly in the project phase of its life as Gordon discovered, "that's when I found out that it didn't have an engine or transmission but I did have a used 1980 Chevy truck". The advantage went to Gordon because the donor truck was the key to the deal as he admitted, "that truck donated a lot".
Old car and truck projects are the most difficult exercises in the world because there are no hard and fast rules about how they unfold. This '56 Chevy was no exception. All four fenders and the bumpers are new because the old ones were well past the salvaging stage and into landfill stage. Fortunately, there are many part sources available for these tri-five trucks.
The 1980 Chevy donated a front clip and a power train so this truck was upgraded from the factory ride that it had when Bill Haley and the Comets were number one on the charts. The result was a much more civilized ride in the old classic combined with a lower ride as Gordon explained, "we took two leafs out of the rear springs".
The process took a year and that essentially got the truck to the 'nice driver' stage. Gordon added, " It came out roadworthy but it was in about ten different colors". That's the point in a project where tough economic decisions are made because Gordon was working on a budget.
Gordon admitted, "I was just going to paint it flat black and drive it as is for awhile but after all the work that went into it I decided to paint it". That was a $15,000 decision but Gordon looks back at it as a good one, " It's won a lot of trophies at shows and it won a Calgary World of Wheels best in class back in 2011 plus it was on the cover of the Three Hills brochure for their show". Clearly the short-term economic pain was worth the long-term gain with this classic Chevy truck.
The donor engine is a placeholder in the '56 Chevy because it's starting to show its age but Gordon wants to amortize the cost of the paint over a few more years. He is planning for a crate engine because he likes the idea of less oil burning and more power but for now the transplanted heart will see a few more car show seasons.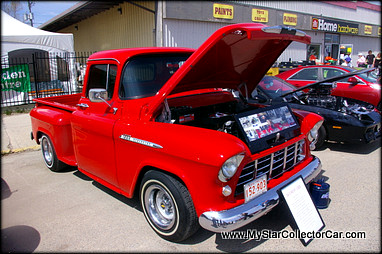 The long term plans for this truck are clear because the display for the truck lists Samuel McKibben as the owner. Samuel is Gordon's son and they travel the show circuit together in this old ride. Age is the key factor in this ownership as Gordon explained, "he can't own it until he can insure it and he can't do that until he's 25″.
Regardless of the wait, Gordon and Samuel are really enjoying life on the road in their truck.
Jerry Sutherland
* If you like this 56 Chevy truck story, please take a look at another mscc '56 Chevy truck story.