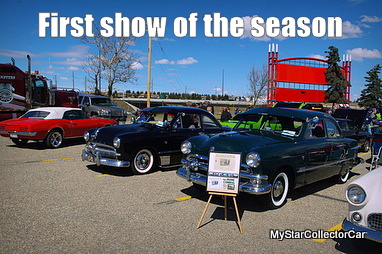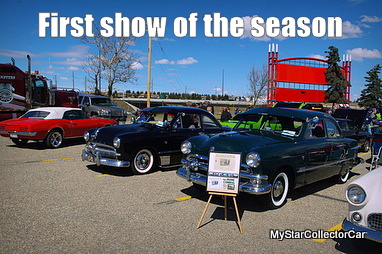 We attended our first car show of the 2014 season in Calgary, Alberta, Canada on the last weekend of April and found a solid array of amazing rides at this event.
A car show is both a people and vehicle event because every story needs both ingredients for us to work up a solid angle.
After all, we are the guys who brought you the motto "Behind every great car is a great story".
We learned over the past 5 years since our MSCC launch that some stories are decidedly greater than others.
The first vehicle that caught my eye was a 1962 Daimler SP250 sports car with a hemi small block not made by Chrysler. Truth be told, these lesser known British sports cars are a big mystery on a long list of life mysteries for a confused guy like me.
Its owner was a retired mechanical engineer with roughly twice the IQ of Jerry and me combined by my rough estimate. It was immediately clear to me the owner was a very bright guy who made his life a constant learning process with real world application of his acquired knowledge.
He knew his stuff about the Daimler, but he is a huge Model T fan and his goal is to drive a 1923 T to the shores of 3 oceans: Pacific, Atlantic and Arctic. He also wants to push a T past 100 mph-with a T engine. I would not bet against this cat on either goal.
If that isn't enough, he is also the proud owner of some Russell automobiles, a Canadian car brand that began in 1904 and went out of business in 1916 at the start of WW I. Here is one guy with at least 3 storylines to follow in future MSCC articles.
I also spotted an Austin MINI panel van with right hand drive and it will be the subject of a story about the only one of its kind registered in North America. The owner is a young electrician with enormous skills beyond his job as a sparky.
I found a mint original paint 1967 Chevy Impala survivor car at the show and hope to connect with its Calgary owners in the future. My best guess is they bought the car off the original owners and I am sure there is a great story behind a car that looks like it was cryogenically sealed roughly around the same time when Walt Disney was alleged to be cryogenically frozen after his death in December 1966.
Walt Disney was part of a baseless urban myth about his desire to be frozen, then thawed and cured from death in the future, but the very original '67 Chevy at the show was alive and just as pretty as it looked in the Summer of Love back in the 60s.This car is on our list for future stories when we connect with its current owners.
Neither of us intended to leave the show until we got the story behind a custom built hillbilly camper we spotted at the show because it was pretty evident the story behind this truck was a big one. Indeed it was and you will be introduced to its colorful owner/builder in a future MSCC article.
The first 2014 car show was a great way to start the season.
Add one of the wildest rat rods we have ever seen into the mix from this first show. The stripped-down '27 Model T truck had a 650-700 hp/1100-1300 torque Cummins diesel for maximum Tim-the-Toolman kind of power.
Look for the story in a future article about one of the coolest, craziest rides we have ever seen at a show.
Jim Sutherland