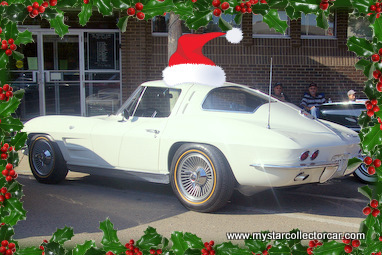 General Motors turned the key on an automotive legend in 1953 with the birth of the Corvette.
'Ten years later, the 'Vette had already morphed into the Corvette Sting Ray, and the Corvette legend just got even bigger with this iconic set of wheels.'
The 1963 Corvette Sting Ray was the legitimate offspring of two concept sports cars from the General.
Both vehicles were geared toward a production model Corvette designed to blow the doors (and knock the socks) off a North American car market.
Suffice to say that it was mission accomplished for GM in 1963.
The 1963 Corvette Sting Ray was ahead of its time. "Ahead of its time" is a cliché that has worn out its welcome for many applications, but it is very true when it comes to this 'Vette.
My first sighting of a '63 Corvette was one of those "I remember when Elvis died" moments-it was just that spectacular. The local Chevy dealer bought one for his over-indulged teenage son and it made the front page of the local paper. GM couldn't buy that kind of PR in 2010.
The car had hidden headlights that led into a body design that should have been applied to jet aircraft. The 1963 Corvette was slippery and sensual, and it created more of a stir in 1963 than four lads from Liverpool with bad haircuts did when the first Beatles tune hit top 40 radio.
The Sting Ray was a radical departure from the conventional mantra of early 60s Detroit where size really did matter. It was sporty and it only held two passengers in an era where big families meant big station wagons. In short, it was completely impractical, and irresistibly appealing.
The roof line alone was a striking departure because the 1963 Sting Ray was the first 'Vette with a permanent roof. And its fastback roof line just added to its appeal.
The 1963 Corvette was known as a split window coupe because it had a divider down the middle of its rear window. The net result was even less actual visibility in the aft section of the car, but that wasn't really important to a 'Vette owner. These guys were more interested in the road ahead of their Sting Rays. The pavement behind them didn't matter- unless they wanted to change lanes while they passed everything in sight.
These days nothing has really changed for 1963 Corvette owners. To own one is to love one, to paraphrase a song from the early 60s. They still look great and the actual value of the 1963 Corvette is bullet-proof in any recession.
The investment potential of the 1963 may be an angle to use for prospective ownership of same; vis a vis a hostile reaction from a bride on the issue…MERRY CHRISTMAS
Jim Sutherland @mystarcollectorcar.com
Check out https://www.mystarcollectorcar.com/   for hundreds of other car articles and photos.
COMMENTS
GORD:"Yeah , the ' 63 is pure magic on wheels …. the C2 vettes were something else".