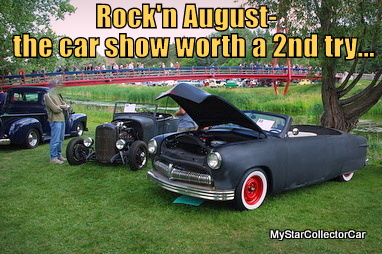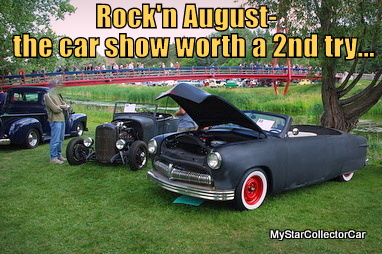 St Albert, Alberta, Canada could be a poster town for an ideal community.
It is clean, picturesque and has a low crime rate that is the envy of similar-sized towns of around 60,000 people.
The local car community throws one of the best car shows of the season every August and we had heard a lot about their Rock'n August show over the years.
Last year we finally attended their big show and were very impressed with the event because it was located in a scenic park with vehicles parked on the grass.
Too bad we only saw a fraction of the cars at the show because we thought the location was the entire show when it was essentially an overflow area from the main show.
We were excited about the main course at the 2014 St Albert show because our 2013 appetizer show was very interesting and provided several good stories for us. This year's show was one of the best we have attended thus far and we were blown away by the event.
The organizers got everything right at this show, right from the quality and quantity of vehicles, to their attention to details at the show.
Even the entertainment was a high level professional caliber act that added atmosphere to the event and did not dive into typical overplayed nostalgia music played badly at car shows. The St Albert show was a big winner and we found some great stories at the event for future MSCC articles.
One that comes to mind is a 1959 British Ford Escort station wagon. We had never seen one of these little Brit wagons at any previous shows, so we zeroed in on the congenial owner and his wife.
Clearly, he is a big fan of vintage British Fords and he had a great story behind how his '59 Escort ended up with him after a long life in California. Look for it in a future MSCC piece.
The British flavor continued when we discovered a vintage bug-eyed Sprite at the show. The bug-eyed Sprite is a classic little Austin Healy sports car with a terminally cute front end featuring raised headlights and a happy-looking front grille straight out of a Disney animation character.
Its owner was a British woman and she called it a frog-eyed Sprite, a nickname right out of the English car culture vernacular. She will explain how and why she owns this classic little car in a future MSCC article.
A 1956 T-Bird with a long connection to one family caught our attention, particularly when we saw a front page picture of the car from a 1977 article in our local newspaper on display with the car when its current owner was a high school student at our old high school.
The T-Bird story will explain how the owner paid tribute to his late father (and previous owner) by restoring the car to absolutely original condition.
Look for a story about a very rare 1967 Dodge Charger in a future MSCC piece and find out why the car is so rare in 2014.
This Mopar was a big job but the ends definitely justified the means.
The same rarity could be applied to a 1968 Cougar XR7G which was a guest of honor at the St Albert show because this car had a famous build history behind it.
Look for the famous race builders who added their impact to this car back in '68 when you read about it in a future MSCC article.
There was a '49 Mercury straight out of California with a very unusual power train under the hood. You'll find out what it is in a future MSCC article –this car had people around it through the whole show.
Perhaps the wildest ride at the show was a 1952 Austin convertible with a bright yellow paint job and a 350 Chevy engine.
The car is a tribute to the owner's favorite sports team and we can state with supreme confidence there are no other cars like this one on the planet. You have a real treat in store when you read about how a mild-mannered, underpowered British convertible became a beast.
Finally,we would like to thank the people behind the Rock'n August car show because they do things right in the model city of St Albert.
Jim Sutherland
CLICK HERE to Like us on Facebook
CLICK HERE to Follow us on Twitter
CLICK HERE to Follow us on Pinterest