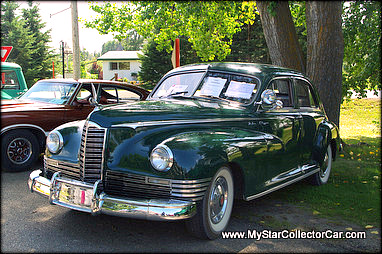 Packard was well known in the 1920s and 30s as a high water mark for North American cars.
The Packards were well built, stylish and clearly a step up on a Chevy or a Ford sedan back in the pre-war era.
Bob Kemp knew all about the Packard legacy when he agreed to stand beside a '47 Packard for a photo op a few years ago.
Bob's wife took the picture because she knew how much he loved these classic cars but little did the Kemps know that fate (car guy Karma) would play a hand in this car's destiny. Bob explained, "we were out on the Island and she asked me to stand beside this Packard. A few years later I saw this Packard for sale and it was in the same area. I didn't know it was the same car that I'd seen a few years earlier, the same she made me stand beside".
Bob's impression of the car must have been extremely positive because he bid on this car based on blind faith, "I paid for it sight unseen and had it delivered and when it got here I realized that it was the same car".
One of the reasons Bob took the bait on the car was that it was incredibly well documented from brand new, " It was bought by a military guy and he kept impeccable records on the old car. It was 2700 brand new and I'm the fourth owner. The maintenance records go right back to the original owner".
This is straight eight car with a stock interior so the Packard experience is preserved in this 1940s classic, "it drives like a dream, it'll do 65-70 miles per hour with no problem and it'll go that or more plus it's got a lot of leg room so it's really comfortable".
The trunk held another surprise as Bob explained, "it was full of spare parts and all of them were NOS (new old stock)". The Packard came with a few options like a radio and a spotlight," the guy was probably looking for girls".
Despite the car's rigorous maintenance over the years there were a few mechanical details to take the car up to roadworthy status as Bob outlined, "to make it roadworthy I had to do some brake work. It needed a master cylinder so I sent it to the States for 150 bucks because they wanted 700 bucks. All the brakes are done including all the cylinders. The overdrive doesn't work so I still need to do that but it's in great shape".
Bob lives on a gravel road so that does preclude frivolous trips but he takes it easy when he's headed for the blacktop, "I don't care if I drive it on gravel but I do take it easy. It tracks well on gravel or pavement".
This is a car that is in the right hands with a guy like Bob because he respects the heritage behind Packards and this one is exceptionally well documented. The link back to a picture taken a few years ago simply adds the mystique but in reality Bob sums up the experience in one sentence.
"I just like to look at it, it doesn't matter if I even drive it".
Jerry Sutherland
* If you like this Packard story please take a look at another mscc article about a 1950 Packard.