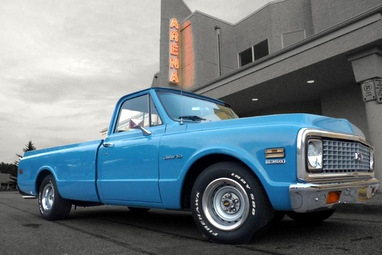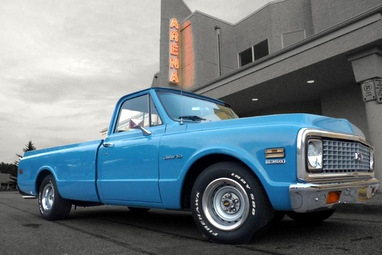 Randy Holt left the family farm many years ago, but you can never take the country out of the boy.
He always had a dream to own a 1971 Chevrolet pickup truck.
It finally happened many years later when, in 2009, Randy bought this beauty.
The odd thing about Randy's Chevy purchase was his father's loyalty to the Ford brand. Usually a brand preference passes down from generation to generation in a car guy family.
But Randy had an uncle with a serious fondness for anything wearing a bow tie–including the 1966-72 generation of Chevy trucks.
Randy's uncle wasn't alone in the family when it came to this iconic model of Chevy trucks. Randy always liked the clean lines of the truck and knew that he would have one in his driveway one day- even if he had a city driveway.
Trucks were (and still are) a hard-working partner on any farm. But Randy's 1971 Chevy truck will enjoy an easy life of summer shows and pleasure drives with Randy. His Chevy will take winters off – forever.
The winter rest will include minor tweaks to the truck as Randy upgrades the interior with new material.
Randy has added a hidden trailer hitch behind the license plate so he can tow a retro trailer with a 40s style tear- drop design. So the 1971 Chevrolet will still have some summer work this year.
But it will be the best kind of work (fun) for truck and owner.
Jim Sutherland @mystarcollectorcar.com
Like what you see? We have much more about vintage rides at https://www.mystarcollectorcar.com/