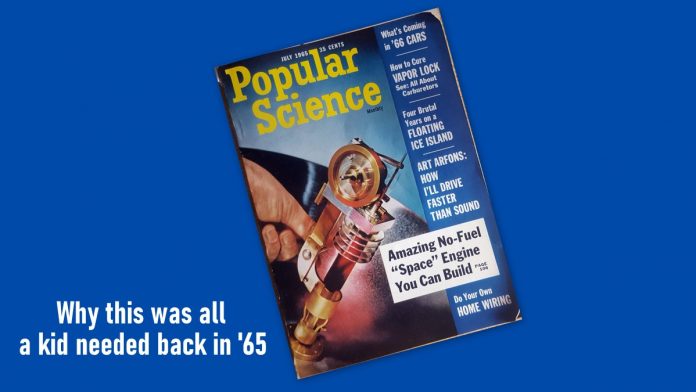 One of the true pleasures for a car kid from the 1960s were the monthly car magazines that came our way, usually via our father's subscriptions.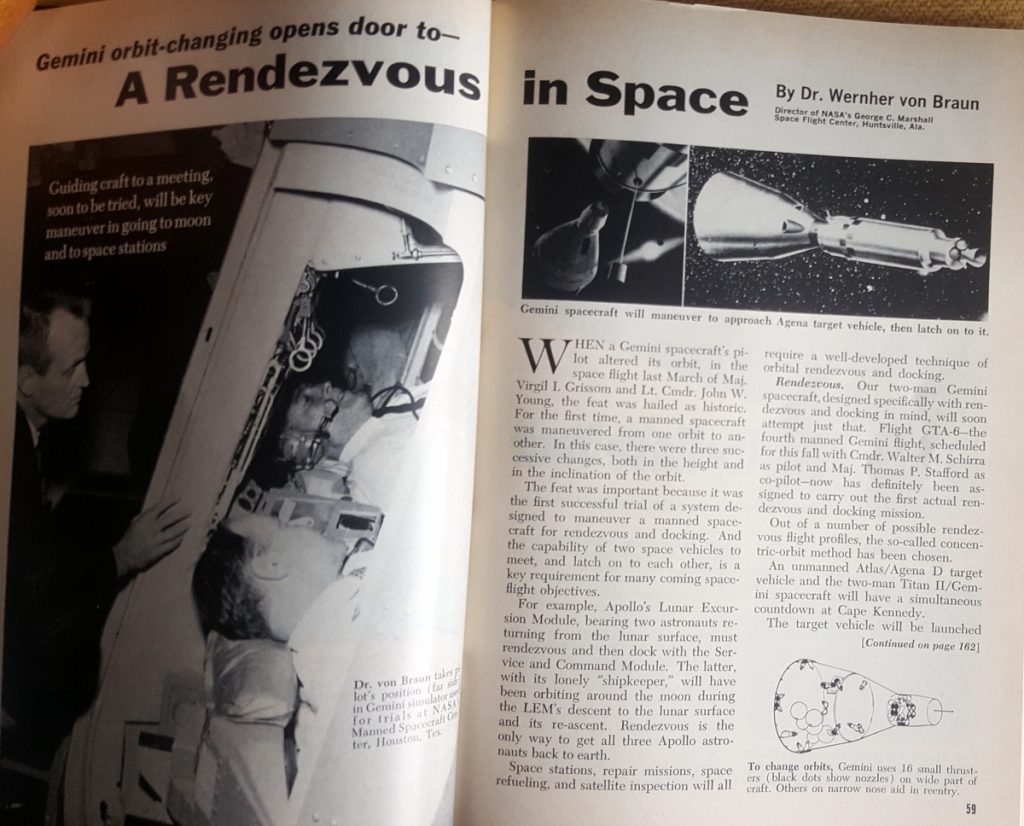 MyStarCollectorCar was able to obtain a July 1965 issue of 'Popular Science' and recall how magazines like this one provided a window on the world when we were kids. The big-ticket item in this edition was its sneak preview of the 1966 vehicles, an extremely exciting prospect for young car kids during an era when domestic car styles changed on an annual basis.
To view the new lineup months before they would grace the showroom at the local car dealerships was a privilege extended to 'Popular Science' readers-and the July 1965 edition of the magazine did not disappoint us when we were wide-eyed young car kids.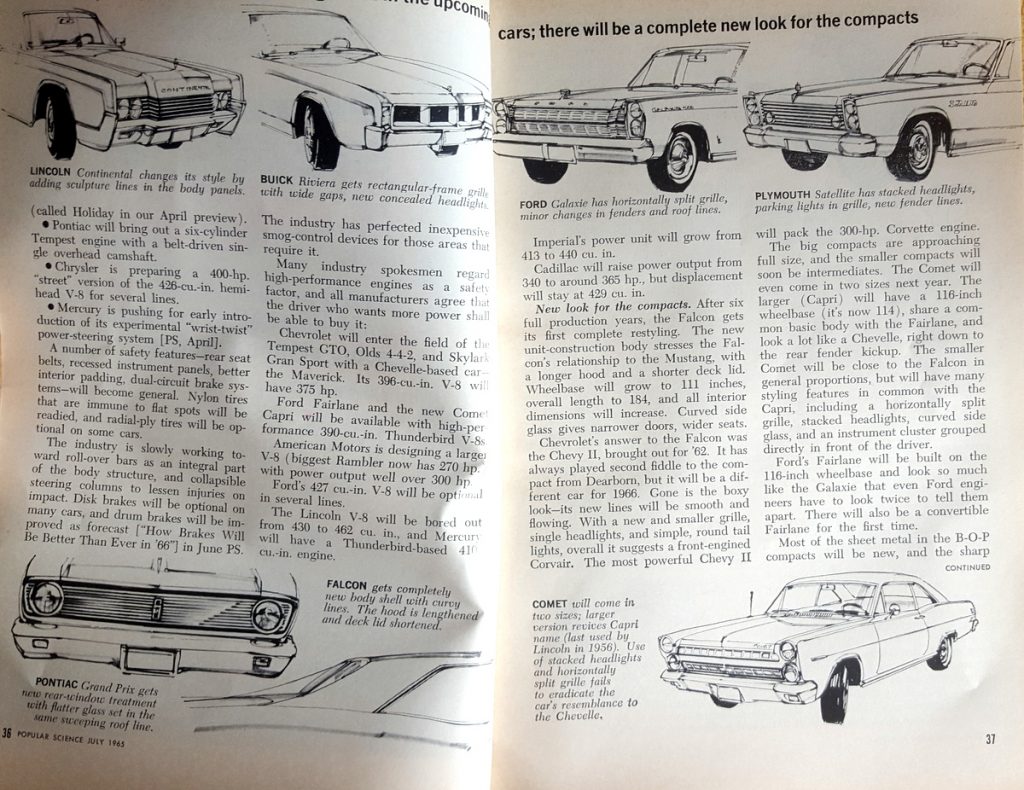 The opening page contained a grainy photo of a 1966 Olds Toronado that had a classic Bigfoot film vibe to it. Nevertheless, 'Popular Science' readers were treated to an early but crude look at a brand-new model that would become a front-wheel drive legend in North America. It was a magical moment for car kids from that era.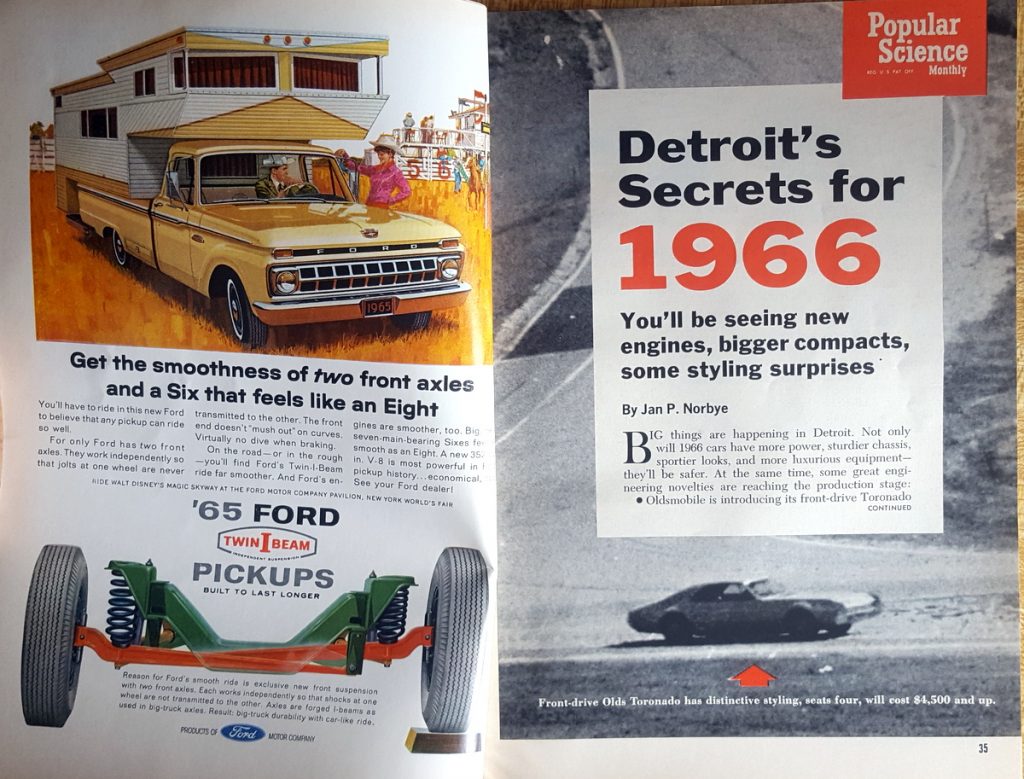 The balance of the article used drawings to illustrate the new-for-'66 vehicles, along with a generous amount of written text that revealed mechanical and technology advancements for the new car models.
One of the more notable additions was the 426 Hemi engine option for Mopar muscle cars.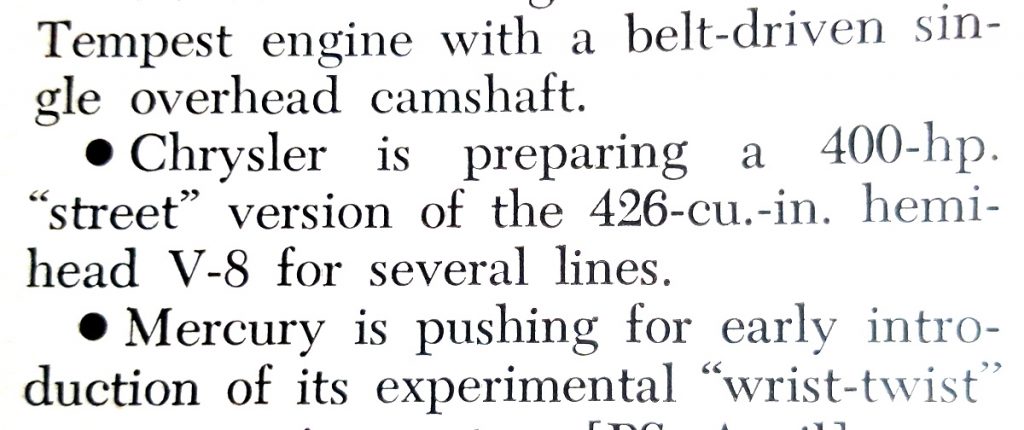 Most car guys will agree the legendary Elephant Hemi was the most iconic engine built during the 1960s-and 'Popular Science' included it in their preview edition.
Another interesting feature in the July 1965 'Popular Science' edition was the magazine's approach to carburetors, including some of the problems that used to plague them. The issue of flooding was addressed in the article, including misadventures with the innards in the carb, along with a wonky automatic choke.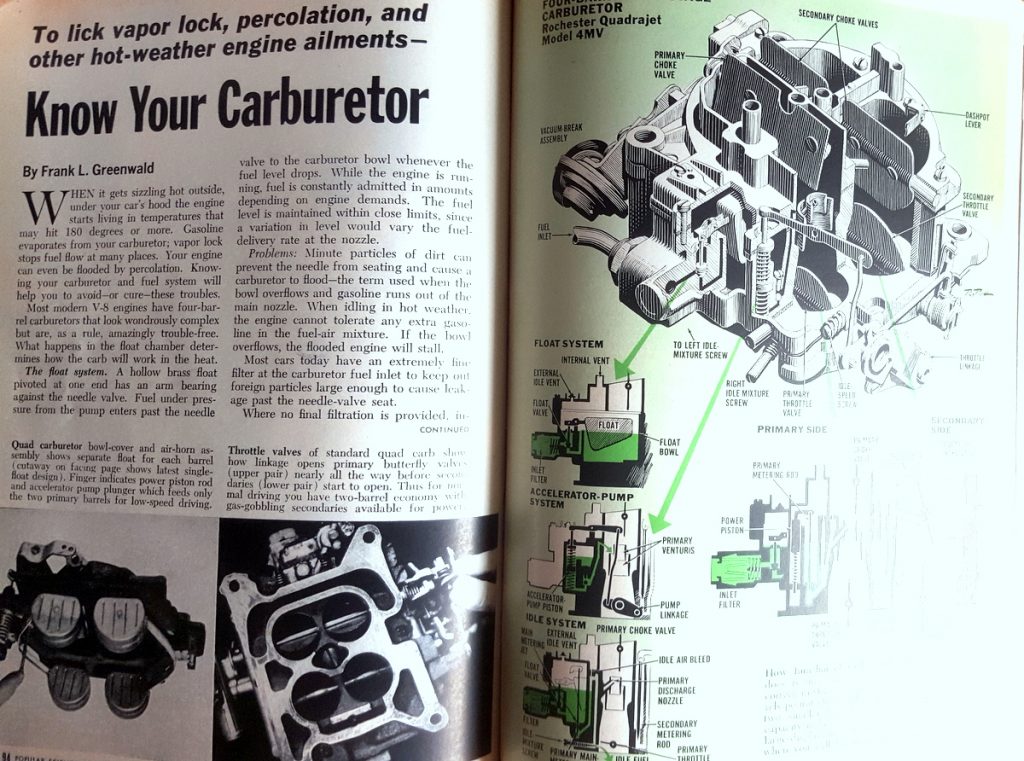 Even vapor lock was included in the list of fuel delivery issues. Vapor lock was a problem where excess heat under the hood boiled the gasoline in the fuel lines and starved out the engine due to lack of necessary gas volume to the carb.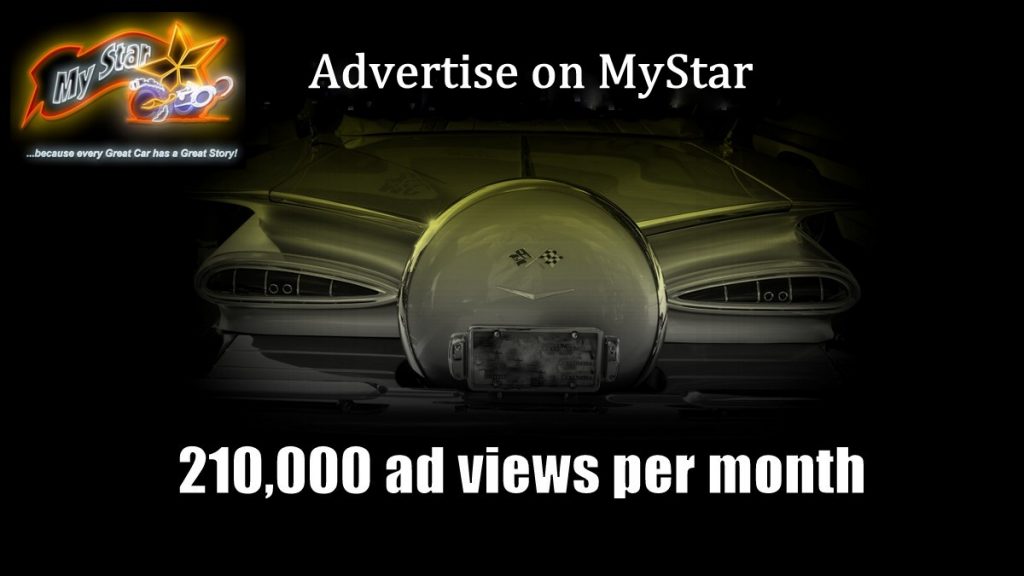 Most older car guys (or owners of old cars in stock form) know all about vapor lock from first-hand experience, including us here at MyStarCollectorCar. Therefore, the 'Popular Science' solution was the same as our solution as adults: insulate the fuel line because it was too close to the exhaust system.
The final addition to our overview of the July 1965 edition of 'Popular Science' was their famous Model Garage series, starring legendary mechanic Gus Wilson. The story was always fiction wrapped around a mechanical mystery solved by Gus.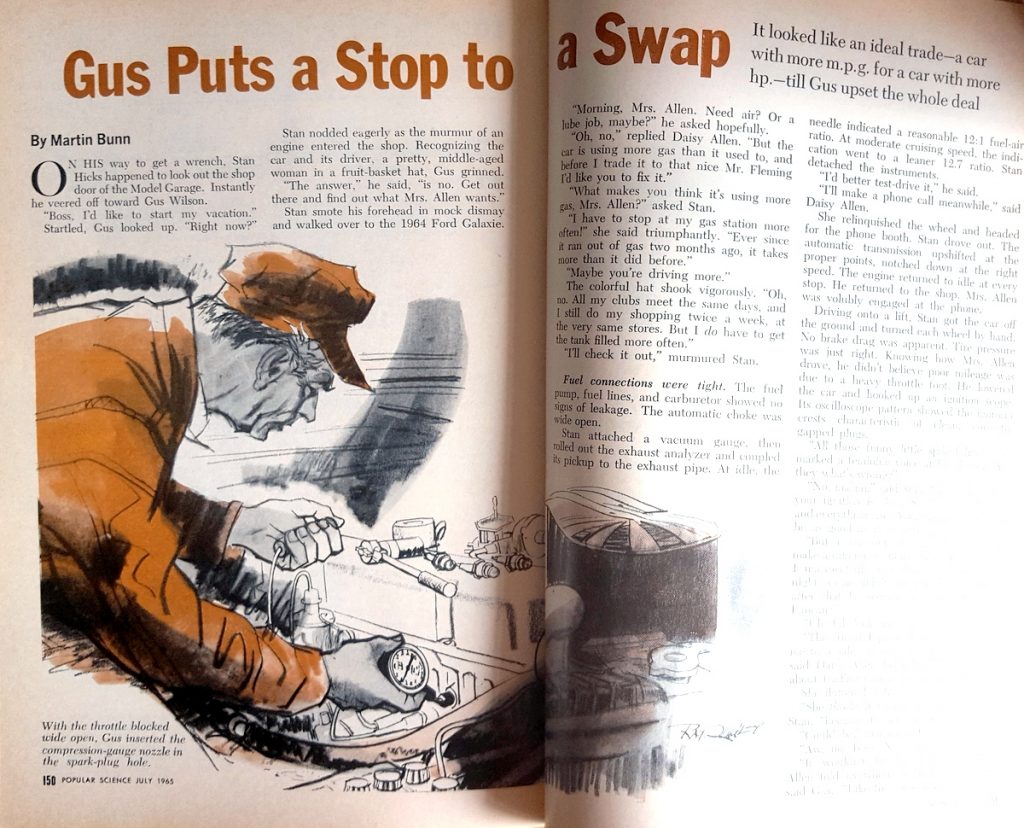 Imagine Sherlock Holmes with a set of wrenches and you have Gus Wilson in a nutshell. He was always able to solve the problem and provide a teaching moment for young readers. None of us ever questioned whether his diagnosis and solution for a large dent in a car's gas tank was a legitimate procedure. Nor did we call Gus for his reasons behind a large cylinder pressure imbalance in an engine and whether it was cured by re-testing after the engine was warmed up and the air cleaner was removed. We were kids and life's solutions were just that simple for us in 1965.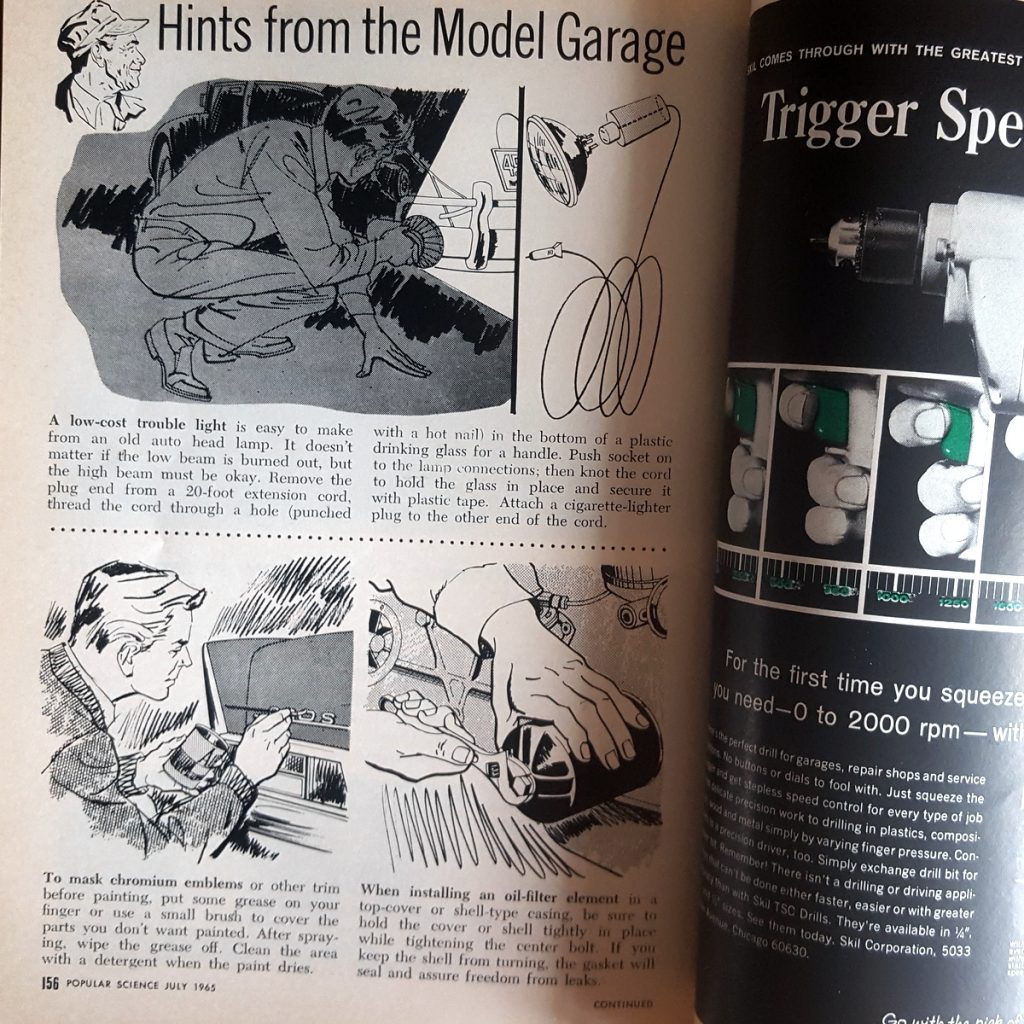 It was a golden time when new cars were a huge deal, Gus Wilson was our mechanical god, and Werner von Braun was our space travel god.
The July 1965 'Popular Science' brought us right back to that place and time in our lives.
BY: Jim Sutherland
Jim Sutherland is a veteran automotive writer whose work has been published by many major print and online publications. The list includes Calgary Herald, The Truth About Cars, Red Deer Advocate, RPM Magazine, Edmonton Journal, Montreal Gazette, Windsor Star, Vancouver Province, and Post Media Wheels Section.