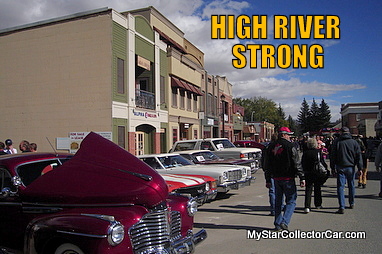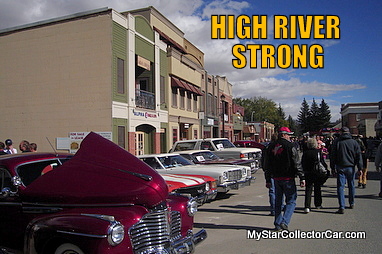 Last year's High River show set a high water mark for Alberta car shows in 2012 . Unfortunately, there was a higher water mark set when the town was completely inundated on June 20, 2013.
The Highwood River flooded the town in a devastating display of nature versus humanity and we all know how that brawl turns out every time.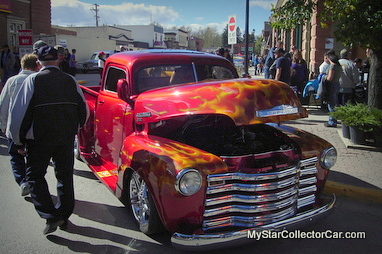 The 2012 show was perfect because the late September weather was balmy and mid-summer like plus the venue was Hollywood-like in a very real sense.
In fact, High River is so photogenic it was a Smallville stand-in for the Superman movies in the late 70s and it hasn't lost that feel in the 21st century. You could argue that it was the perfect Norman Rockwell setting for a car show.
That's how it looked in 2012.
2013 was a different scenario for High River because you can't leave a town underwater for several days and expect it to look and feel the same. This town was hammered by nature and the consequences are similar to a bad traffic accident. You want to look away but you're drawn in by the carnage.
There were hundreds of reports on the High River flood. They began with the videos of the downtown under several feet of water and migrated to the devastation felt by people who lost everything in the flood. This was a disaster on a major scale.
The High River 2013 car show looked like a lost cause in June but by mid-summer the River City Classics Car Club put out the message that the show would go on in September.
The Alberta car culture was highly impressed by this display of courage in the face of adversity because they had heard reports of classic rides that became victims of the High River flood. Members of the car club were also victims so Alberta car clubs put their unqualified support behind the car show.
Few possessions are more personal than an old car or truck because these vintage rides represent hard work, money, patience and a dedication to simpler times. Car guys can empathize with a guy who loses his pride and joy to a natural disaster. They feel the same pain the owner feels when he finds a wadded-up muddy mess that used to be his old Camaro.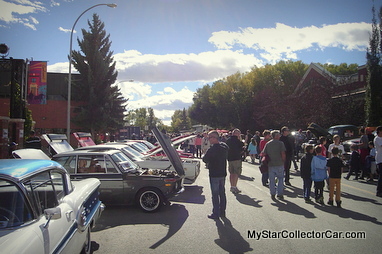 Despite the odds against the event going on as scheduled after the flood, the High River car guys knew the annual car show was a huge part of the local community. Car guys are by nature, resilient and they thrive on improvisation so rescuing the show was a realistic goal.
That's when High River confirmed the show and the Alberta car culture responded with a huge show of support for the local car guys in the stricken town.
This is a big car show and it draws massive crowds so the first question begins and ends with logistics. How do you make a major event work in a disaster zone?
The answer is found in the people of High River. This is a cowboy town where hard work and dedication to a goal is the key to success.
They don't throw up their hands and concede defeat in High River They simply say, "let's fix this" and get on with the hard work of rebuilding a proud community.
The car show was a classic example of that spirit. The drive into town this year defined how big the job was, is and will be for High River. You could see trees and sludge piled up along fences that were almost a mile from the Highwood River.
New condos were clearly behind the building schedule because the construction site still looked like a mass of river mud. There were huge piles of dirt near the downtown core full of gravel and branches that were clearly part of an upstream riverbank last year.
The downtown area was basically still under reconstruction and most businesses were still out of action. They were cordoned off behind fences and some looked like a war zone.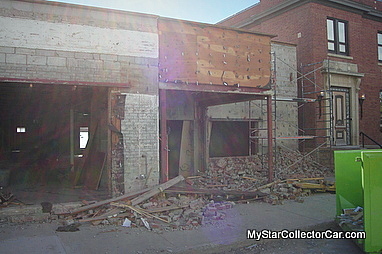 George Lane Park was closed and one local explained they were very concerned about the toxins in the grass and the dust so clearly there is plenty of work ahead.
Despite those obvious signs of distress the town put on a car show and they did it in a big way. The town was packed with people and classic iron on a beautiful Sunday fall day and for a few hours the people of High River were allowed to put down the tools and have some fun.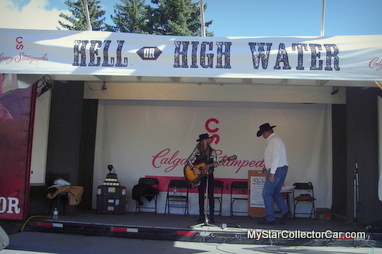 They needed this car show. They put out a song called High River Strong as a fundraiser for flood relief and that's not just words in a country song.
That's how they live in High River.
Jerry Sutherland