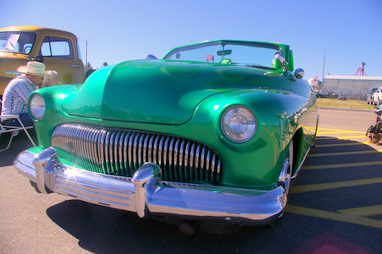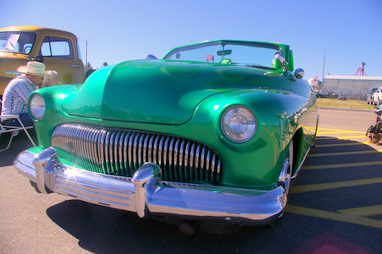 Randy Cofield has a TV star with his 1951 Monarch.
It was a feature car at the famous Hot August Nights in Reno, and a car has to be something special to run at the front of that famous show and shine.
His 1951 Monarch resto-mod is about as wild a combination of parts and custom as anything that you will see at a car show.
Even the candy apple color scheme has the look and feel of a George Barris vision of Kustom rides.
In fact, Mr. Barris has his signature on this ride, so it clearly meets his approval as worthy of his famous moniker.
The Monarch started life as a sedate early 50s vehicle, but the conventional look and days are long behind this car. It has a Nova front clip and rear end plus bow tie power with its 350 Chevy mill.
The front seats have a European lineage because they are out of a BMW, so they are engineered for comfort and style. The door handles have a humbler heritage, because they are donated by a Dodge Colt.
The Monarch will run all day down any road with pavement on the planet, and that is a good thing for Randy and his ride for one simple reason: This car is no trailer queen. In fact, he has put about 65,000 miles on the Monarch because it was meant to be driven by Randy.
It has a unique working juke box that draws its power from an inverter, so Randy can provide all the golden oldies anybody wants to hear from his selections.
It's kind of an old school lead sled philosophy meets new age technology with a very happy ending for Randy and his Monarch.
Our conclusion?This car is a tremendous example of why guys tinker with originals and come up with a great custom look that is sure to turn heads every time it hits the streets.