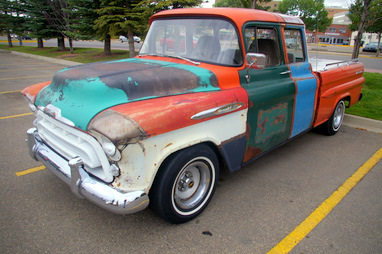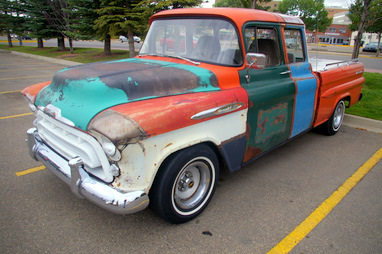 The first thing that we noticed about this truck was the crowd that it drew when it pulled into a show and shine.
It is still a project in the works, but we got the story about this truck very quickly when we saw it.
'The talented owner knows his was around a project like this because Ben Maerz is a guy with a vision; a guy who can turn a concept into a street machine.'
His 1957 Chevy extended cab pick up is a good example of his abilities to turn a "what if?" into a "look at this".
The truck is a blend of a fabricated marriage of two Chevy cabs that sit on an extended 1980 Chevy truck frame. It's powered by a 350 Chevy and it takes Ben in style and comfort wherever he wants to go in his unique resto-mod.
In fact, Ben loves the smooth ride that his truck delivers down the highway with the extended cab on an extended frame.The truck has all of the creature comforts of a newer truck with the look of a 50s Chevy classic with surgical enhancement that would beat Pam Anderson on her best day.
Ben has talent and he also likes to work within a budget, so the rear seats were liberated from a Chevy mini-van. They look like they were custom designed for the task.
The truck will eventually become a 50s style tri-color vehicle and Ben can expect even more attention when he completes his paint job on his project. But for now, he can enjoy his project as a driver and attention- getter, whenever he hits a show with his very unusual vision of what could have been in Chevy world during the 50s.
Keep up the good work Ben, and we will feature your final visionary resto-mod in a future edition. Let's just say that it's from 1957 and it wears a bow tie.
We'll keep you guessing about what he did with this one.
Jim Sutherland
.