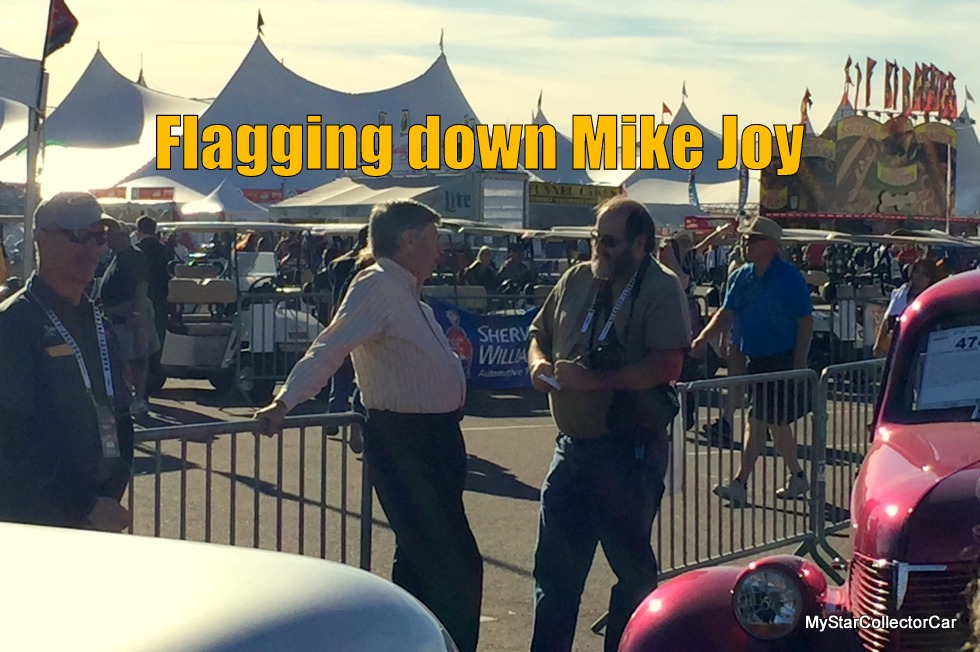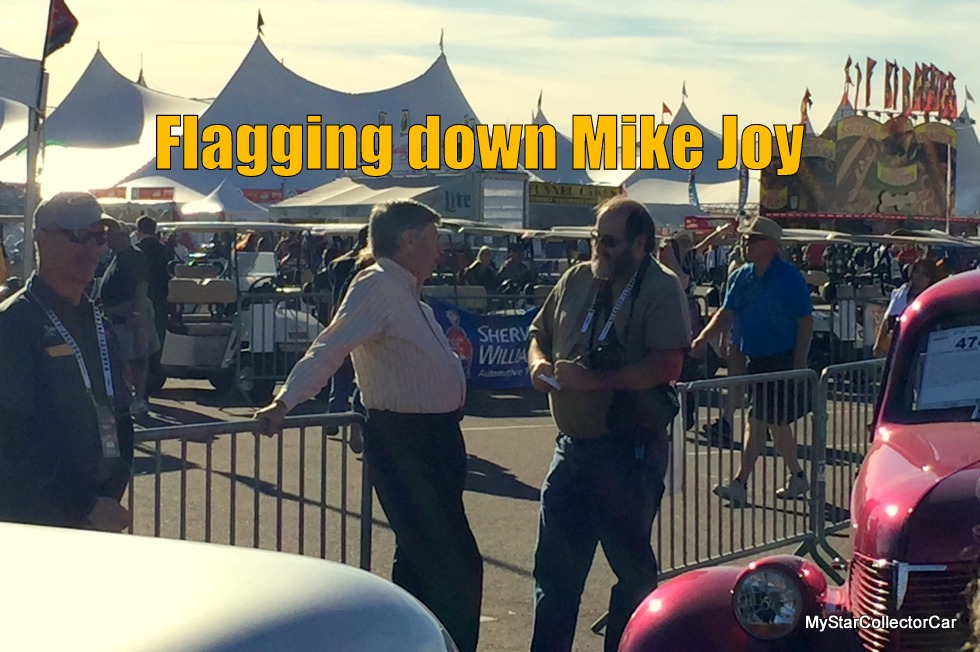 My nephew Angus spotted Mike Joy before I did at the Scottsdale Barrett-Jackson auction.
Mike was in the staging area and on his cell phone at the time, so I waited until he finished his call before I approached him.
'However I seized an opportunity to snap a photo of Mike while he was on the phone and he smiled for the photo in the finest tradition of multi-taskers who are able to divide their attention better than the rest of us.'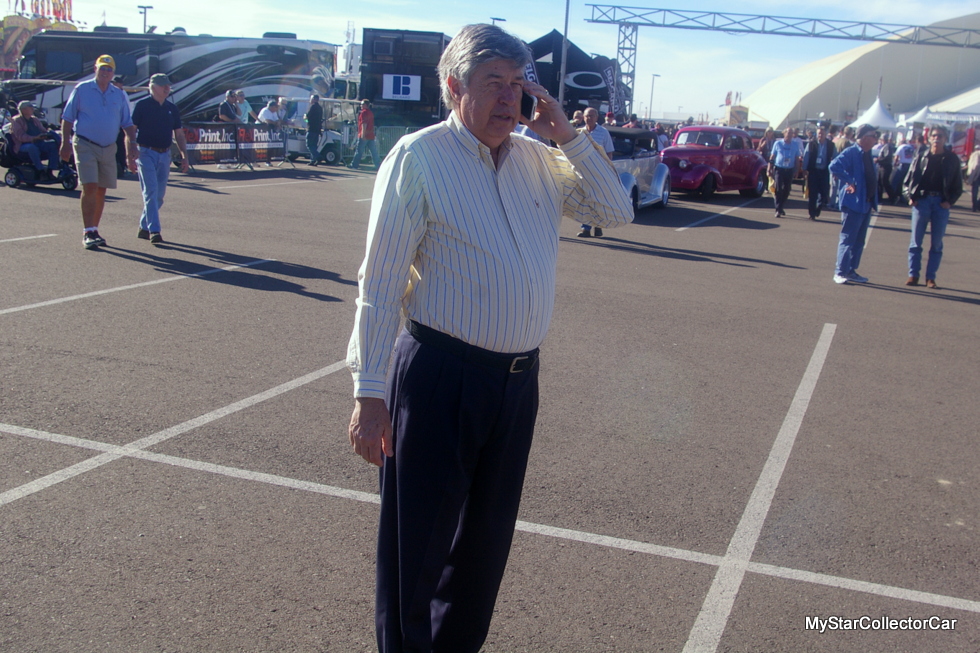 Mike is probably pretty used to attention because he has been the voice of NASCAR on Fox since 2001 and has called the action for 35 Daytona 500s-and counting. He has become the most famous TV race announcer in North American auto racing and has also carved out a stellar reputation as one of the go-to guys on stage for the TV broadcasts of the Barrett-Jackson auction.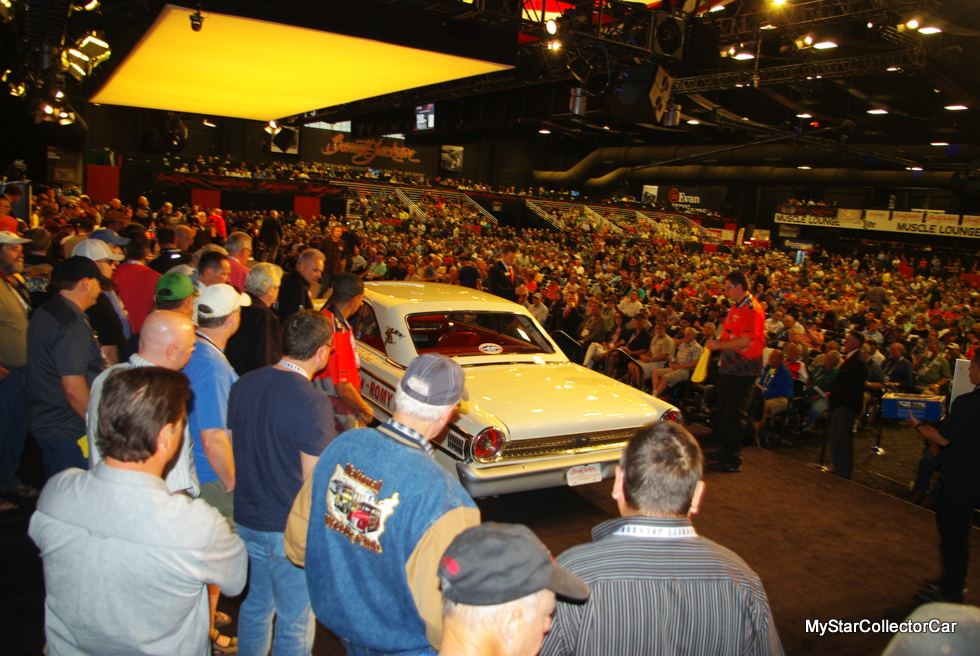 I caught up to Mike shortly before he was about to appear on TV that day in his role as an expert analyst for Velocity's coverage of the Barrett-Jackson. Consequently time was not his friend and I would have understood why he may have said no to an interview, but I soon learned Mike was a friendly guy who made time for me-even though he had little to spare at that moment.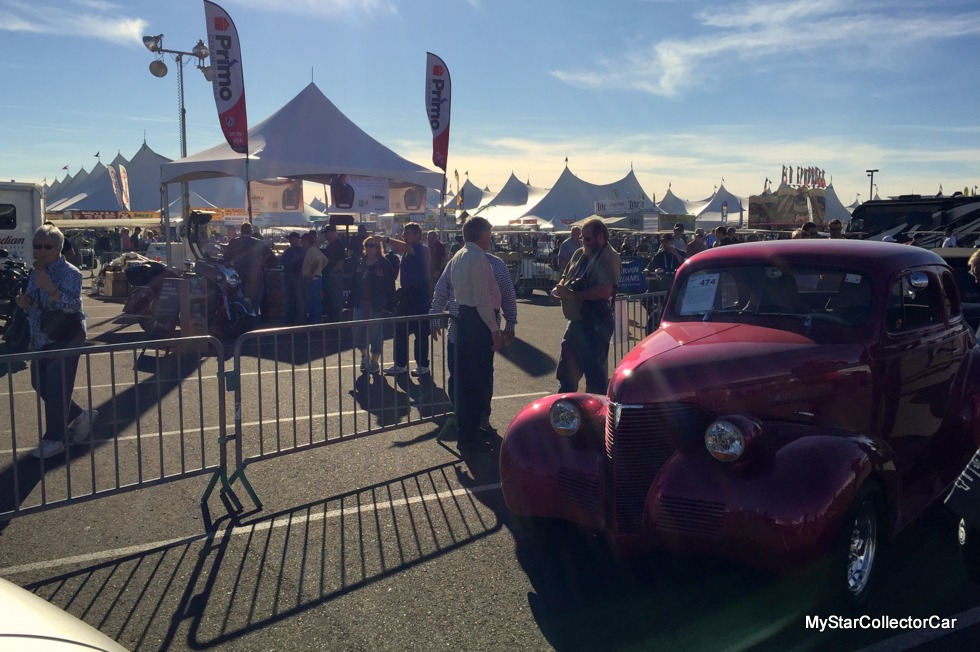 Mike is a well-rounded car guy who loves cars whether they are at a show or on a track. His first car was a 1960 Chevy Impala convertible and he has owned or raced many cars since that first one. In fact, Mike has owned or raced both European and American cars over the decades because he enjoys the style and engineering behind all cars.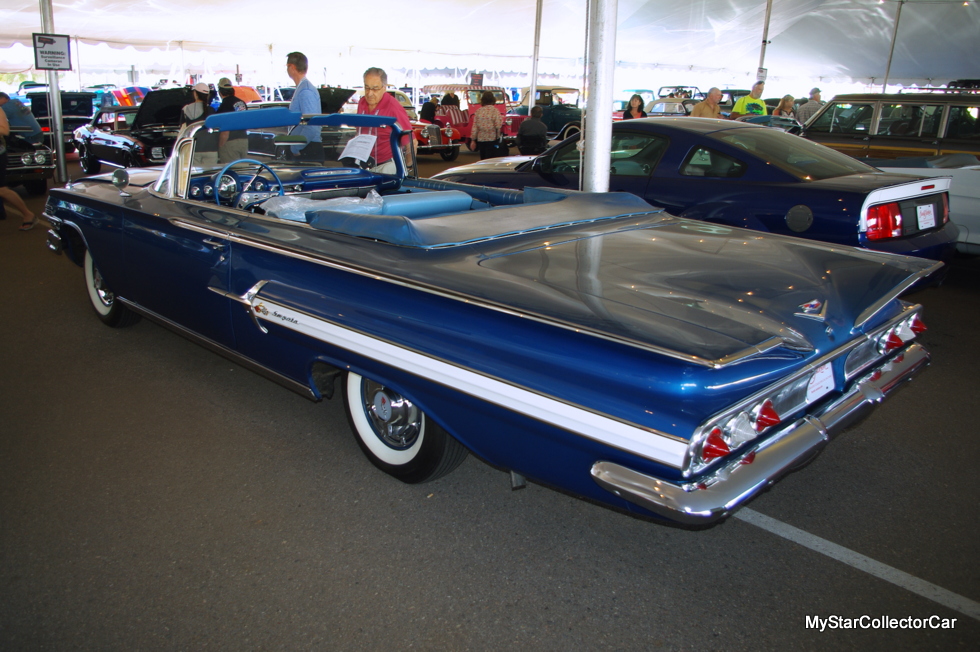 He once owned a 1971 Z28 Camaro that occupied that one-that-got-away place in his heart and also has a soft spot for the legendary 1965 Pontiac GTO for the best of reasons: his dad had one. He has been tempted many times by the cars he introduces on the auction stage for TV viewers and balances a sense of regret with relief when the cars of his dreams surpass his budget.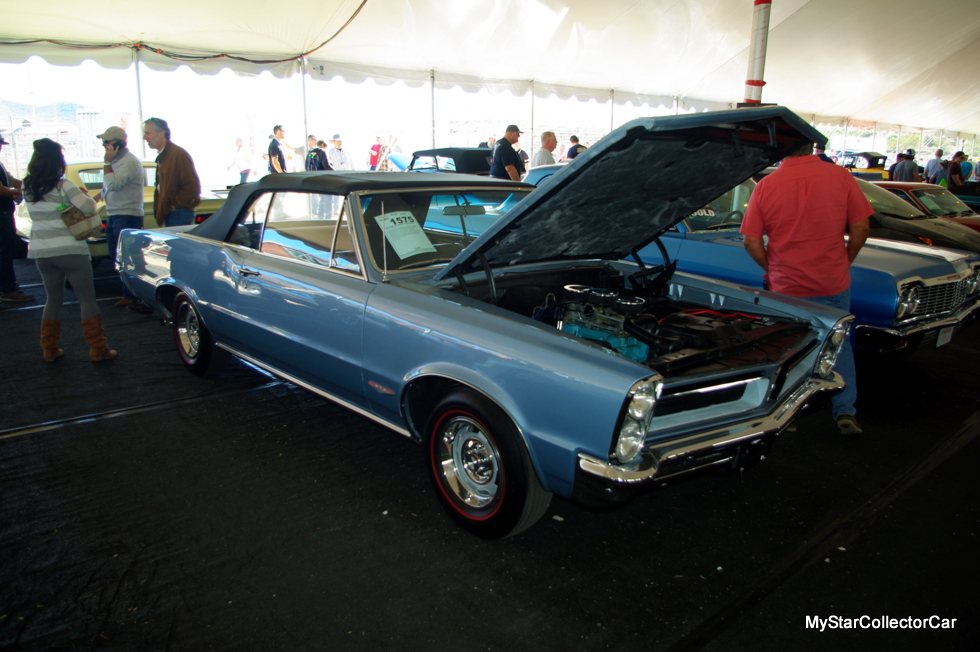 Those of us who watch Mike recite chapter and verse about the vehicles on stage view the man as a human Google search who is able to share his wealth of knowledge about automotive history at a moment's notice. My interview with Mike was a struggle to write down information as fast as he was reciting it to me and the only thing that saved me was his ability to deliver his answers in a clear, concise manner.

Later my nephew told me he could have recorded the interview with his phone but somehow a retro-style interview done in my chicken scratch somehow seemed more appropriate in hindsight because Mike Joy is an old school car guy.

I discovered his sense of self-deprecating humor when Mike described his knowledge base as "a mile wide and two inches deep", an impression most certainly not shared by car guys. He was in research mode when I encountered him and was surveying the "Tuesday cars" (his words) before they came across the stage. Barrett-Jackson ramps up in terms of price as the week progresses and Tuesday cars are typically the most affordable rides of the week, along with Sunday cars.

Mike shifts gears as soon as he signs off at Scottsdale Barrett- Jackson and then heads right over to Florida so he can prepare for the Daytona 500. He is well-prepared for any of his TV roles and is a consummate professional every time he gets in front of the camera.

Fox Sports broadcasts the first half of NASCAR and then Mike gets to go racing with his son in a vintage Trans Am for the rest of the summer. It is clear that Mike Joy loves every aspect of his life because he is immersed in the automotive world, but I could tell his time on the track with his son runs at the top of his list.

Mike Joy is one of the most famous ambassadors in the car hobby and he is also one of the classiest ambassadors.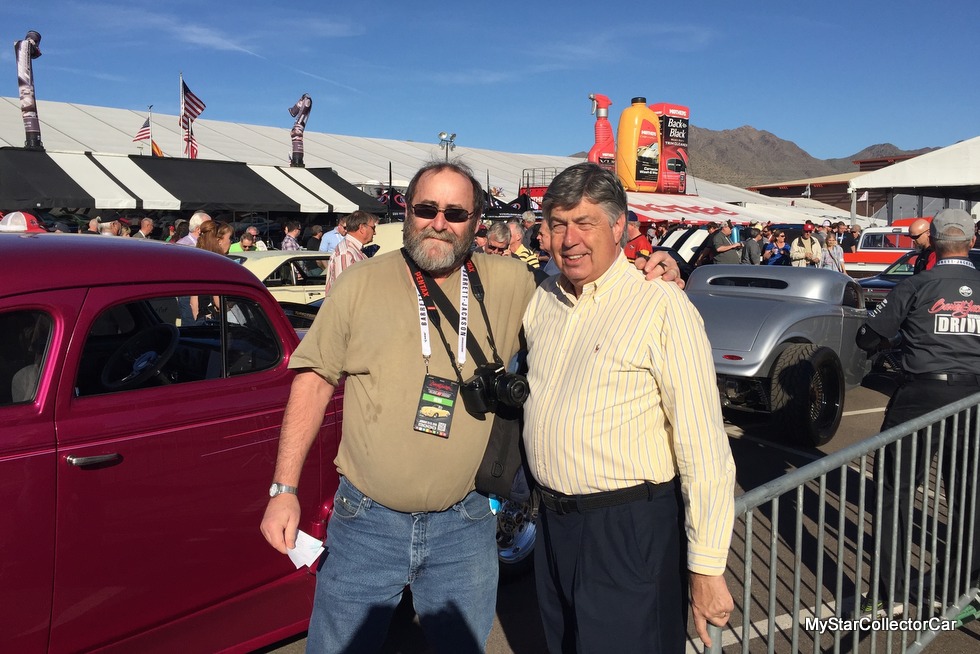 'MyStar would like to thank him for taking the time to do an interview during a very busy part of his schedule.'
Jim Sutherland
CLICK HERE to Like us on Facebook
CLICK HERE to Follow us on Twitter
CLICK HERE to Follow us on Pinterest
Please re-post this if you like this article.