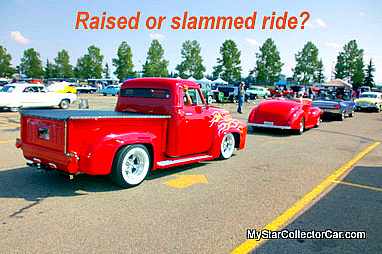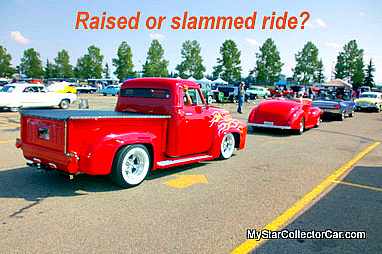 The idea of ride height typically revolves around personal tastes.
Some guys really took the 70s song 'Low Rider' to heart and will scrape pavement if necessary to get down and dirty.
Other guys will need a medium load Otis elevator to climb into their rides.
The unifying philosophy between these two diverse choices is that factory ride height does not work for them. The car guys have picked a height that will showcase their idea of perfection for their rides, an altitude that best reflects the lines of the car.
Chop top rides look sleeker when they're kissing the pavement, and most of them are equipped with air suspension so they can negotiate the mean streets of pothole adventures and unfunded street maintenance hazards.
Many of these rides look just as good underneath so close encounters with chunks of broken pavement is not an option for their owners. They will pump the vehicles up between shows to avoid contact with the wagon ruts on today's streets.
A raised ride is typically a four-wheeler mud and rock machine that is built to take on terrain without pavements-or even dirt roads for that matter. These guys like to go places where fear and common sense are not welcome, so they look for rough territory.
The mile- high- in- the- sky boys want to run over everything in their path-short of Douglas Firs, so they want serious clearance under their rides.
The idea of an altered ride height definitely says a lot about the vehicle owners. Some of them reach for the sky while others hug the ground.
The only certainty is that mud-boggers and low riders have completely different worlds in which they showcase their rides, and there are very few low riders in off-road events.
Jim Sutherland

More car topics at-https://www.mystarcollectorcar.com/
DENNIS:"There's this little category I subscribe to called "Streetable". These monsters you need a step ladder to get into are great in the jungle (and I'm not talking about 'Da Ghetto') but for every day driving they are a pain in the you know where. Try parking one in a busy Wall Mart parking lot. Then, there's the other side of the coin. If your rig is so low you can't in the parking lot in the first place, that's not "streetable" either.