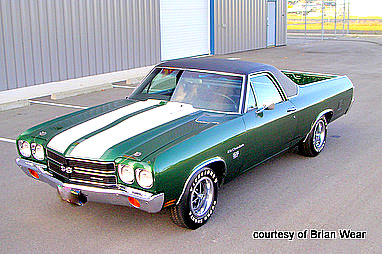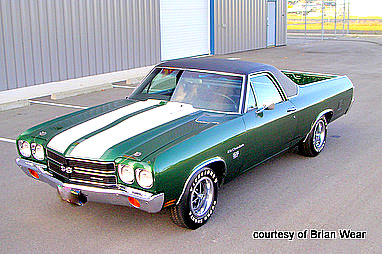 Most people who follow Funny Car racing's history are aware of 240 Gordie Bonin, the go-fast Canuck who tore up the ¼ mile in the 70s and 80s.
240 Gordie earned his label the hard way because he had to join the 240 mph club on the track.
Bear in mind that Gordie achieved his nickname while racing against guys like Don (the Snake) Prudhomme, and the Snake had a big bite on the track. 240 actually pushed the Funny Car record to 245.49 mph at the 1979 US Nationals but 245 doesn't rhyme with Gordie very well.
But before Gordie became a Funny Car force, he earned a living as a car salesman in his home town of Red Deer Alberta Canada, a car crazy town of about 25,000 people in 1970.
Gordie worked as a salesman at the appropriately named Red Deer Motors, then a respected Chev-Olds dealership, these days a used car name in Red Deer.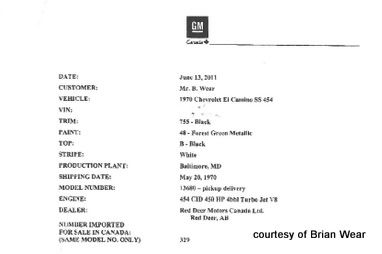 Gordie always liked muscle under the hood, and he was the right guy to talk about big blocks as the smart option in the early 70s. If it didn't melt tires, it was not worth buying a car from Gordie because he lived and breathed high octane fuel and burning rubber. It was in his very soul.
One of the cars sold by Gordie was a 1970 El Camino SS 454 LS6 street warrior purchased by a neighbor of Gordie's parents.
The guy wanted full blown performance and a truck bed to haul his snowmobile. Bear in mind that Red Deer is an early delivery place for Santa on Christmas Eve because it's in the same polar neighborhood.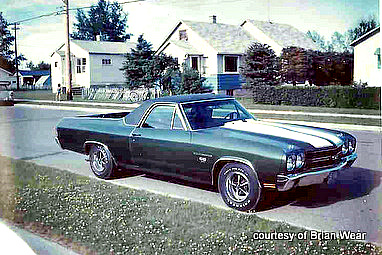 The cold winters in Red Deer produced a shock absorber issue that meant the El Camino was not a great hauler, so the first owner sold it to a guy from Vancouver Island, a West Coast Canadian island that has rainy winters-not sub-zero ones.
Eventually it was sold to a guy from Saskatchewan, Canada, a province one over from Alberta and just as cold in the winter. In 2001, the rare El Camino was sold to an Australian buyer and spent 10 years in the Land Down Under.
The current owner is a Canadian car guy named Brian Wear who brought it back to western Canada in the fall of 2011. Brian is a detail guy who contacted Gordie because he wanted to chase down its complete history, including the famous salesman who sold it to the first owner.
Brian estimates that only six of these street monsters were shipped to Canada from the States in 1970, so he fully appreciates its rarity. Brian also appreciates Gordie's place in Funny Car folklore and wants 240 to get re-acquainted with the car in the future.
Brian has actually owned 3 El Caminos (including two of the famous six 1970 models) over the years, but his 240 Gordie car definitely had the only salesman that became a famous Funny Car driver.
We will feature that reunion at MSCC when it happens because Gordie is looking forward to a reminder of a time when he sold big horsepower instead of taming it in Funny Cars.
Jim Sutherland

More stories about people and cars at– https://www.mystarcollectorcar.com/