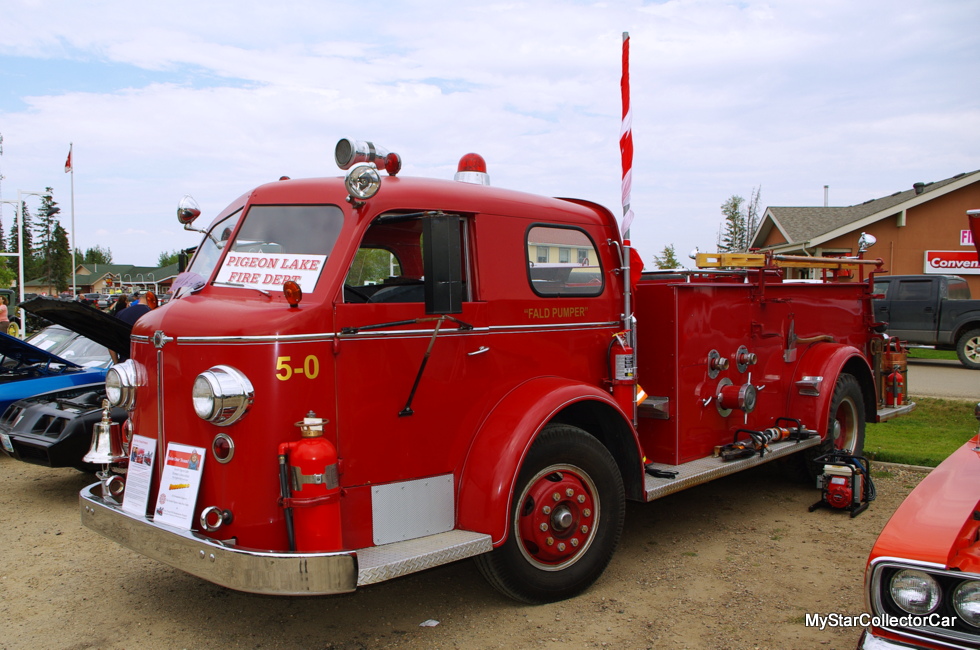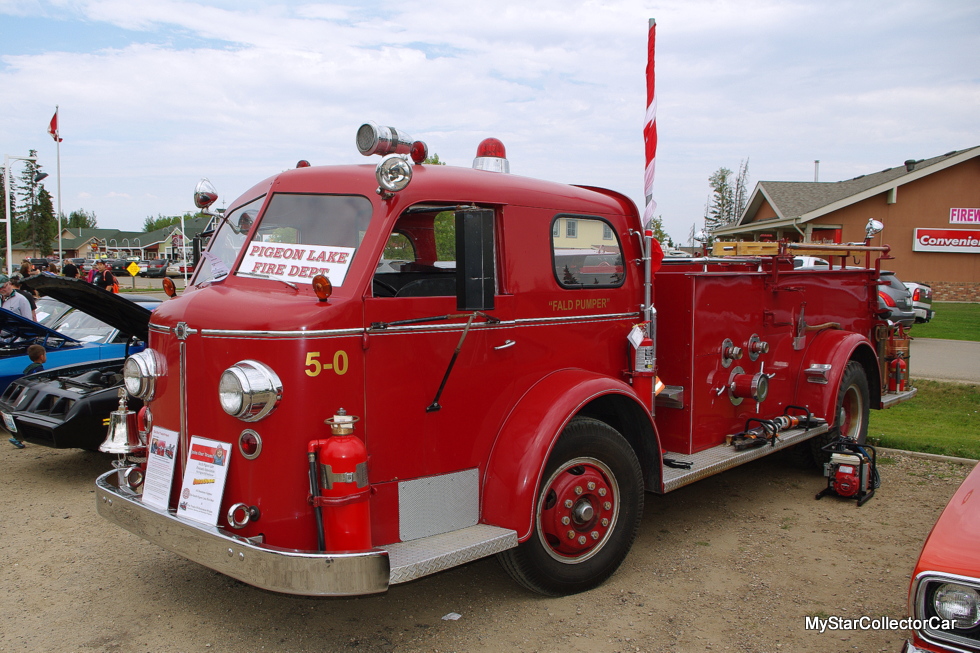 American LaFrance has a storied history with firefighting equipment.
They go so far back their early units were pulled by human power, then horse power, steam and eventually internal combustion engines.
'American LaFrance built their last piece of emergency equipment in 2014 but the legacy they left behind is one for the ages.'
Wayne Benson is a modest man but he's an expert on vintage fire trucks—in particular a 1947 American LaFrance. This truck is the property of the South Pigeon Lake, Alberta Fire Department and its main function today is public relations. Wayne is a member of the fire department and he's also the resident historian /tech expert on this '47 LaFrance.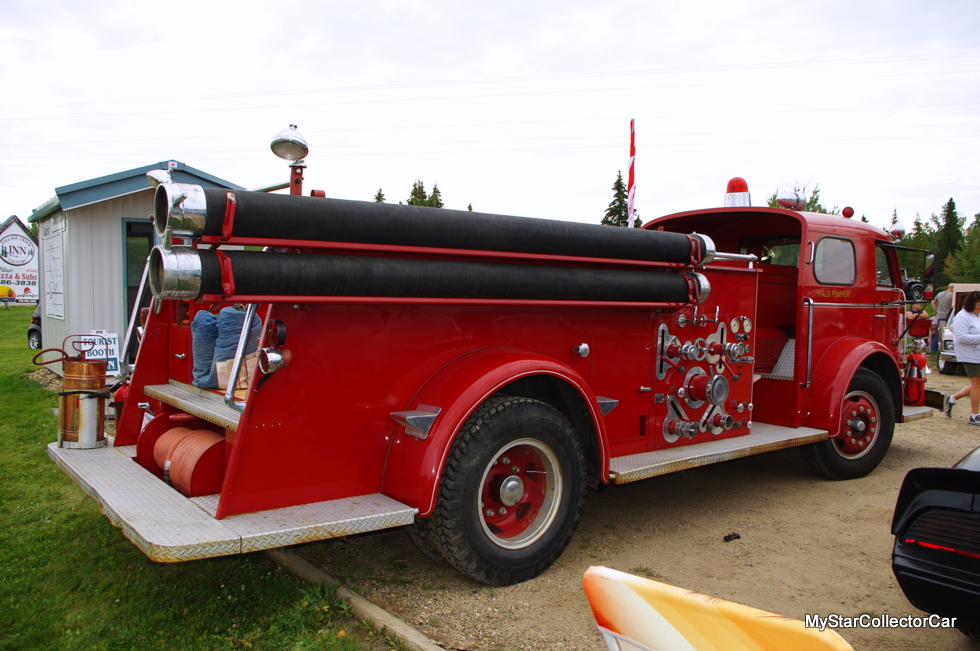 Wayne explained how this truck was bought by the Regina, Saskatchewan Fire Department back in 1947. He said they had to put "Canadian lights" on it to meet the standards north of the border. The fire truck ended up in a farmer's field near Edmonton, Alberta where it was snapped up by Larry Fald and Warren Stark of the South Pigeon Lake Fire Department.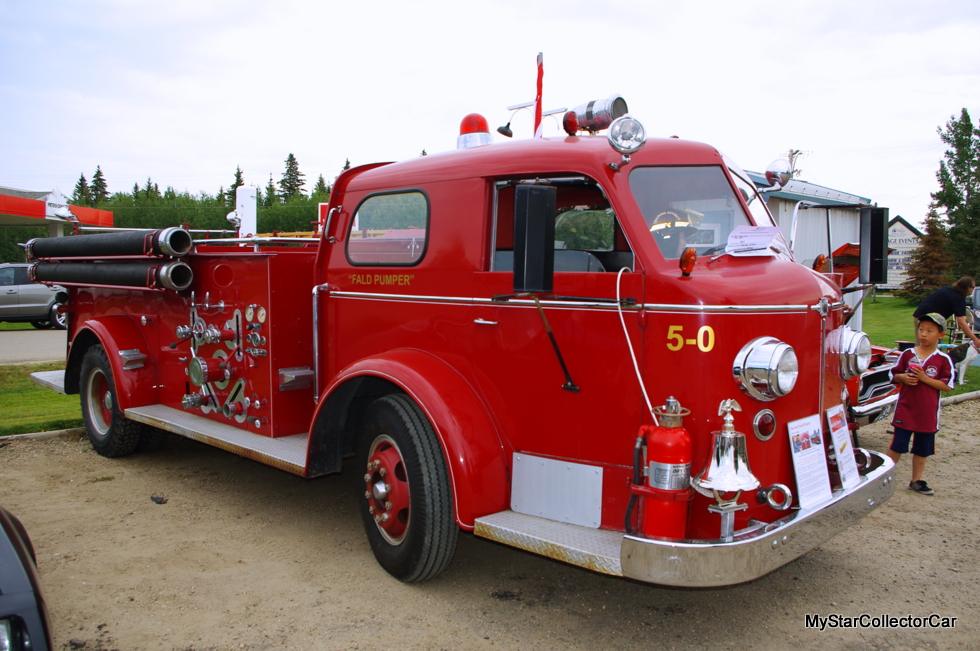 Unfortunately, Larry passed away suddenly a few months after they picked up the truck so the whole fire department jumped in to finish the LaFrance in Larry's memory. Wayne went through some of the technical details with this old fire truck.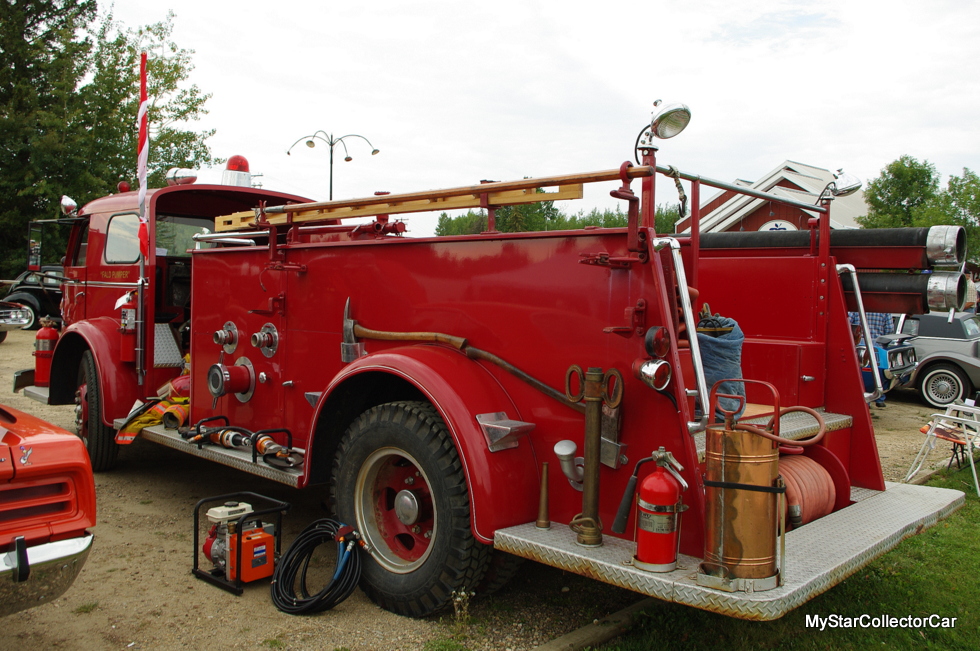 He explained how: "Larry asked me to help because it helps promote the fire department. It's a "1936 Auburn Little Red 511 cubic inch V-12 with 245 horsepower. It has two distributors—one for each bank of cylinders and it has 24 spark plug wires. The two blade fan doesn't move a lot of air. The master cylinder was easy because it came right off the shelf at NAPA so that helped gets the brakes going".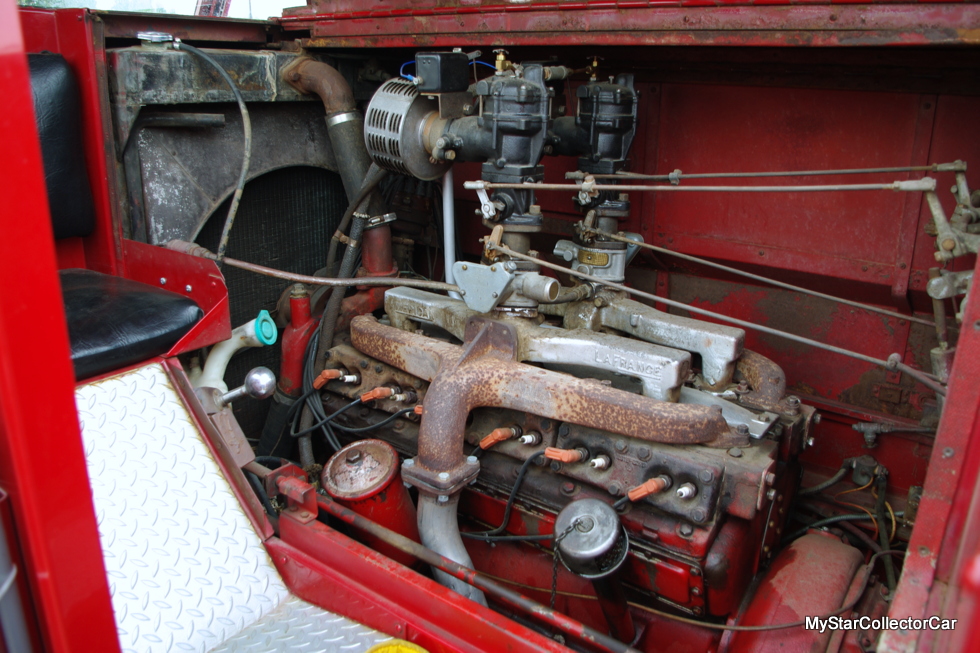 This is not a luxury ride because Wayne pointed out, "there's no heater or defroster" so the question of comfort disappeared fast in the middle of a Canadian winter. Wayne said it runs pretty well at 55 miles per hour but he has had it up to 60 miles per hour but he admits, "she was screaming". He said the truck is actually "pretty quiet" when it's not being pushed. There's a trick to making this LaFrance move forward and it can be summed up in one simple concept—double clutching.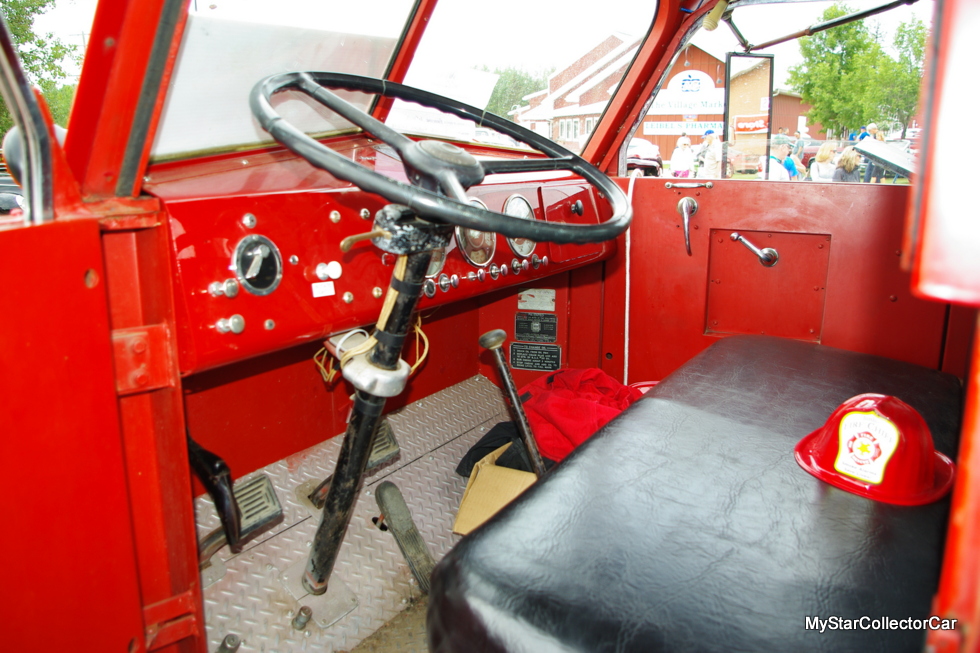 Wayne was constantly surrounded by people at the show and he patiently answered the same questions over and over. Kids were welcome to sit behind the wheel of this 68-year-old truck for photo ops and there was a lineup all day. There is no doubt this bright red LaFrance was the star of the day at the show.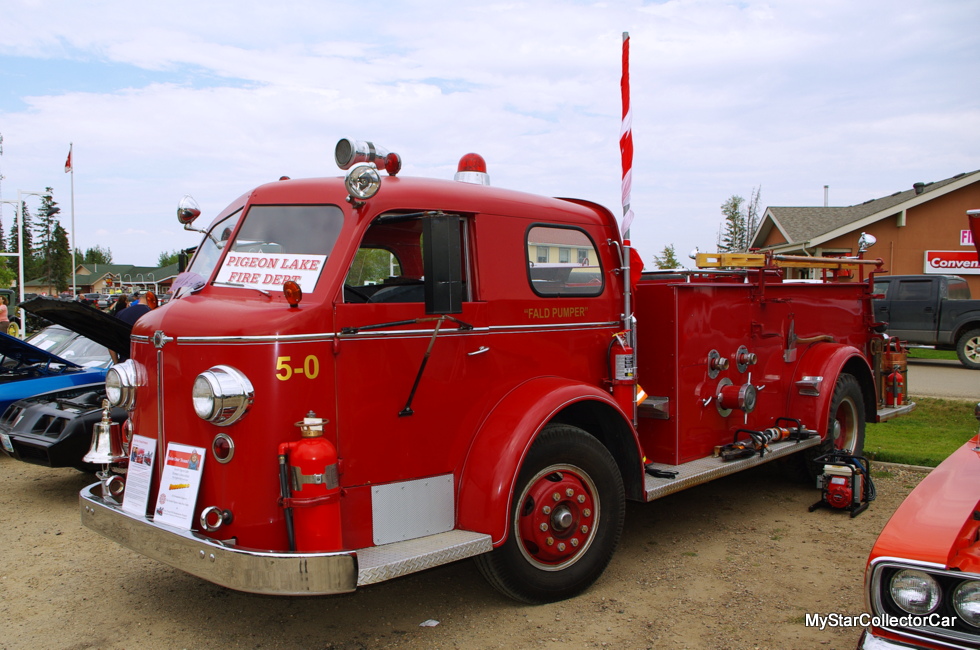 The keys to any project are goals and follow-through because without those factors in play, the results are often disastrous. The goal behind this fire truck was to finish Larry's dream and have a major public relations tool for parades and other functions to put the truck and the South Pigeon Lake Fire Department.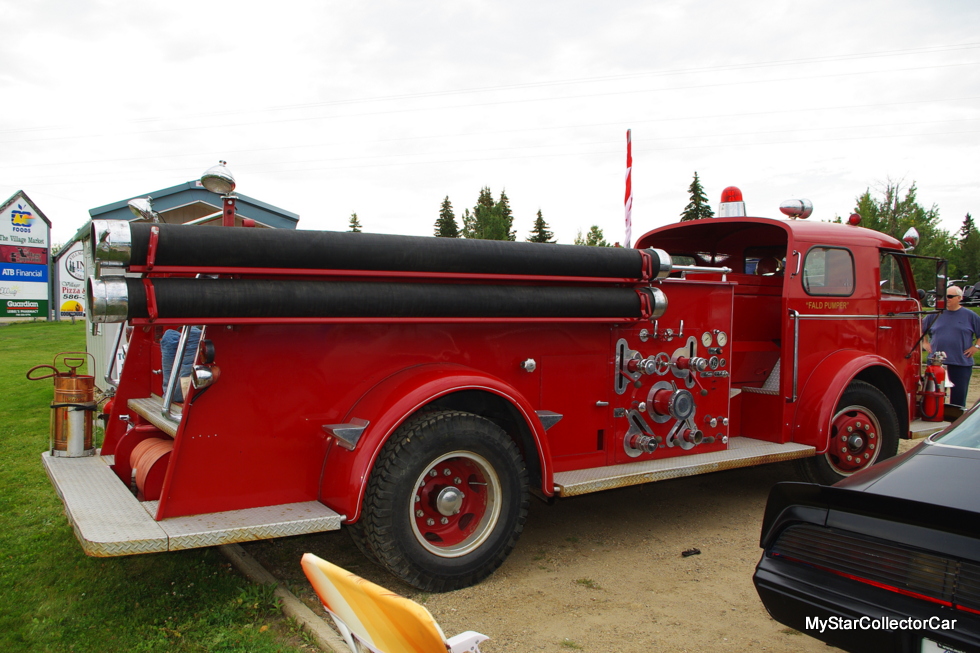 The volunteers in the fire department made sure Larry's truck "Fald Pumper 50" became a reality for the South Pigeon Lake Fireman's Association. This classic fire truck is still doing its job in service to the community as a fundraising tool and recruitment vehicle for the department.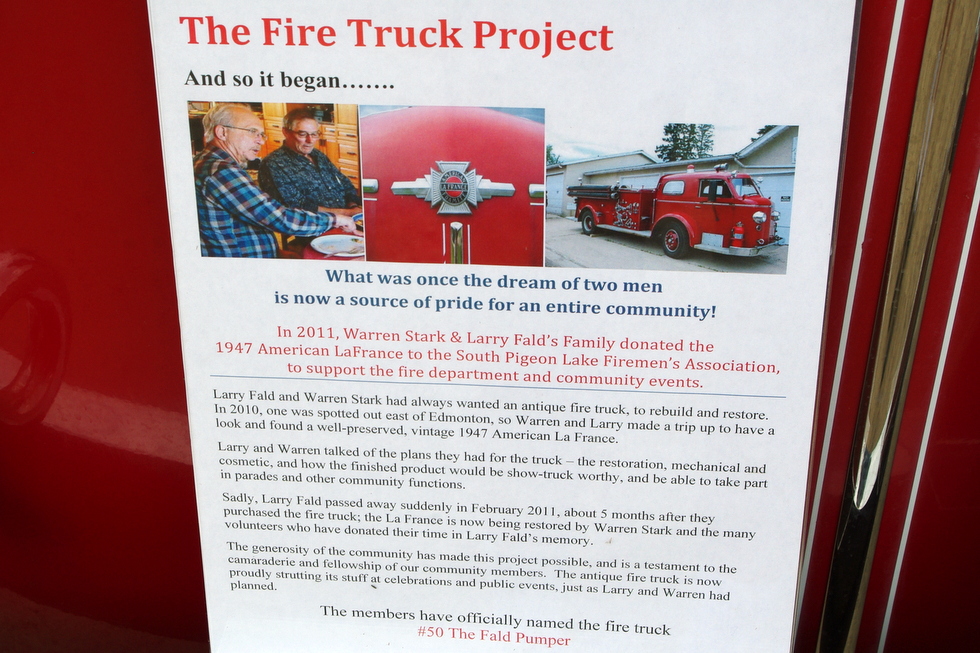 Larry's dream is alive and well and still on the job.
Jerry Sutherland
CLICK HERE to Like us on Facebook
CLICK HERE to Follow us on Twitter
CLICK HERE to Follow us on Pinterest
Please re-post this if you like this article.