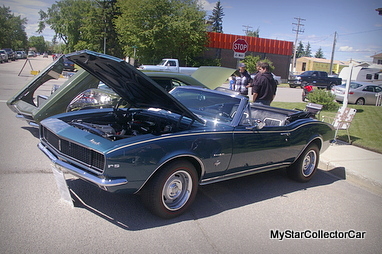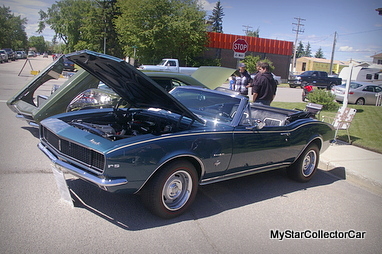 Wilson Loree was a young guy when he drove his Chevy Camaro RS convertible off the lot of his local GM dealership back in October, 1967.
The car had been used as a demo at the dealership and Wilson was the first registered owner of the stylish pony car.
Wilson is still the registered owner of the Camaro 47 years after he bought the car.
Wilson lived on a farm in 1967 and traded in a pickup truck for the Camaro. He was about to attend graduate school and felt the Camaro better suited his new lifestyle.
The car is a big part of Wilson's life and was used as his primary driver until 1972 when he bought a Cutlass and demoted the Camaro to second car status. Eventually the car was retired from the road in 1982 and spent time with 2 other cars in a two car garage.
The years rolled by and suddenly it was 2008, a point when Wilson's son told him to "get off your (popular slang term for a posterior part of the human anatomy) and do something with the car."
Wilson listened to his son and looked around for a restoration shop. He stripped out the car before he sent it off for restoration and recalls a point when he sat on a paint can to steer the gutted convertible.
The shop focused their collective efforts on his car and began a rotisserie restoration of the Camaro that took 6 months from start to finish. Wilson also painted the sub-frame and added a few safety features like a dual master brake cylinder and disc brakes.
The only downside was the Camaro was driven through an unexpected snowstorm when Wilson retrieved it from the restoration shop. He assured us his convertible will never see snow again on his watch if he can help it.
The interior sports the original seats and door panels, with minor fabric repairs in the material. He also threw in a few creature comforts like power steering, power brakes and air conditioning into his restored Camaro.
Another son wanted the car completed in time for his wedding and Wilson was able to meet the deadline.
One of the more interesting features of Wilson's Camaro is his written record of the car's history. For example, Wilson showed us his gasoline log from March 1973 when gasoline cost him 52.5 cents a gallon (roughly 13 cents/liter for the metric crowd) at a 10 gallon cost of $5.25.
His log showed a similar 10 gallon fill-up in July 2014 cost him 45.00. The log also showed his 327 Chevy with its 2-barrel carb and 2-speed automatic averaged about 19 mpg.
The car performs well at current highway speeds and Wilson is still comfortable behind the wheel of his convertible after his upgrades to the car.
Wilson brought his beloved Camaro back to its former glory with his restoration, but his car is no trailer queen.
He drives it to shows and still enjoys every mile along the way-even with today's gas prices.
Jim Sutherland
CLICK HERE to Like us on Facebook
CLICK HERE to Follow us on Twitter
CLICK HERE to Follow us on Pinterest
Re-post this article if you like it…thanks.