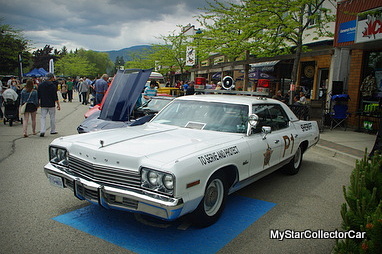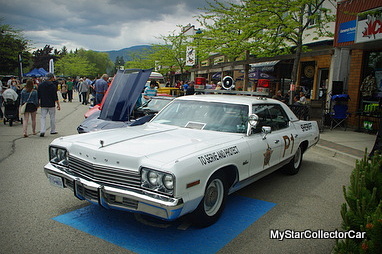 Giant sedans from the 1970s are definitely an acquired taste because they were clearly built for function over form.
Nobody is going to cut a straight one for one deal to get a 4-door sedan in trade for a classic muscle car.
Despite their bad press and low public perception 70s 4-door sedans are beginning to acquire the cool factor that they never had over the decades.
That cool factor goes up exponentially with police cars because they were built to grab your attention for legal reasons. Quinn Newell is too young to remember 70s 4-door sedans/police car when they were new but he was influenced by Hollywood as he explained: "I saw these cars in the Blues Brothers show ( live tribute) and I thought they were pretty cool".
Quinn found this police tribute '74 Monaco in an ad and he was immediately attracted to this big Mopar C-body on many levels. One was the reality that these Dodges are definitely on the endangered species list because they were used up and baled—unlike their far more popular cousins like the Dodge Challengers and Chargers.
1974 Monacos used to clog the streets in the form of functional cars such as taxicabs or police cars but functional cars become immediate casualties when they are no longer functional. Big sedans were at the top of the hit list in the 70s when gas spiked in price.
This Monaco wasn't in mint shape when Quinn found it as he recalled:"It was pretty beat up when I got it but I'm slowly getting things back in order. I redid little things like the air cleaner". The key pieces of the puzzle were already in place,"The lights and siren all worked on it and it's got the heavy duty alternator so when it's running it gets 14 volts".
There is still a fairly large to-do list with this big Dodge but Quinn is undaunted by the task because he likes the detail side of the equation, "I'd like to paint the wheel wells and do things like that".
Mechanically, this Dodge is pretty stout as Quinn explained,"It runs pretty good but it leaks a little bit".
Quinn has a blast behind the wheel of his Monaco and his daughter enjoys the ride except for one thing:"She loves the ride but she thinks the siren is too loud".
Quinn likes the attention this car gets at shows and on the street because big Dodge police cars attract more attention than a row of yellow Corvettes. He does have to cover the lights on the road but the sheer presence of the big Mopar is enough to attract a lot of attention.
That's why these Monacos made such great police cars back in the 1970s.
Quinn's game plan for his Dodge is both simple and realistic: "It's in pretty good shape for a 40-year-old car but that's the plan…put it in a garage and work on the little things".
Most car guys thrive on the attention they get with their old rides but Quinn actually had to walk away from his old Dodge at a show because he was wearing out from all the attention.
Challengers and Chargers never have that problem.
Jerry Sutherland
CLICK HERE to Like us on Facebook
CLICK HERE to Follow us on Twitter
CLICK HERE to Follow us on Pinterest
Re-post this article if you like it…thanks.