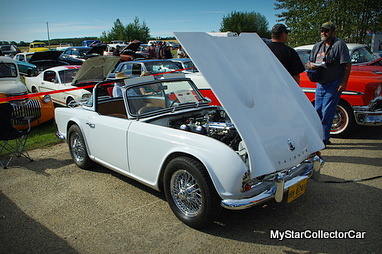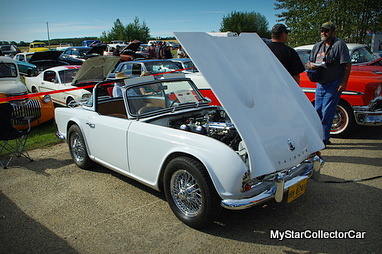 Greg Halpen was a very young guy when he bought a 1961 Triumph TR4 in 1970.
He bought the car for 900 dollars and it became his daily driver for several years.
The reputation of British cars from a bygone era was pretty sketchy when it came to electrical and heating systems.
The popular nickname for the Lucas electrical system in British cars was Prince of Darkness because it was famous for breakdown and malfunction.
The heater system was not meant for harsh conditions so most car owners in western Canada's prairie region parked their British sports cars in winter. The owners knew the cars were no match for frozen winter wonderlands.
However, a young guy in school with limited financial resources has few options when it comes to a set of wheels. Greg's only option for transportation all year round was his little TR4.
In fact, Greg even drove the car to the mountains on winter roads so he could hit the ski hills for a little recreation and fun. He wrapped himself in a sleeping bag and drove the drafty little car with little or no heat on road trips.
Greg had one hand on the steering wheel and the other one working the ice scraper during the winter months. It was a form of mandatory multi-tasking done long before the term was even coined in popular culture.
Eventually Greg moved to a different phase in his life, including marriage to his wife Jacquie. He was lucky because Jacquie always liked the car, so she was onside when Greg decided to restore the TR4 after 20 years in storage.
Any vehicle that has not been moved for two decades presents some serious complications in most cases and Greg's TR4 was no exception to this rule. It took six years to complete the restoration on the car so it was a good thing Jacquie was also sentimentally attached to the little Brit.
The car was originally equipped with wire wheels and they required a great deal of maintenance that used a tuning fork to adjust the spokes in the wheels according to Greg.
Consequently he switched out his wire wheels for lower maintenance ones that did not need an expert with a tuning fork to keep them true.
Greg also added an electric fan to keep the little four-banger from overheating in hot weather. The upgrades continued when he switched the electrical system from a positive to a negative ground and eliminated one of the issues from the former Prince of Darkness Lucas system.
The 1961 TR4 was offered with a Surrey Top half-roof option and Greg was quick to point out this fact during the interview. The iconic top works well with the body style and British sports car heritage of the TR4.
These days the car lives a mild life of semi-retirement and only sees the road during the mild summer months with Greg and Jacquie. They drive it about 500 to 800 miles a year and use it at their summer lakeside home as a little runabout with a lot of style.
The TR4 is a great story on its own.
44 years with the same owner makes it an even better story.
Jim Sutherland
CLICK HERE to Like us on Facebook
CLICK HERE to Follow us on Twitter
CLICK HERE to Follow us on Pinterest
Re-post this article if you like it…thanks.