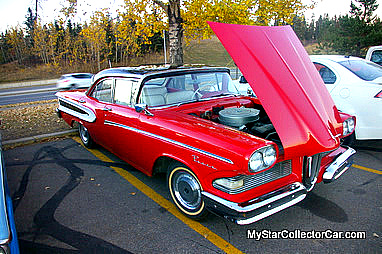 One would think that a promising car from the late 50s that became the punch-line of jokes about one of Ford Motor Company's biggest mistakes would have a small following.
One would also be wrong with this conclusion.
Doug Munn is a big fan of the Edsel brand and he always did have a soft spot for the much maligned Fords. He liked the unorthodox front grille on the car and he was in a much smaller fan club of the unusual front end when he bought his first Edsel in 1965.
These days Edsels are rare and they attract a lot of attention at car shows and on the street. Doug drove his first Edsel until 1970 before the two of them parted company for good.
Doug knew even then he would like to own another Edsel in the future, and that glorious day came about nine years ago when he purchased his beautiful 1958 Edsel four-door.
Doug is a brave man because he had to incur the wrath of his wife after he vetoed her purchase of a 25-dollar antique item prior to the Edsel purchase.
Fortunately Doug had an understanding wife so he got his car and still kept his marriage after he took ownership of the Edsel. His three toned Ford reflects the paint style combinations of the late 50s when two (or three in Doug's case) paint colors found their way onto the skin of Detroit's finest.
We at MSCC are just happy that Doug got to keep the car and the girl when he got the second Edsel in his life.
Jim Sutherland

More happy car endings at–https://www.mystarcollectorcar.com/