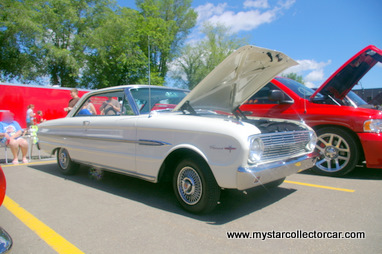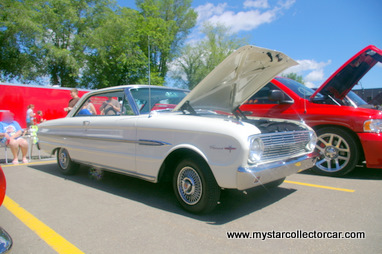 Ron Bartlett is a guy who always liked the look of the early generation Ford Falcons.
The logistics of his life in 1962 meant that a brand new Ford Falcon was not a reasonable concept at the time.
But Ron always wanted to own one at some point in his life.
That point in his life occurred in 2005 when Ron saw a very original 1962 Ford Falcon cross the floor at Barrett-Jackson in Scottsdale.
Ron was already a registered bidder and he had his eye on this pristine survivor very early in the game.
The difference was Ron was not at Barrett-Jackson for the auction. He was a phone bidder, and he bought the 1962 Ford Falcon from the comfort of his own living room. He didn't need the lovely and talented Amy to cajole him into a higher bid. Ron wanted the car and he eventually outlasted his competition for the Falcon.
1962 was a year when Ford offered a few extra performance options for the compact little Falcon. The idea of compact cars was still a little new in Detroit in 1962. The cars were initially designed to offer economy and a smaller size for the urban owner.
But a peppy little 260 small block and a four-speed manual transmission found in Ron's car were options for the Falcon owner who wanted more zip in his daily commute. Ron's car also has power steering, sprint package and a factory tachometer thrown into the mix.
It's clear that the original owner was a person who wanted to get the most out of his humble little Falcon commuter car.
Flash forward to 2010 and one thing is very obvious…
Ron Bartlett is very grateful that the original owner made such great check marks on this Falcon's list of options.
Jim Sutherland @mystarcollectorcar.com