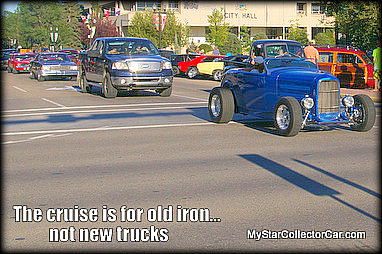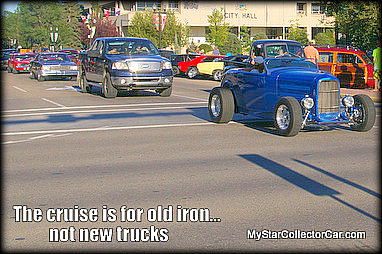 Most major car shows have a downtown cruise as part of the agenda.
The theory behind this is pretty basic – this is a chance to showcase the old iron on the streets of the host town or city.
The key words are "old iron".
A cruise during a show is essentially a parade of classic iron for the locals. It's a public relations event that gives car and non-car people alike a chance to see these old warriors in action and check them out when they park.
The scope and variety of automotive history becomes a focal point in the car show cruise because you'll see Model T's chugging behind GTOs and '58 Mercury Turnpike Cruisers waiting at a traffic light beside '47 Dodge pickups.
Those vehicles belong in a vintage car cruise. Brand new Ford trucks don't.
Those people lining the streets with cameras aren't there because you just washed your 2012 SUV and they dig how it sparkles in the setting sun. They are there for the classics, the customs, the antiques, survivors…everything but you in your brand new minivan.
Get out of the parade of old iron, park your non-classic car or truck and join the crowd because every time you block a shot of a beautiful '56 Ford truck you make ten enemies who hate you and your Isuzu.
This is a common sense issue that shouldn't have to be pointed out anyone with an ounce of logic in his or her thought processes but we live in a society where common sense is pretty rare so think of it this way…
Would you jump into the middle of a New York Jets – Green Bay Packers overtime playoff game?
Didn't think so.
Jerry Sutherland
Follow us on Facebook at-http://www.facebook.com/MyStarCollectorCar
Follow us on Twitter at- https://twitter.com/#!/MyStarCollecto1