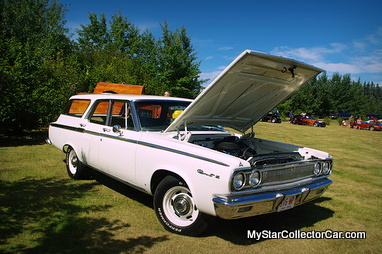 You do not see many 1965 Dodge Coronets on the road in 2013.
The Coronet and its first cousin the Plymouth Belvedere were the first of the intermediate models introduced by Chrysler in 1965.
"Intermediate" is a relative term because a mid-sized car in 1965 would be pretty close to a full-sized sedan in 2013.
The 1965 Coronet was only available in the United States but this '65 wagon version found its way to western Canada 4 years ago when owner Neil Watson purchased the car.
The sight of a 1965 Dodge Coronet station wagon towing a retro trailer at a summer car show was a good reason to get the story behind the car.
Neil is a part of the Baby Boomer generation and spent a lot of time riding in his father's wagons during his childhood. It was another classic case of "my Dad had one." However, Neil's Coronet has a few differences from his father's wagons because his Coronet has a muscular 440 big block under the hood.
The Coronet also has a 5-speed manual transmission bolted up to the 440, so it is essentially a big bad wolf in sheep's clothing. It also gets 22 mpg because of the good ratio found in that fifth gear.
Neil has owned many cars over the years but he has entered a period in his life where he wanted a station wagon-and not just any wagon.
Neil owned numerous practical station wagons because he is a family man and the wagons served a practical purpose.
Now he wanted a "nostalgia wagon" in his words, so he could show his grandchildren a little slice of his own life as a child passenger in them. One of Neil's fondest memories was the 360 degree view in the old wagons.
They were all glass and the passengers had a great view of the world around them as they traveled down the road in the old station wagons.
Neil can take his grandchildren along for the ride in his Coronet and give them the same panoramic view of the road he saw as a kid in his dad's wagons.
The car is very bare bones outside of its interesting power-train and does not even have a radio or windshield wipers for that matter.
Neil told us that windshield wipers were not included on the Coronet's original build sheet, a very surprising deleted feature for us, in view of automotive safety regulations-even in the 60s.
Neil is a careful man and he took his time to find the Coronet because he wanted a car from that era with no dents, rust or body filler. His wagon passed the test in all three of these categories because this Coronet is an amazingly straight and immaculate vehicle.
Neil "drives the car all the time" in his words and one can easily understand why when you see the car. It is an instant conversation piece because few of them survived past their time as family-haulers in the 60s.
Once they outlived their usefulness, they became very expendable and Neil is lucky to have found one of the few survivors from a time when Baby Boomers were young kids riding in their parents' station wagons.
He is a generous enough guy to give his grandkids the same experience with his vintage Coronet wagon.
Jim Sutherland