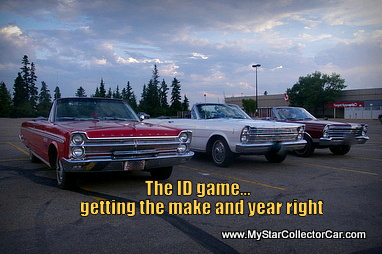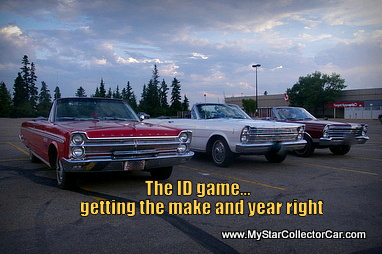 One of the best things about old iron is the learning curve.
Every conversation with a car guy is a free education about the car or truck in question…all you have to do is ask questions.
Most car guys are more than willing to talk about their old ride because it's like asking them to talk about their kids.
Especially when their kid is an honors student or a star athlete.
This free education comes with one condition-never get the kid's name or the car's information wrong.
One of my biggest fears is getting the year and make wrong but it does happen. I'm far from an expert on every car ever made but I get lost in the 1920s and 30s because a '28 Ford looks a lot like a '29 Ford to my untrained eye.
I can pick off '30 Chevy or Plymouth by using an old trick my Dad taught me-look at the radiator but distinct years are a real problem. My Dad had no trouble but that era was his wheelhouse and mine began in the late 1950s.
The easy ones for me in the 30s are cars like the '36-7 Ford transition period, the legendary 39-40 Ford and the Dodges and Plymouths of the same era.
Post war cars are another stumbling block because you really have to look close to ID a '47 Chevy over a '48.
Ford made it easier in '49 when they rolled out the shoeboxes but they carried that look for 3 years so it's back to the reference books and online sources for slow witted guys like me because I don't retain information any better than a Cocker Spaniel puppy.
Trucks are another issue. Dodge and Chevy made it simpler in '48 but they carried the look for a long time so it's back to badges and trim pieces.
1954 was the only year that's reasonably easy for a Dodge or Chevy but the confusion started again when Chevy carried over the '54 look for part of the '55 year and Dodge carried the '54 look for 2 more years.
Ford went down the same path because they put that legendary 1953-56 pickup on the street and made minor badge changes over the years. I learn the difference…it lasts about 35 seconds.
After that it got pretty easy because I'll never make a mistake from 1956-68 with any Big Three models. That era was my wheelhouse. Chevys were Chevys, Fords were Fords and Plymouths were Plymouths plus Detroit made your car look old with every new model year.
Certain cars like the 66-67 Dodge Charger trip me up but I'll never have a problem ID-ing the 68-70 Charger.
The 70s are a problem. I can tell you when the Mustang became the Mustang II in '74 but that 71-73 era is a crap shoot.
There was a point where style and year clearly didn't matter at Detroit and I can pinpoint that as the early 70s. The bumper cars made the 73-74 transition easy to read but after that they blended together in one big blur.
Sure, you had the occasional runs like the Little Red Express or '84 Hurst Olds but the golden era for ID-ing old rides was the late 50s to the late 60s.
That was a glorious time for a shallow thinker like me.
Jerry Sutherland