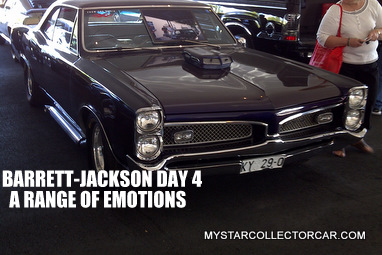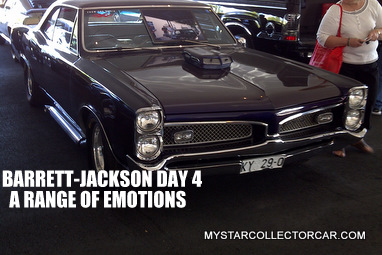 The basic principle behind the collector vehicle experience is raw emotion.
Barrett-Jackson week can wring out a whole bunch of feelings that are not always hidden far below the surface.
The one emotional experience shared by every car guy is nostalgia.
There is a reason for that favorite car from the past that put an emotional headlock on us and never let go- even when we screamed "Uncle".
Sometimes it may have to be that very car- the one that defined us in our reckless youth. Or maybe it was a car that an influential person in our lives owned at a particularly impressionable time of our lives. Either way, it is pure nostalgia and absence does indeed make the heart grow fonder when it comes to car memories.
Nostalgia is big business, so Friday at Barrett-Jackson is a day when the big boys come to play and pay serious coin for nostalgia. So another emotion bundle at Barrett- Jackson is shock and awe.
Many rides went well past 100 grand on Day 4 as the stakes got higher, and shock and awe rose to dangerous levels. Our favorite bid was a beautiful 1957 Desoto that muscled its hemi-powered way to $170,000 at Barrett-Jackson.
These cars are as rare as Sierra Club members with BP shares and may represent Virgil (Fins) Exner's finest hour.
Despite 100 grand Friday, relief is another emotion that springs to mind at Barrett-Jackson. The prices at Barrett-Jackson have leveled off, instead of plummeting off a Wile E Coyote cliff – or rising at clinically insane levels.
Patience is an emotion that every car guy on a budget needs in his life. Your dream car may have been onstage, but you may require several years to fix up a rough-looking relative of the Barrett-Jackson car.
Incidentally, the monster 454 GM engine that sold for Somali pirate ransom money will be coming soon to a GM dealership near you, including one that advertises with us. Patience will pay off in both cases.
Curiosity is an emotion that is always a big part of Barrett- Jackson. We were most curious about the 1947 Chevy cab-over and why the customizer put that ugly-ass modern box on the truck.
But perhaps the biggest emotion of the day was sympathy. Two cherished vehicles were sold today (and one earlier this week) by the surviving family members of departed collector car owners. The sales were very tough on the families and many tears were shed by the families as the cars sold to new owners.
The decision to sell a prized vehicle is really none of our business, but it is easy to feel sorry for the families because so much of the person was obviously in the cars they loved.
Check back tomorrow for a look at Day 5.
It is going to be very interesting in a Kennedy grassy knoll ambulance kind of way…
Jim Sutherland @mystarcollectorcar.com