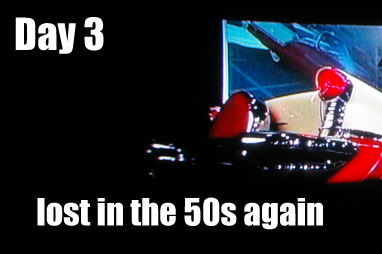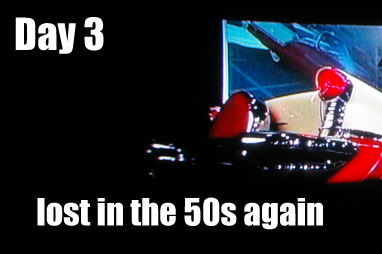 A little known fact about identical twins- we aren't exactly the same people, despite the overuse of stereotypes about clones.
This may seem like an odd way to begin today's column, but I have a reason for the opening line: I am an identical twin, and my brother Jerry and I write all of the material for this e-zine.
Obviously we both love the vintage vehicle culture enough to sing its praises on a daily basis at mystarcollectorcar.com.
We were born in the 50s, but Jerry got lost in the 50s and he has no interest in finding an escape route when it comes to Detroit iron.
I, on the other hand, have a broader base of interests (in my humble opinion). We both agree that the rides and music from any bygone era are reasons for the gold in memories.
But Day 3 at Barrett Jackson was a huge day for Jerry and his beloved 50s iron because a lot of it passed through the ring. It was an amazing array of cars that represented a kinder era of optimism and space age dreams.
A 1954 Ford Sunliner convertible drew a lot of attention and serious money at Barrett Jackson. The car was the end result of a long and careful twelve- year restoration and it lacked nothing in style and quality. The early 50s line of vehicles lent themselves very well to the convertible look and this car's resale red only sealed the deal. A $55,000 selling price meant that the Ford drop-top had a lot of admirers in the crowd.
A Hemi-powered 1956 Dodge Coronet was a big- ticket item at Barrett Jackson. Jerry will be the first to tell you that muscle cars began in the 50s-contrary to popular belief, and Hemis helped make it happen. $41,800 put the new owner behind the wheel of this green on green beauty.
1957 Oldsmobiles were likely born with an inferiority complex in the assembly plant. Everybody was obsessed with its Chevy cousin, considered by many to be the iconic car of the 50s. But these days a mint 1957 Olds will turn even more heads than its more famous relative.
The main reason is you just do not see many 1957 Oldsmobiles on the road- or at the shows-for that matter. The rarity of a'57 Olds Super 88 two- door hardtop in showroom condition would explain why this 1957 beauty sold for $48,400 at Barrett Jackson. This forgotten Chevy cousin will now hog any limelight at any car show.
The big news of the day was that 50s-era cars sold for big bucks, despite a mixed set of opinions about the economy in general. But none was bigger than a restored 1957 Studebaker Golden Hawk that blew by a 100 grand on Day 3. It was a beautiful example of Studie ingenuity because the company bolted on fins to an earlier model year and the results were spectacular. The supercharged mill in the Golden Hawk meant that this car could fly with the eagles. The price of a restored Hawk at an auction means that these cars will continue to soar with the eagles for resale value.
The King of NASCAR and class, Richard Petty, was at Barrett Jackson to help support a charity for paralyzed war veterans. It was an amazing moment when the high bidder turned the Petty car back for a resale in the auction. The result was close to a quarter million dollars for these deserving soldiers.
The man behind the act of charity was old enough to know something about war from a personal Vietnam–era point of view. Whatever his reasons, the man has earned our respect.
Read about Day 4 tomorrow.
Incidentally, that's Jerry on the right- standing next to some guy named George Barris. Claimed he was a car guy.
Jim Sutherland @mystarcollectorcar.com