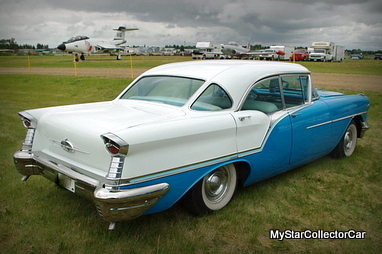 Wedding cars are a big part of the celebration—especially for the grooms.
This is the one element of the wedding where the groom's opinion actually matters so the wedding car is a big part of the day for the guy.
Most wedding cars become a part of the memory so they get left back in the photos—unless a car guy really misses his beloved wedding ride.
Alfred Parsons is one of those guys who missed his wedding car so much he went in search of another 1957 Oldsmobile Super 88 4-door hardtop. The search took some time because Alfred was very specific. He wanted his new car to be very close to the car he had back in 1962 when he and his new bride needed a ride to and from the wedding ceremony.
This search involved some luck because Alfred came in second on an online auction when he did find the car he wanted. Fortunately, the winning bidder didn't close the deal so Alfred's runner-up bid became the next best offer.
Alfred went down to Washington to pick up his newly-acquired '57 Olds and he was generally pleased with his new acquisition. He did admit that he, "brought it home and immediately re-did all the body work".
That was ten years ago and there were many other items on this '57 Oldsmobile's check list including the air conditioning. Alfred explained how he "got it working but it took a while and two cans of Freon". This was the least complicated phase of the Olds project.
Alfred is the kind of guy who likes dependability in a power train so he tackled the engine in a big way as he explained how his sons, "sons helped on the motor-it was completely rebuilt-needed a crank".
This '57 Olds 88 is very close to the original wedding car but Alfred explained how, "The first one was power everything and this one was changed over except it doesn't have a power seat". Alfred is the kind of guy who will probably correct that omission just because he likes to work on cars.
Trailer queen is a term Alfred doesn't have in his vocabulary because his '57 Olds sees a lot of time on the open road—and not so open road because he lives in a big city where traffic flow can be scary in a car pushing 60 years old.
Alfred is unfazed by the pace because he has no fear driving this massive car on real-life big city roads so he admits he "drives it in the city all the time".
Alfred has very few misgivings about the 50s driving experience in the Olds. His only real complaint was that it "drives pretty nice but it steers pretty rough with the bias tires" but he does have some radial on order for this classic.
Alfred wasn't sure about the gas mileage on this car but he does recall that the original car "used to get 18 miles per gallon".
There's an old saying that you can never go home again but this '57 Olds wedding car come pretty close.
Jerry Sutherland
CLICK HERE to Like us on Facebook
CLICK HERE to Follow us on Twitter
CLICK HERE to Follow us on Pinterest
Please re-post this if you like this article.