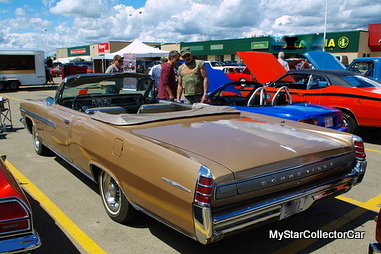 Convertibles aren't the most practical vehicles ever built.
There's a reason they started adding roofs to cars in the early 20th century.
It's called bad weather—or winter.
Tom Bunbury is one of those guys who doesn't look at the practical side of convertibles. He spotted this '63 Pontiac Bonneville convertible at an auction several years ago.
The auction was a dispersal of a collection and Tom saw the car. He "had to have it" but he was really surprised when he had the winning bid on this vintage Pontiac but he added, "it wasn't on the bill" so Poncho guys probably never knew it was for sale.
Tom's a self-proclaimed "not married to any manufacturer" kind of guy but this Bonneville really got his attention at the auction.
This Poncho was basically a turnkey car so Tom jumped behind the wheel and never looked back. There's a numbers matching 389 4-barrel under the hood and Tom summed up the engine this way, "It's got lots of power so when you need it. it's there". No one who ever ran up against a Poncho back in the 60s would doubt the truth behind that statement because the GTOs came with same basic engine block under the hood.
Tom's Bonneville has been a great example of well-bought because he has done nothing to the car over the years—it's been that reliable. Tom attributes this to a good car and how well it's been stored, "it's kept in a heated garage, it takes up a lot of room because it's a big car and it has stabilizer in the gas".
This is obviously a protected car because Tom puts a wing over his Bonneville whenever he drives it. He explained how it's "really looked after so when I see a cloud coming, I head home". He starts the car very year by dumping a little gas down the carb and it fires right up every time. The startup is an annual ritual in Tom's world and it's one that he looks forward to every year.
Tom's a PR guy so he's a natural fit for this spectacular example of a '63 Bonneville convertible. He admits the car "starts a lot of conversations" when he stops for gas but Tom has plenty of time for questions. This Poncho is an attention grabbing car at rest or in motion so a friendly, outgoing personality is mandatory for its owner. The only downside to the driving experience is the big 389—Tom described it as "very thirsty".
Bonneville convertibles are a rare sight in 2015 so they're a welcome sight in a parade. Tom's car is a regular sight in the annual  local small town parades so you could call it a classic parade float. He also likes to take the Pontiac to a few local shows so the convertible gets a little therapeutic highway time. Tom also admits to a couple of trips per year to the coffee shop where he shows off his pride and joy.
In the end, Tom (on the plus side of 80 years old) admitted to the real reason he owns this Bonneville.
"When you see me out in it, that means I'm looking to pick up chicks".
Jerry Sutherland
CLICK HERE to Like us on Facebook
CLICK HERE to Follow us on Twitter
CLICK HERE to Follow us on Pinterest
Please re-post this if you like this article.